close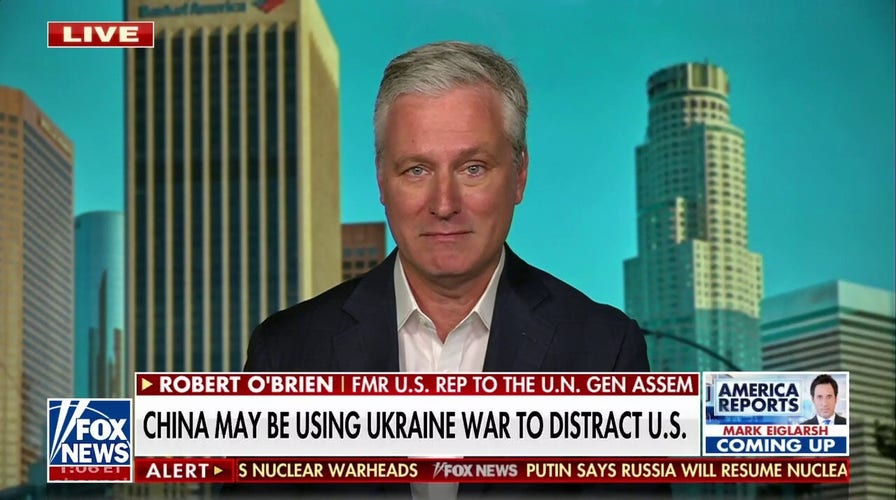 Video
O'Brien: Biden legacy tied up in Ukraine
Former Trump national security adviser Robert O'Brien on the potential for Chinese involvement in Ukraine.
UNITED NATIONS, New York – One year after Russia commenced its armed invasion of Ukraine, experts laid out for Fox News Digital that Moscow's costly adventure will leave pretty much every nation worse off compared to before it started – even if they haven't been directly involved.
"I would say no one comes out the winner here," Craig Singleton from the Foundation for Defense of Democracies told Fox News Digital.
"Ukraine will have been devastated [and] it will require billions of dollars in reconstruction money that the Western world, including the United States, will largely be responsible for providing," Singleton said. "Russia, however the scenario unfolds here, is likely severely weakened, still under massive international sanctions."
"It's difficult for me to see a scenario where there are any winners here," he said.
BIDEN VOWS TO 'DEFEND LITERALLY EVERY INCH OF NATO' TERRITORY: 'ARTICLE 5 IS A SACRED COMMITMENT'
Russian President Vladimir Putin declared the start of a "special military operation" to "denazify" Ukraine on Feb. 24, 2022, deploying troops across Ukraine's eastern border while also sending troops to take control of the capital city, Kyiv.
Putin reportedly believed that the entire operation would take only a few days, and Joint Chiefs of Staff Gen. Mark Milley echoed that sentiment when he warned that Russia could take Kyiv within 72 hours if it invaded.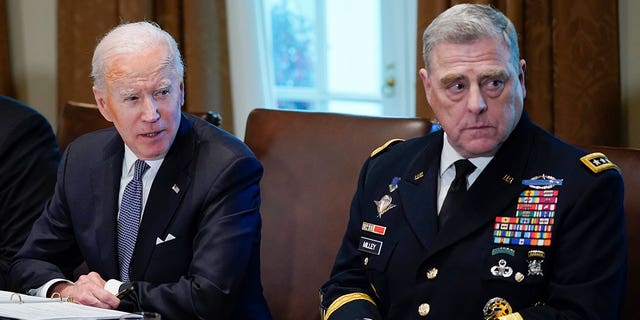 President Joe Biden and Chairman of the Joint Chiefs of Staff Gen. Mark Milley attend a meeting with military leaders in the Cabinet Room at the White House on April 20, 2022. (AP Photo / Evan Vucci)
The intelligence about Russia's capabilities ultimately proved egregiously wrong as Ukraine dug in its heels and maintained a staunch defense, supported by NATO and Western allies who supplied the country with weapons and supplies to wage an asymmetric war that has helped it reach the one-year mark unbeaten.
That defense has come at significant costs, which Russia expert Rebekah Koffler highlighted as a major concern moving forward, regardless of the conflict's outcome.
RUSSIAN UNION SUSPENDED FROM INTERNATIONAL FEDERATION OF JOURNALISTS FOR ACTIONS FOLLOWING UKRAINE INVASION
"Putin and Russia are clear losers," Koffler, president of Doctrine & Strategy Consulting and a former DIA intelligence officer, told Fox News Digital. "Putin committed basically demographic suicide. Estimates are that Russia lost about 200,000 personnel either to death or injury, and he's additionally mobilizing 1.5 million troops, preparing for a protracted war."
"On top of that, Russia has become a pariah in the West; they're not welcome in any way," she continued. "Putin is hated everywhere – not that he cares about that."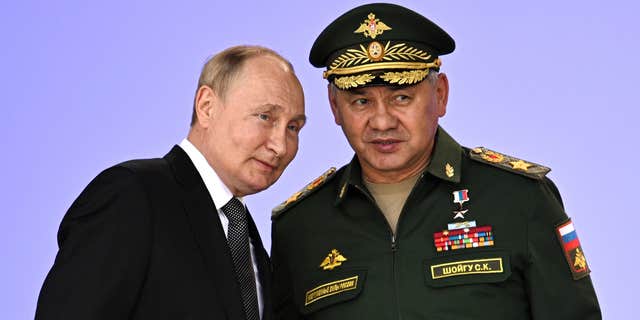 Russian President Vladimir Putin, left, vowed to strengthen Russia's military cooperation with its allies during the 2022 International Military and Technical Forum in Patriot Park outside Moscow on Aug. 15, 2022. (Sputnik/ Kremlin Pool Photo via AP)
Koffler also argued that Ukraine is a "clear loser" due to its staggering losses in industrial and agricultural bases, devastated energy infrastructure and the slow slide away from true independence.
"[Ukraine] is going to permanently depend on the West for its gross domestic product, with the U.S. leading the rest of the countries with $196 billion in total military, financial and humanitarian aid," Koffler said.
PUTIN TOUTS DEVELOPING RELATIONSHIP WITH CHINA AS FEARS OF PROXY WAR IN UKRAINE LOOM
Koffler picked out only one clear winner from the conflict: China, which has seen its two biggest powerhouse competitors severely depleted through the conflict – as well as having some kind of preview of how the West might react to a Taiwan invasion scenario.
"China is witnessing two of its top perceived adversaries decimating each other's weapons stockpiles. They're using a lot of weaponry," she said. "Some of these weapon systems will take from five to 18 years to replace."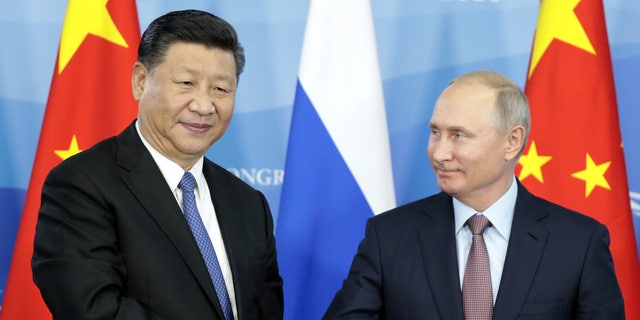 Russian President Vladimir Putin, right, shakes hands with Chinese President Xi Jinping during a signing ceremony following the Russian-Chinese talks on the sidelines of the Eastern Economic Forum in Vladivostok, Russia, on Sept. 11, 2018. (Sergei Chirikov / Pool / AFP via Getty Images)
"We simply don't have the production capacity to replace everything that we need, and in a potential conflict with China, that will be a big problem; and China has also witnessed the Western response to Russia's strategies, and it can start planning counter-strategies."
Singleton, whose expertise focuses on China, agreed that Beijing will be closely monitoring the outcome of the war to determine where it stands with Russia, but China has already been able to negotiate "very favorable energy deals."
SEN. ROGER WICKER: BIDEN NEEDS TO MATCH HIS SPEECH WITH ACTION
He also acknowledged that regardless of the outcome, Russia remains vulnerable to Chinese predation and could end up "a vassal," but the relatively "unproductive" economy in Russia would make it more of a problem for Beijing.
"China will be eager to take advantage of opportunities to negotiate cheap, secure supplies of energy to meet its insatiable demand for energy resources, but at the same time, if the Chinese are perceived to have to keep Russia afloat, that is likely, I think, to exacerbate existing tension between the two countries," Singleton said.
Estonia's Foreign Minister Urmas Reinsalu speaks with Fox News Digital at United Nations headquarters. (Fox News Digital)
Estonian Minister of Foreign Affairs Urmas Reinsalu told Fox News Digital in an exclusive interview that there would be "tectonic differences" in Europe's power balance after the war, especially if Russia faced total failure.
"I think Central Asian countries, Caucasus countries, Moldova and, I think … from his fortification, also [President of Belarus Alexander] Lukashenko," Reinsalu said. "Because if Ukraine wins the war, I think it will surely also [be] the protest of the president of Belarus, people against the regime, and also surely I think the outcome of war could be also a game changer."
Reinsalu called the outcome of the war decisive "not only for Ukrainians but for many other countries." He also stressed the need for a tribunal to investigate Russia for alleged war crimes, which Ukraine claims to have documented at least 60,000.
Victoria Coates, senior research fellow at the Margaret Thatcher Center for Freedom and former National Security Council official for the Trump administration, praised some NATO allies for stepping up to support Ukraine, which she thinks has also helped position them for a more stable future defense.
CLICK HERE TO GET THE FOX NEWS APP
"The final potential winner would be what [former Secretary of Defense] Donald Rumsfeld referred to as 'New Europe' – Poland, the Baltics, Romania have all stepped up, are spending more than 3% of GDP on defense," Coates said, noting that in the event of a Russian victory – the permanent capture of any Ukrainian territory – Putin can use that to shore up political support at home and "tries this again."
"If Putin is prevented from claiming this victory, I think we could really build toward greater peace and stability, particularly in Eastern Europe," Coates said. "But if he thinks in any way that he succeeded, then we will be having this conversation again in five years."
Peter Aitken is a Fox News Digital reporter with a focus on national and global news.