close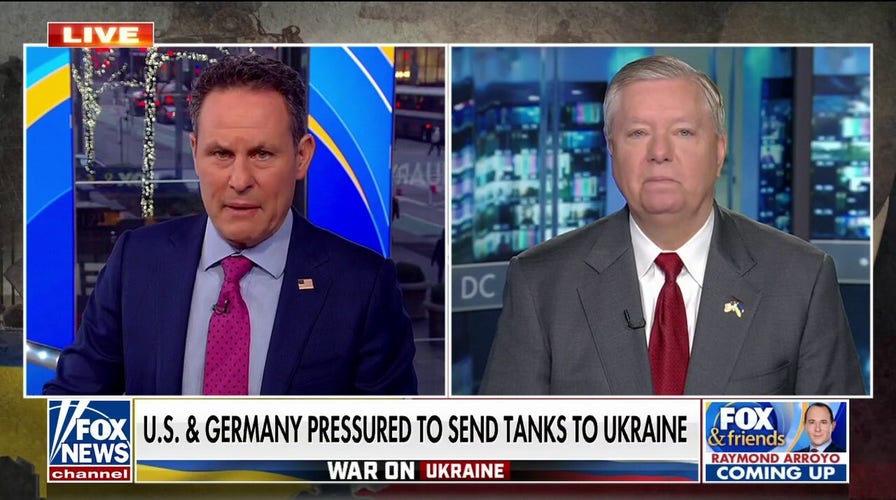 Video
Lindsey Graham urging US to increase military support for Ukraine
Sen. Lindsey Graham, R-S.C., on the need for Germany and U.S. to send tanks to Ukraine and the latest in Biden's classified document scandal
German Chancellor Olaf Scholz formally announced Wednesday that after weeks of stalling and frustrating negotiations Berlin has agreed to send two battalions of Leopard 2 A6 tanks to Ukraine.
In a statement the government said it would initially send one company of 14 tanks to Kyiv, though its aim is to send up to 88 tanks from its own stockpiles.
Scholz said, "This decision follows our well-known line of supporting Ukraine to the best of our ability. We are acting in a closely coordinated manner internationally."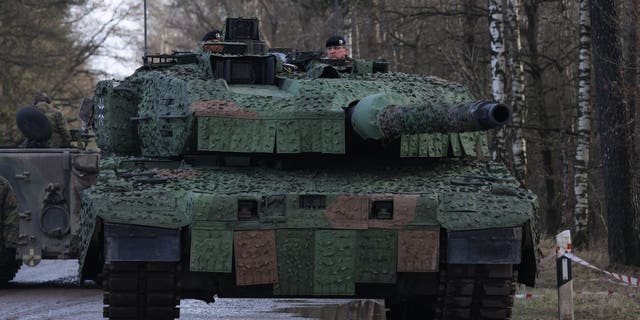 MUNSTER, GERMANY – FEBRUARY 07: A new Leopard 2 A7V heavy battle tank Bundeswehr's 9th Panzer Training Brigade stands during a visit by Defence Minister Christine Lambrecht to the Bundeswehr Army training grounds on February 07, 2022 in Munster, Germany.
(Photo by Sean Gallup/Getty Images)
GERMANY 'NOW APPRECIATING THE MOMENT' AS IT FINALLY AGREES TO SEND TANKS TO UKRAINE, GRAHAM SAYS
Some 15 other EU nations that possess the German-made tanks in their own stocks and had increased the pressure on Berlin in recent weeks to approve re-exports to Ukraine as the war nears the 12-month mark.
"Germany will issue the appropriate transfer permits to partner countries that want to quickly deliver Leopard 2 tanks from their stocks to Ukraine," confirmed the Wednesday statement.
It is unclear when the tanks from Germany or allied nations will be in Ukraine, though the statement said training Ukrainian troops in Germany would begin "quickly."
Western officials have been sounding the alarm that allied nations could not stall anymore on the issue as Russia looks to launch a massive counter-offensive in the near future.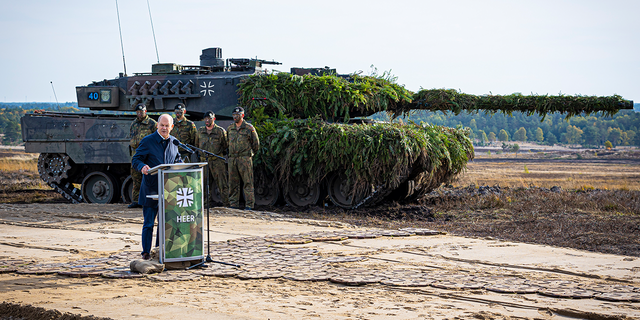 German Chancellor Olaf Scholz speaks to soldiers in front of a Leopard 2 main battle tank after the Army's training and instruction exercise in Ostenholz, Germany, Monday, oct. 17, 2022.
US MAY DELIVER 'SIGNIFICANT NUMBER' OF ABRAMS TANKS TO UKRAINE DESPITE PENTAGON MISGIVINGS
Reports late Tuesday surfaced showing that the U.S. has also decided to send its Abrams tanks despite weeks of expressing concerns over efficiency and maintenance cost.
But training on the more than 30 tanks the Pentagon is reportedly looking to send will push the delivery timeline back months, reported the Associated Press.
It is unclear why the U.S. has finally decided to send its own tanks, though the decision comes as nations grew increasingly frustrated with Germany which suggested earlier this month it would only send tanks if the U.S. also agreed to.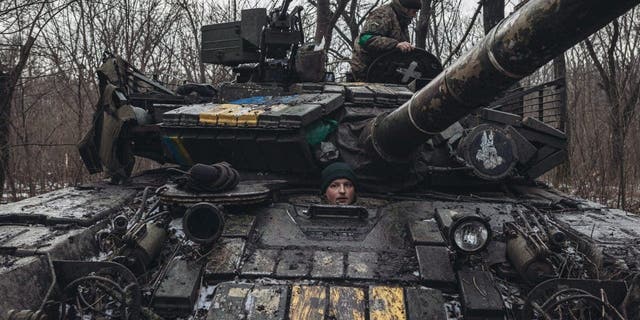 DONETSK OBLAST, UKRAINE – JANUARY 18: Ukrainian tankers carry out maintenance on their tanks on the Donbass frontline as military mobility continues within the Russian-Ukrainian war on January 18, 2023. 
(Photo by Diego Herrera Carcedo/Anadolu Agency via Getty Images)
CLICK HERE TO GET THE FOX NEWS APP
U.S. Sens. Lindsey Graham, R-S.C, and Richard Blumenthal, D-Conn., urged the Biden administration Tuesday to send even three to five tanks if that's what it took to get the ball rolling on deploying Germany's Leopard 2 tanks.
Defense officials have said it makes better sense to employ Ukraine with the German-made tanks as there are "thousands" of them throughout Europe and training along with maintenance is far more manageable than on the more advanced Abrams tanks.
Caitlin McFall is a Reporter at Fox News Digital covering Politics, U.S. and World news.