close
Video
Fox News Flash top headlines for January 24
Fox News Flash top headlines are here. Check out what's clicking on Foxnews.com.
Pope Francis said during an interview Tuesday homosexual relations are "not a crime" and called laws that penalize homosexuality "unjust."
At the Vatican, the Pontiff said that God loves everyone as they are and called on Catholics to do more to welcome people from the LGBTQ community into the church. He also encouraged them to support laws allowing homosexual practices.
"Being homosexual isn't a crime," Francis told The Associated Press.
Amid his remarks, Francis said there needed to be a distinction between a legal crime and a religious sin with regard to homosexual practices: "It's not a crime. Yes, but it's a sin. Fine, but first, let's distinguish between a sin and a crime."
POPE FRANCIS WARNS OF 'ELEGANT DEMON' LURKING AMONG VATICAN STAFF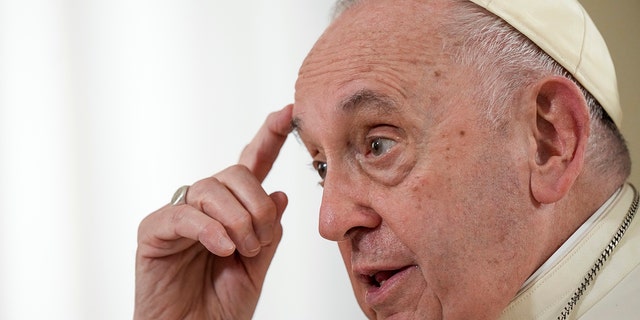 Pope Francis speaks during an interview with The Associated Press at the Vatican, Tuesday, Jan. 24, 2023. 
(AP Photo/Andrew Medichini)
The Pope added: "It's also a sin to lack charity with one another."
The Pope also addressed how some Catholic bishops support laws criminalizing homosexuality in some parts of the world. He, too, has referred to the issue in terms of "sin" but said bishops and others should undergo a process to change their thinking to recognize the dignity of all people.
"These bishops have to have a process of conversion," he said, saying the bishops should observe the same "tenderness, as God has for each one of us."
The Associated Press reported 67 countries or jurisdictions around the world have laws on the books criminalizing consensual same-sex sexual activity. Of these countries, 11 can or do impose the death penalty, according to The Human Dignity Trust.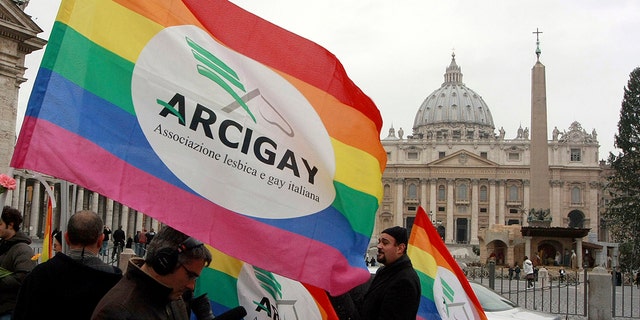 Italian Arcigay gay rights association activists hold banners and flags during a demonstration in front of The Vatican, Tuesday, Jan. 13, 2009. 
(AP Photo/Sandro Pace)
Such laws, even if not enforced, can contribute to harassment, violence or allow people to become stigmatization against LGBTQ people, according to the United Nations, which has repeatedly called for an end to such laws.
POPE DERIDES BIDEN'S ABORTION VIEWS, CATHOLIC SELF-IDENTITY AS 'INCOHERENCE'
The UN also said such laws violate rights to privacy and freedom from discrimination based on sexual orientation or gender identity. They are also a breach of international law to protect the human rights of all people, per the international body.
Francis called these laws "unjust," and said the Catholic Church could and should work to put an end to them. "It must do this. It must do this," he emphasized.
Francis also said gays must be welcomed and respected: "We are all children of God, and God loves us as we are and for the strength that each of us fights for our dignity."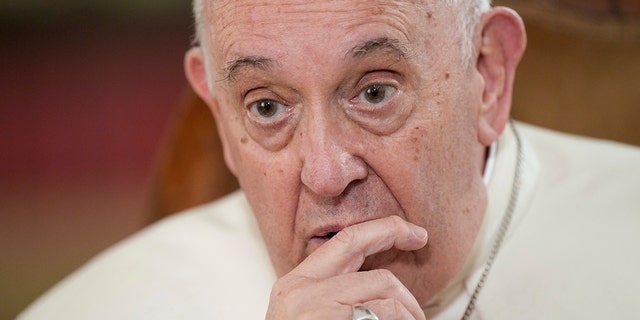 Pope Francis speaks during an interview with The Associated Press at the Vatican, Tuesday, Jan. 24, 2023. 
(AP Photo/Andrew Medichini)
The Pope has made embracing the LGBTQ community a hallmark of his papacy but he has not challenged or changed Catholic teachings, which say people must be treated with respect but homosexuality is "intrinsically disordered."
CATHOLIC ARCHDIOCESE DEFENDS POLICY TO NOT ADMIT CHILDREN WHO REJECT THEIR BIOLOGICAL SEX
Francis repeatedly and publicly ministered to the gay and trans community and once favored granting legal protections to same-sex couples without wholely endorsing gay marriage, which Catholic doctrine forbids.
Despite the appreciable remarks, the Pontiff has been careful not to use the Vatican's doctrine office to support or bless same-sex unions "because God cannot bless sin," he said in 2021.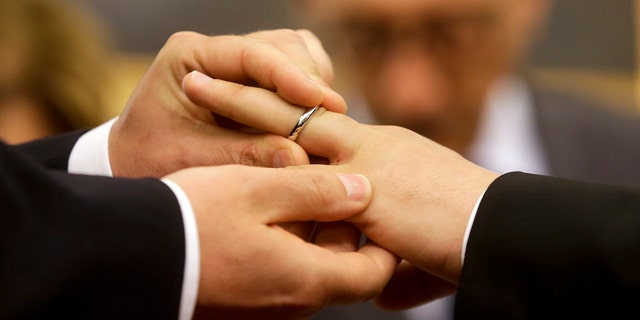 Pope Francis acknowledged that Catholic bishops in some parts of the world support laws that criminalize homosexuality or discriminate against the LGBTQ community, and he himself referred to homosexuality in terms of "sin." 
(AP Photo/Gregorio Borgia)
Such laws that impose the death penalty for homosexuality are common in Africa and the Middle East, some of which are inspired by Islamic law.
CLICK HERE TO GET THE FOX NEWS APP
Catholic bishops are somewhat torn on the issue as some maintain a literal interpretation of Scripture and do not recognize homosexual relations, while others call for laws against homosexuality to be overturned.
The Associated Press contributed to this report.