Ukraine's security service says a woman has been arrested over a Russian plot to kill President Volodymyr Zelensky.
The service said she had tried to find out the itinerary ahead of his visit to flood-hit Mykolaiv in June.
Ukraine regularly accuses local residents who support Russia of passing information to help Moscow's military.
Mr Zelensky confirmed he had been informed about the arrest saying the head of the SBU had updated him about the "fight against traitors".
Russia has not commented on the arrest.
Ukraine's security service, the SBU, said in a statement that the woman was arrested "red-handed" when she was trying to pass intelligence to the Russians.
They alleged that ahead of the visit, she tried to gather intelligence to try to find out Mr Zelensky's plans in the southern Mykolaiv region.
They also published an image of the suspect with masked SBU officers in a kitchen, blurring the faces of both the woman and the officers.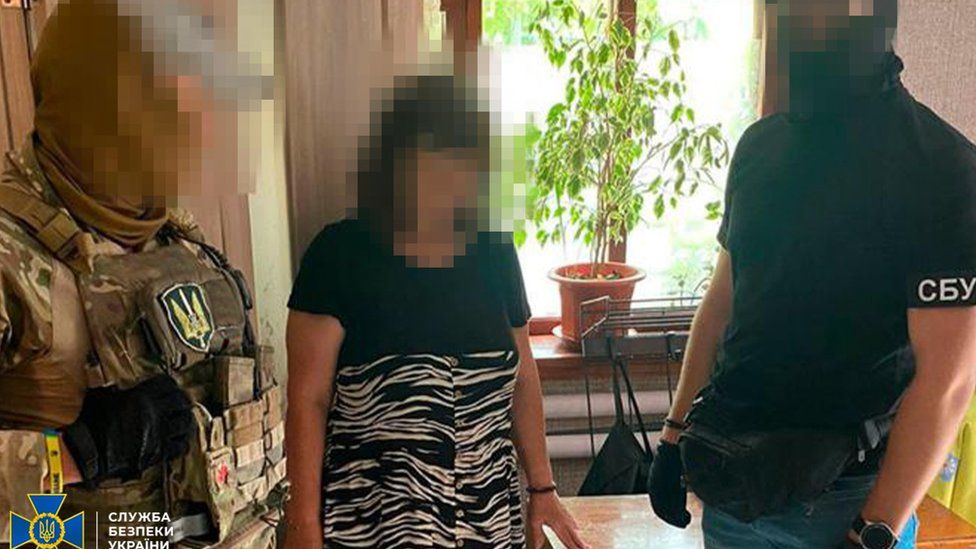 Image source, SBU
Mr Zelensky visited Mykolaiv in June to see the damage caused by the Kakhovka dam breach and then again in July after heavy Russian shelling.
The security service said it was made aware of the plot before the visit and put in additional security measures.
It alleged Russia was planning a "massive airstrike on the Mykolaiv region" and the suspect was trying to provide them with information about the locations of electronic warfare systems and warehouses with ammunition which could be targeted by the Russian military.
According to the SBU, the suspect lived in a small town called Ochakiv, which Mr Zelensky visited in July, and was working in a shop at a military base there.
It is understood the SBU did not arrest the suspect at the time of the visit and took security measures to prevent an attack on the Ukrainian president.
Agents followed her after the visit to find out more about her actions and "assignments received" by the Russians, the SBU added.
The statement alleged the suspect had driven in the area and had taken pictures and video of Ukrainian military facilities.
She is expected to face charges of unauthorised dissemination of information about the movements of weapons and troops.
If found guilty, she could serve up to 12 years in prison.
The Ukrainian security forces have made a number of arrests of alleged "Russian agents" who it believes were helping to locate targets for Russian airstrikes.
'Russian spy' to be charged over Kramatorsk strike
Zelensky visits front-line cities in south Ukraine
How Russia invaded Ukraine's south – and got stuck