Scouts evacuated from an international event due to the heat and concerns over sanitation had shown "legendary" resilience, their leader said.
Thousands have left the World Scout Jamboree's site in South Korea, with an incoming storm forcing the remainder to relocate to Seoul on Monday.
The Bedfordshire Bees, made up of 36 youngsters, are among those spending the next week in the capital.
"They've been absolutely phenomenal," said group leader Nick Kealy.
"In [the heat], to be happy and singing away and setting up tents – it just shows exactly what young people are capable of."
Attended by more than 40,000 young people, the event at a campsite in Saemangeum, near the town of Buan, has been plagued by problems.
Hundreds fell ill amid 35C (95F) temperatures and UK Scouts said there was a lack of shade, a lack of food for those with dietary needs, poor sanitation and insufficient medical services.
UK Scouts move into hotels after S Korea heatwave
Heat exhaustion hits hundreds at World Scout event
A really simple guide to climate change
Its chief executive, Matt Hyde, told the BBC he felt let down by organisers and said the relocation would cost the UK Scout Association more than £1m from its reserves.
The British group of 4,500 people, the largest in attendance, arrived last week but were transferred to hotels in the capital on Saturday.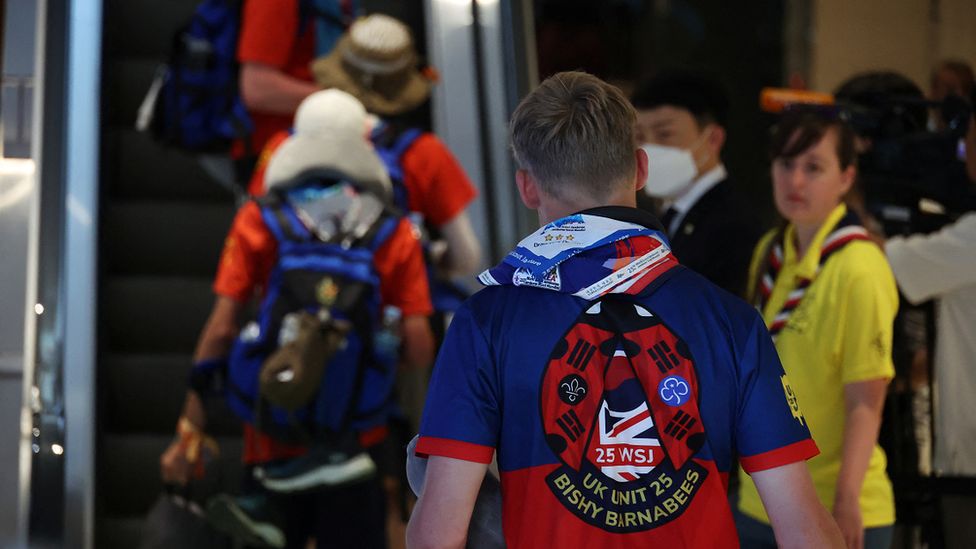 Image source, ReutersImage caption, British scouts were moved to Seoul on Saturday
Speaking to BBC Look East, Mr Kealy said he was frustrated by the "negative" news coverage, as his unit had coped well and were well supported.
"What they [the media] haven't focused on is the fact that, despite the challenging conditions, the young people have rolled up their sleeves and have still socialised with people from 170-plus countries," he said.
"It's been hard work but so rewarding.
"No-one is really disappointed. The jamboree has moved from a campsite to a fantastic, friendly, willing and open city that just loves everything scouting."
Independent review
The World Scout Jamboree happens every four years, with teenagers in the Bedfordshire Bees, based near Bedford, going through a "tough" selection process, followed by two years of fundraising.
Scout Ned, 14, said he and his friends had not suffered adversely in the conditions.
"I haven't got any insect bites and I've been out of the heat quite a lot looking after myself," he added.
"We were fine [at the campsite] and pushing through at the jamboree.
"It's challenging, however it's good to be on because it's a once-in-a-lifetime experience and I get to see new cultures and new religions – people I would never see in my life, but I get to meet them in one place."
Each British scout had spent about £3,500 on the trip, added Mr Hyde, who called for an independent review.
World Scout Jamboree organisers said on Monday that the South Korean government told them it was no longer safe to hold the event.
The head of the country's ruling People's Power Party, Kim Gi-hyeon, issued a public apology and proposed an investigation into whether taxpayers' money had been well spent on preparations.

Follow East of England news on Facebook, Instagram and Twitter. Got a story? Email [email protected] or WhatsApp us on 0800 169 1830