close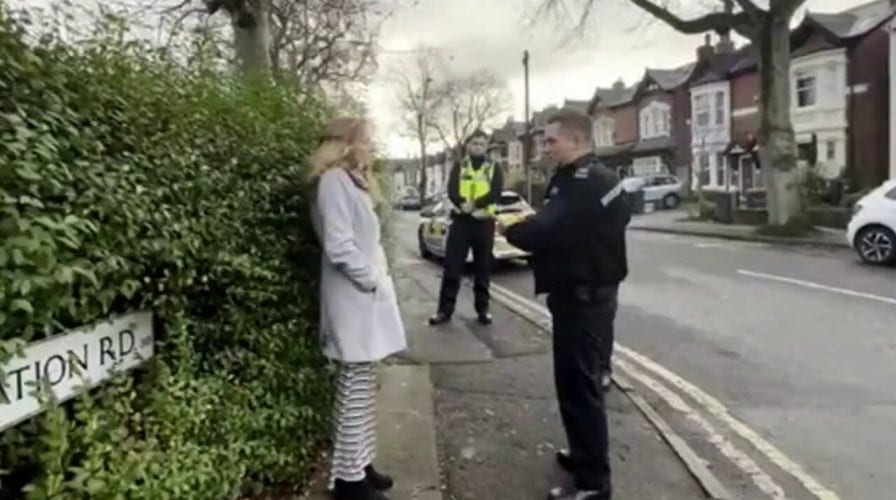 Video
UK woman arrested for praying speaks out to Fox News
British woman arrested for violating protest policy near abortion center joins 'Tucker Carlson Tonight' to recount ordeal.
Police forces across the United Kingdom have spent £66,000, or nearly $80,000, on merchandise such as rainbow-themed cars and flags to support the LGBTQ community, a report found.
"Police chiefs have been caught red-handed wasting money on woke nonsense," Tom Ryan, a researcher at the Taxpayers' Alliance, told the Telegraph.
The Telegraph reported that 27 police departments in England and Wales spent £66,689 on rainbow-themed merchandise between 2019 and 2022, according to data released under freedom of information laws.
The data, according to the Telegraph, found the South Wales Police force was the biggest spender, forking over £24,000, or roughly $29,000, for rainbow-themed T-shirts, badges, pens, whistles, flags, water bottles and even sporks.
LONDON TRANSPORTATION AGENCY SLAMMED FOR EMBRACING 'WOKE CULTURE' BY BANNING WORDS SUCH AS 'ACCIDENT,' 'BIKES'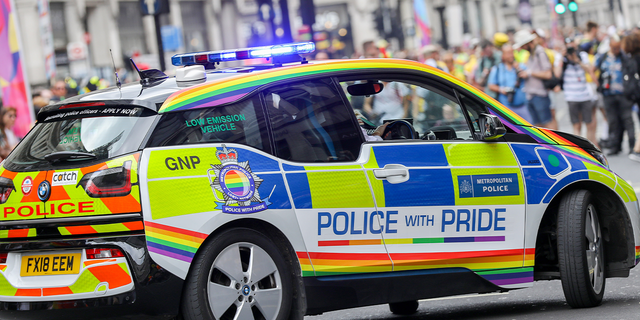 Apolice car during Pride in London 2019 on July 06, 2019 in London, England.
(Tristan Fewings/Getty Images for Pride in London)
The Kent Police force spent the second most at £8,000, or roughly $9,600, for rainbow whistles, pens, pencils, lanyards and other items.
UK CROWD TEARS DOWN STATUE OF 17TH-CENTURY SLAVE TRADER EDWARD COLSTON, THROWS IT IN HARBOR
Other departments spent funds to deck cars out with rainbow-themed stickers, on items called "rainbow fuzzy bugs," as well as for fans and stickers.
The National Police Chiefs' Council has previously said that rainbow-themed patrol vehicles act as "hate-crime cars" and encourage members of the public to report hate crimes, including social media posts, according to the Telegraph.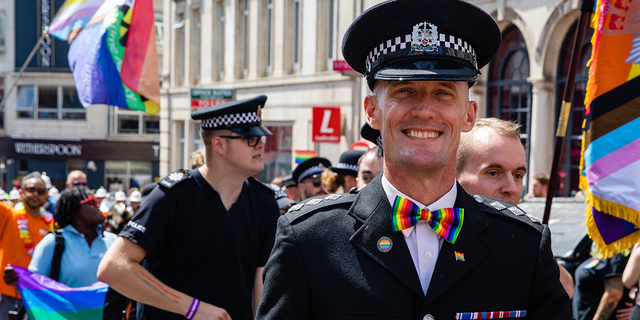 Police officers take part in the 30th anniversary Brighton & Hove Pride LGBTQ+ Community Parade on Aug. 6, 2022 in Brighton, United Kingdom. 
(Mark Kerrison/In Pictures via Getty Images)
The Taxpayers' Alliance, a nonpartisan group that advocates for lower taxes in the UK, slammed the spending, noting that crime is on the rise and funds should instead be used to bolster public safety.
RISHI SUNAK TO TARGET 'WOKE' POLICING, END ARRESTS OVER SOCIAL MEDIA POSTS
"With crime on the up, it will bring little comfort to Brits knowing that bobbies are kitted out with rainbow merchandise," Ryan told the Telegraph. "Police forces should put a stop to this pointless spending and focus funds on the frontline."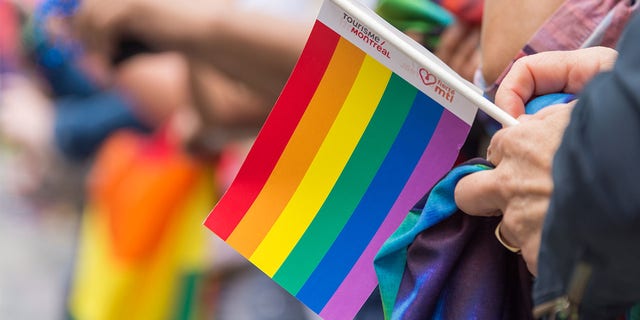 A Gay Pride Parade spectator holding small gay rainbow flag during Pride Parade in 2017.
(iStock)
Various institutions in the UK have come under fire in recent months for reportedly embracing "woke culture," including London's transportation agency after it published new guidelines last year for staff that ban words such as "bicycles" and "accident" for more welcoming and inclusive language.
The director of The Heritage Foundation's Margaret Thatcher Center for Freedom, Nile Gardiner, told Fox News Digital at the time that the pervasive "wokism" in the country is a "nefarious destructive ideology."
CLICK HERE TO GET THE FOX NEWS APP
"It is just completely ridiculous the rise of wokism in the U.K. It's a nefarious destructive ideology that is advanced by the far left but adopted by a large number of British institutions. And it has no place in British society. It is hugely divisive and fundamentally un-British," he said.