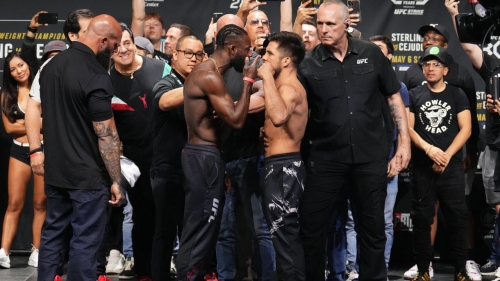 Aljamain Sterling (left) and Henry Cejudo face off during the UFC 288 ceremonial weigh-in on May 5.
Chris Unger/Zuffa LLC/Getty Images

CNN
—
A fighter regarded as one of UFC's all-time greats returns to the octagon on Saturday for the first time in almost three years to try to reclaim the belt he vacated on retirement.
Two-division champion Henry Cejudo, 36, will face Aljamain Sterling at UFC 288 in New Jersey's Prudential Center for the bantamweight title on Saturday.
Cejudo (16-2) left the sport in May 2020 after UFC 249, announcing his decision on the night he beat Dominick Cruz to defend his bantamweight title.
A 2008 Olympic wrestling champion, Cejudo successfully transitioned to MMA, becoming a UFC flyweight champion 10 years later before taking the bantamweight title in 2019 to become only the fourth fighter in UFC history to simultaneously hold two belts.
Cejudo, known as 'Triple C,' is the challenger on Saturday, however, and though heavyweight Jon Jones enjoyed a successful return to the octagon earlier this year that doesn't mean expectations are as high for Cejudo, though the fighter himself has said he is returning to "make history."
"Me coming back is gold-driven and history-driven," he told the BBC. "I see easy money with Aljamain, I really do. It just makes sense in every way – business, history, timing. I consider myself fairly young at 36.
"These are the challenges that I like, that's the stuff that really wakes me up in the morning. It's a challenge within me. It's just cool to have a bar that can motivate you and push you. That's what I want to be remembered for – to be the greatest combat athlete of all time."
But Sterling (22-3) will be a difficult opponent and he has twice successfully defended his title, most recently in October. In Friday's weigh-in, the pair got into a heated exchange and Sterling has said that he thrives in the chaos.
"In the middle of the chaos, I'm jumping into the fire," he told ESPN. "… I've learned how to turn it on and handle what I need to handle."
In the US, the main card can be watched on ESPN+ PPV from 10 p.m. ET.