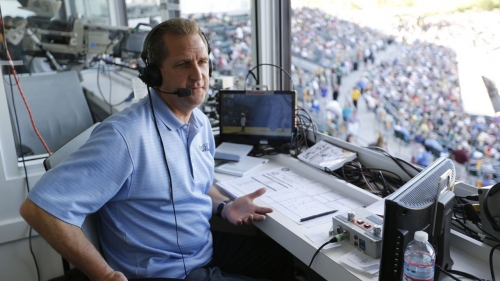 Broadcaster Glen Kuiper Jr. pictured in March 2015.
Michael Zagaris/Getty Images

CNN
—
Oakland Athletics play-by-play announcer Glen Kuiper has apologized for using a racial slur during the team's pre-game show prior to the A's road game against the Kansas City Royals on Friday.
Kuiper was discussing the "phenomenal" time he had visiting the Negro Leagues Baseball Museum in Kansas City, Missouri with A's TV analyst Dallas Braden when he used a racial slur to describe the museum during the NBC Sports California broadcast.
Hours later, prior to the start of the sixth inning, Kuiper apologized, saying: "A little earlier in the show, I said something, didn't come out quite the way I wanted it to. I just wanted to apologize if it sounded different than I meant it to be said. … I just wanted to apologize for that."
The Athletics called Kuiper's language "unacceptable."
"The language used by Glen Kuiper during (Friday's) pregame broadcast is unacceptable," the team said in a statement. "The Oakland Athletics do not condone such language. We are working to address the situation."
Kuiper is in his 20th season as the Athletics' lead voice and has covered Bay Area baseball since 1992 for NBC Sports California, according to the club's media guide.