close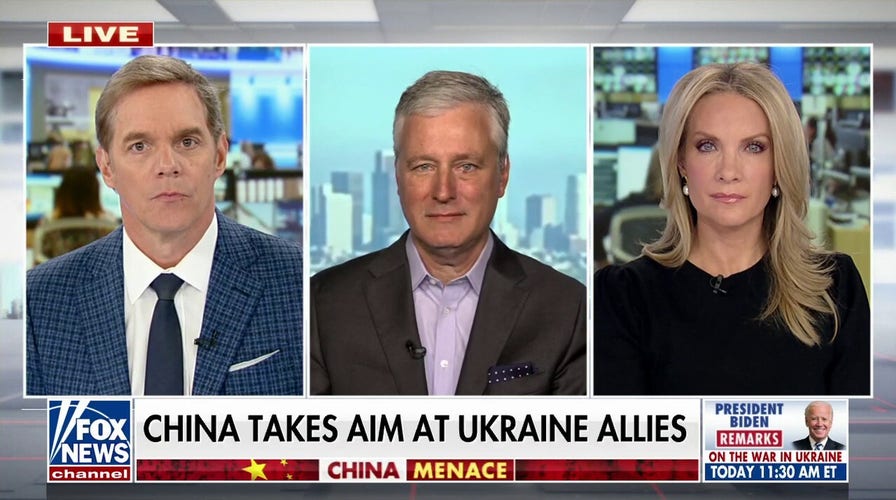 Video
US warning China may send weapons to Russia in war against Ukraine
Former National Security Adviser Robert O'Brien joined 'America's Newsroom' to discuss the importance of democracy and 'standing with our allies' as questions loom surrounding China's role in Putin's war on Ukraine.
The Biden administration might have forced China's hand after revealing this week that it suspects China is considering sending Russia lethal aid as Moscow's war in Ukraine drags on, experts told Fox News Digital Tuesday.
"China has a difficult decision to make," chief political scientist with the Atlantic Council Matthew Kroenig said. "They want Russia to win. On the other hand, they don't want to lose their economic access to Europe.
"It's impossible to know where they'll come down," he added.
Secretary of State Antony Blinken first revealed the U.S.'s suspicions following his meeting with Beijing's top diplomat Saturday, after which he expressed concern "that China's considering providing lethal support to Russia in its aggression against Ukraine."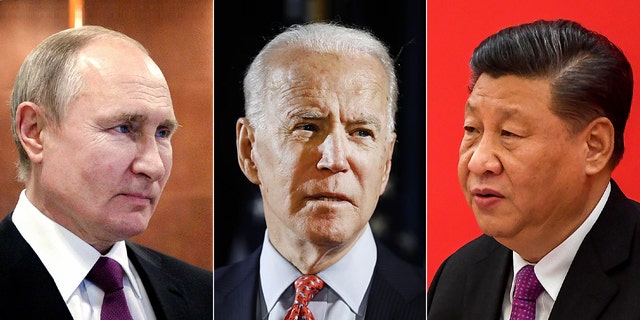 The Biden administration forced China's hand this week revealing the China is considering arming Russia in its war against Ukraine. The announcement will force China to choose between its alliance with Russia and its economic partnerships with the West. Feb. 21, 2023. (Getty Images/Reuters)
CHINA THREATENS US WITH 'CONSEQUENCES' OVER SPYCRAFT SHOOTDOWN, SAYS IT WILL NOT 'FLINCH'
The U.S. and its NATO allies have repeatedly warned that any nation, including China, will see swift and severe economic sanctions if they are found aiding Russia's war effort.
China has toed the line when it comes to the war in Ukraine, refusing to condemn Russia's invasion but also failing to provide arms to its chief international partner.
In recent weeks Beijing has struggled to keep a balance between maintaining constructive relations with the West while condemning the U.S. of "hysterics," as Beijing did over the shooting down of the surveillance balloon and accusing it of escalating the war by providing defensive aid to Ukraine.
International security experts agree that China is trying to "strike a balance" between preserving its economic interests and its desire to see the U.S. fall in the global hierarchy.
"China needs Russia to help it change the rules-based world order," former Deputy Assistant Secretary of Defense for Europe and NATO Michael Ryan said. "[Russian President Vladimir Putin] is [Chinese President Xi Jinping's] partner in trying to undermine U.S. influence in the world and to show that autocracy and not democracy is the superior form of government."
Ryan explained that the partnership between Russia and China is down to the joint interest of Moscow and Beijing to see Western influence drop to enhance their global ambitions, particularly in the southern hemisphere.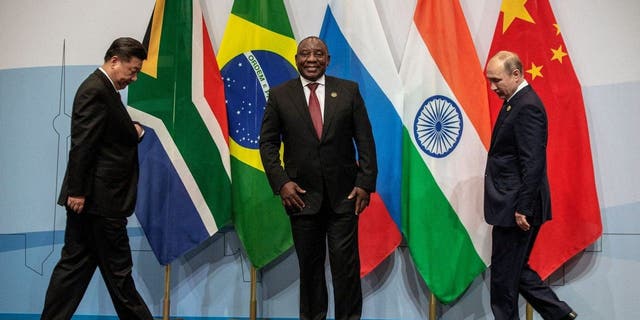 China's President Xi Jinping, South Africa's President Cyril Ramaphosa and Russia's President Vladimir Putin arrive to pose for a group picture during the 10th BRICS (acronym for the grouping of the world's leading emerging economies, namely Brazil, Russia, India, China and South Africa) summit on July 26, 2018. (GIANLUIGI GUERCIA/POOL/AFP via Getty Images)
But the ramifications of Chinese lethal aid to Russia could have global consequences.
Security analysts have long argued that the war in Ukraine is about more than the survival of Kyiv, it is a proxy war between Russia and the U.S.
CHINA FURIOUS AFTER US WARNS AGAINST ARMING RUSSIA: 'THE US IS IN NO POSITION TO TELL CHINA WHAT TO DO'
Providing arms to Russia would have obvious consequences and change the dynamic on the battlefield, making it harder for Ukraine to win.
Ukraine is outmanned when it comes to the sheer number of personnel Russia can dedicate to its front lines, but the training, munitions, and defensive aid it is receiving from the West is giving Kyiv an edge on the battlefield — an advantage that could be taken away from it if Russia is able to start better arming its troops.
"This would increase the odds of the war in Ukraine becoming even more protracted," explained James Anderson, the former Acting Under Secretary of Defense for Policy during the Trump Administration. "The longer the war in Ukraine drags on, the greater the chances it will spread to other countries in Europe."
Iran and North Korea have already been providing some weaponry to Moscow, and Tehran's drone contribution has allowed Russia to hit the one area that Ukraine is unable to effectively beat it — air defense.
But Russia needs munitions, tanks and armored vehicles — which is where China could step in and change the course of the war.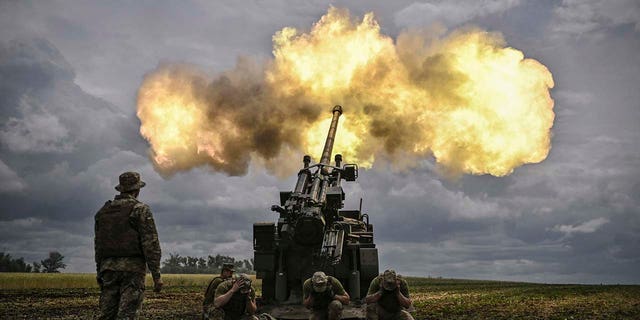 Ukrainian servicemen fire with a French self-propelled 155 mm/52-calibre gun Caesar towards Russian positions at a front line in the eastern Ukrainian region of Donbas on June 15, 2022.  (Photo by ARIS MESSINIS/AFP via Getty Images)
Experts agree that China's involvement in the war would do more than aid Russia's war effort, it would morph into a new "Cold War with China."
"It really would turn into more of a global proxy battle between democracies on one side — the United States and its democratic allies with the Europeans and South Korea, Japan, Australia of course supporting sanctions against Russia — and then on the other side Russia, North Korea, Iran and China," Kroenig laid out.
BLINKEN MEETS WITH CHINA'S TOP DIPLOMAT FOR FIRST TIME SINCE DOWNING OF SPY CRAFT
Experts agree that it is unlikely the proxy conflict would lead to direct ground warfare between the U.S. and NATO troops against Russia and Chinese forces — though the conflict brewing over Taiwan could be a different story.
"[China] does not want to see Russia fail because it portends…Western support in terms of [the] Taiwan scenario," Heino Klinck, the former deputy assistant secretary of defense for East Asia under the Trump administration, told Fox News.
"The Chinese have been caught by surprise," Klinck said pointing to not only Russia's operational failures on the battlefield but the steadfast response from the U.S. and its Western allies.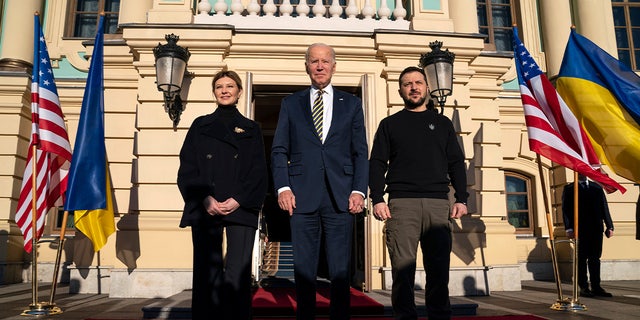 President Joe Biden, center, poses with Ukrainian President Volodymyr Zelenskyy, right, and Olena Zelenska, left, spouse of President Zelenskyy, at Mariinsky Palace during an unannounced visit in Kyiv, Ukraine, Monday, Feb. 20, 2023. (AP Photo/Evan Vucci, Pool)
Klinck said that the revelation that China is considering arming Russia underscores that there are debates in Beijing over how it should act and the "strategic calculus" of its actions.
"What is more important to China: ensuring Russian success?" he questioned. "Or is it being part of an international order?"
Ultimately experts agree that China has to consider whether it will more negatively be affected by the strategic implications of a Russian failure and its ally's standing on the global stage or the economic repercussions that would directly impact Beijing.
"Those domestic implications are always what drive Chinese decision-making," Klinck argued.
Anderson also pointed out that the West will need to move quickly to decide how it will respond with economic repercussions should China involve itself in the war effort.
"This would be a real test of Western unity since many European countries have extensive trading relationships with China, and some of our allies and partners may well be reluctant to jeopardize them with sanctions," he said. "Anything less than a massive sanctioning effort would likely fail."
"History shows that sanctions imposed in a piecemeal fashion have a poor track record of inducing good behavior in bad malign actors," he added.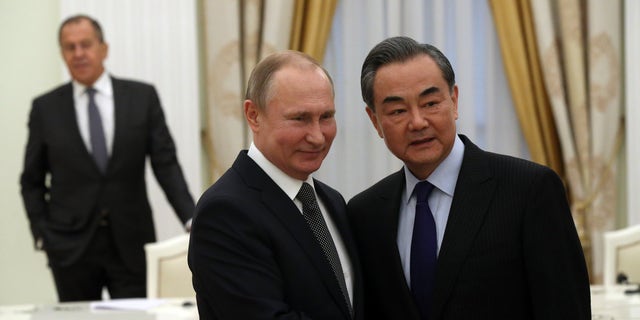 Russian President Vladimir Putin is expected to meet with China's top diplomat Wang Yi in Moscow this week to discuss the war in Ukraine.  (Mikhail Svetlov/Getty Images)
CLICK HERE TO GET THE FOX NEWS APP
A Chinese foreign ministry spokesman on Tuesday rejected U.S. claims that Beijing would supply lethal aid to Russia.
China's top diplomat Wang Yi is set to meet with his Russian counterparts in Moscow Tuesday and may even meet with Putin according to Kremlin spokesman Dmitry Peskov.
Beijing also said it is working on a peace proposal calling for an end to the war in Ukraine, though Kyiv has already made clear it will not agree to any proposals that do not include the complete withdrawal of Russian troops – a stipulation Moscow is not likely to agree to.
Caitlin McFall is a Reporter at Fox News Digital covering Politics, U.S. and World news.