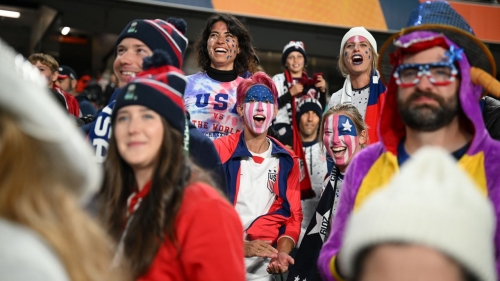 US fans show their support prior to the Women's World Cup match against Portugal at Eden Park, Auckland on August 1, 2023.
Hannah Peters/FIFA/Getty Images
Auckland, New Zealand
CNN
—
In the shadow of Auckland's Eden Park stadium, a neighborhood watering hole has become a home away from home for the hordes of American fans who have traveled thousands of miles to cheer on the US team at the Women's World Cup.
The Morningside Tavern, a cavernous bar with a sprawling outdoor patio, hosted more than a thousand US supporters Tuesday for a pregame held by the American Outlaws, according to the non-profit supporter group, which has more than 200 chapters across the United States.
"To see this turnout is really fantastic," said St. Paul, Minnesota native Mike Householder, as he waited in line to get in the packed bar. "It's a long way [to travel]. When we went to Canada [for the 2015 World Cup] of course there were a lot of Yanks there, but this is New Zealand."
Standing beside him, wearing a foam Statue of Liberty crown, US supporter Suzanne Rivera agreed. "It's just wonderful to see our women have such devoted fans," she said.
Ahead of kick-off for the big game against Portugal, the atmosphere builds.
Fans cycle in and out of the bar as US hits like "Life is a highway" and "Cotton-eyed Joe" blare over the loudspeakers. The line of fans decked out in their red, white and blue best extends more than halfway down the block.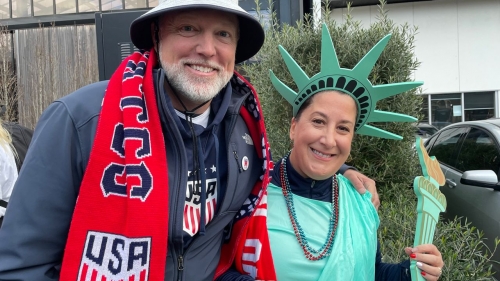 Mike Householder and Suzanne Rivera outside the Morningside Tavern in Auckland, New Zealand on August 1, 2023.
Tara Subramaniam/CNN
It all adds up to what bar manager Dave Gunn calls the "authentic" American atmosphere.
"It felt pretty hair raising. Lots of stars and stripes memorabilia around the place as well. Really felt like you were walking into a bar that you see in the movies in America," he said. "It was great for us … to feel part of that carnival tournament atmosphere and be also like the home of the USA during the pregame."
About 15,000 US fans were expected to travel to New Zealand for the World Cup, CNN affiliate Radio New Zealand reported in July, citing the country's government.
On the ground, it has felt like there's a US fan on every corner of Auckland, New Zealand's largest city, and Wellington, its capital, where the team's group stage games were held.
Many fans have run into each other at game after game, orchestrating informal meet-ups. Others have traveled in large groups, reuniting with old friends who they've met following the team over the years. For some loyal fans, this is their third, fourth or even fifth World Cup.
Several fans who spoke to CNN had followed the team to all three group games, including Nadia Pelayo, from San Antonio, Texas, who said she was impressed by the supporters' commitment.
"I'm loving seeing so many people that came from the US over here. It's pretty cool," she said. "We got our numbers over here."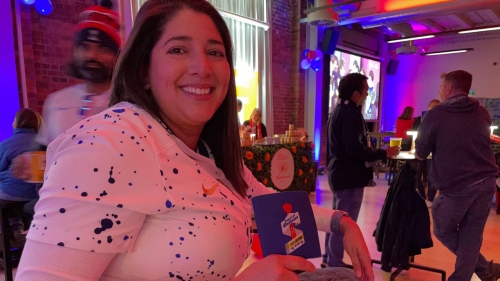 Nadia Pelayo from Texas attended all three of the US team's group stage games.
Tara Subramaniam/CNN
'A little nerve-wracking'

Back at the Morningside Tavern Tuesday, it's two hours to kick-off and hundreds of fans chanting "U-S-A," singing "Oh When the Saints" and "America the Beautiful," begin marching toward Eden Park.
There's always big expectations for the US at the Women's World Cup, but hopes were especially high this year as the game's traditionally dominant force bids for an historic third consecutive title, dubbed a "three-peat."
But while the US was heavily favored ahead of the tournament, its performance during the group stage has unnerved some fans. With one win and two ties, the team snuck into the knockout stages, coming within inches of being eliminated when Portugal hit the post in the dying minutes.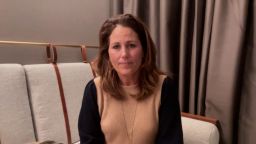 CNN
video
'Deer in headlights': Julie Foudy on US women's performance
Before the Portugal game, the players were greeted by a relatively subdued crowd, with many fans arriving at the stadium much later compared to the earlier group games.
Empty seats remained plentiful at Tuesday's decider right until kick-off – despite the American Outlaws' pregame rallying effort.
Compared to the constant noise that accompanied the US' tie with the Netherlands in Wellington, the loudest cheers from the tense crowd against Portugal came when the US substitutes entered the fray.
US fan Garvey Daniels, who recently moved to Auckland from California, said being goalless for more than 90 minutes in the crucial game was "a little nerve-wracking."
And some fans expressed their disappointment at the team's performance.
Kristen Pariseau, a traveling fan from Georgia, admits she has found herself thinking: "Oh God, I don't know if we're as good as we thought we were."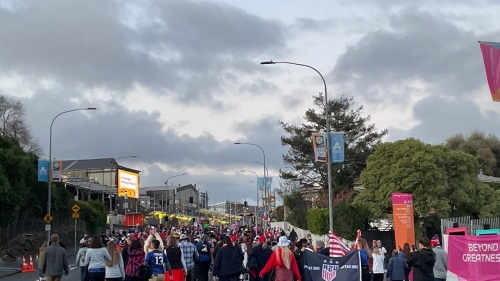 US fans march to Eden Park in Auckland on Tuesday, ahead of the game against Portugal.
Tara Subramaniam/CNN
'Much better for our bottom line'

This year's Women's World Cup is on course to be the biggest standalone women's sport event ever, according to soccer's governing body FIFA.
More than 1.7 million tickets have been sold so far and tourism officials in Australia and New Zealand are expecting the tournament to generate hundreds of millions of dollars.
And locals say the huge US traveling contingent is great for business.
Gunn, manager at the Morningside Tavern, says the bar has raked in thousands of dollars more on US game days than on an average day.
It's "definitely much better for our bottom line," he said.
And while the bar is used to serving sports fans, Gunn says the US fans have also been spending on New Zealand delicacies like lamb and oysters.
"And of course being American, they tip really well as well," he said.
But it's not just the bars that are doing well. Days into the tournament, the FIFA fan zone store in Auckland had sold out of US hats and most sizes of the team's jersey.
"The stock has just been flying off the shelves," especially for US gear, said store manager Maggie Gray. The US had the most supporters "by far," out of the crowds who visited the store, she said.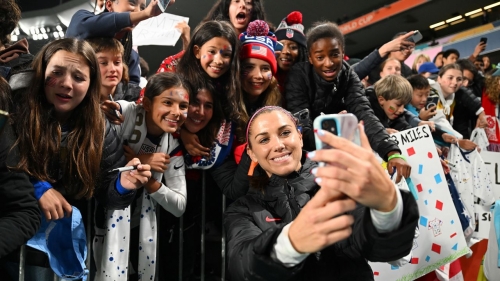 US forward Alex Morgan takes a selfie with fans at Eden Park on August 1, 2023.
Hannah Peters/FIFA/Getty Images
Next up, the US plays Sweden in Australia on Sunday in the knockout stages.
A sizable number of US fans who spoke to CNN had already booked travel and match tickets for Sydney, anticipating the team would win their group and then play there in the Round of 16.
Instead, the Group E runner-up will play in Melbourne, meaning some fans have had to scramble
"We had to change flights, cancel and rebook hotels [and] find a new [pre-game] venue," said Justin Brunken, co-founder of the American Outlaws.
"All our event signs and giveaways are in Sydney, which is about six suitcases full. We are heading to Sydney to pick it all up and lug it to Melbourne."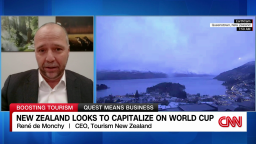 exp tourism new zealand de monchy live 080103PSEG2 cnni world_00003201.png
video
New Zealand looks to capitalize on World Cup
Despite the travel problems, Brunken said the Outlaws are expecting another packed pre-game event in Melbourne and he is confident the US team can overcome its stuttering start to the World Cup.
"I'm sure there is a lot of fans nervous based on what they saw in the group stage," he said. "But this is a team that has players that are the best in the world, and it's time now for fans to get even more behind the team and players."
If the US beats Sweden Sunday, they will return to Auckland – and Eden Park – for the quarter-finals on Friday.
And at least one non-American will be cheering them on.
"It's a real win for us if [the US] win Sunday night in Australia," said Gunn, the bar manager. "If they don't win we're really gonna miss out."