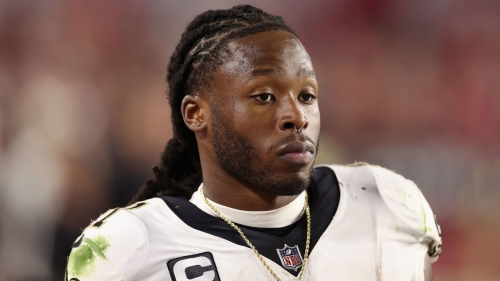 Alvin Kamara of the New Orleans Saints pleaded no contest in July in a battery case in Nevada.
Christian Petersen/Getty Images

CNN
—
New Orleans Saints running back Alvin Kamara has been suspended for three games for violating the NFL's personal conduct policy after he pleaded no contest to charges stemming from a fight in Las Vegas, the league announced Friday.
Kamara, 28, said Friday at the Saints' training camp media availability that he takes responsibility for his part in the incident in February 2022 when a person alleged they were battered at a nightclub.
"Poor judgment on my end, definitely a bad decision, but I'm a man," Kamara told reporters at the team's facilities in Metairie, Louisiana. "Anything I've ever done in my life, I've stood on and I can take accountability for. I can say when I'm wrong, and I was completely wrong. Embarrassed the Saints, embarrassed my family and my mother, embarrassed myself, embarrassed this city and the shield, obviously, embarrassed the NFL."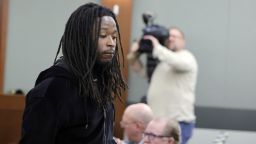 LAS VEGAS, NEVADA – MARCH 02: New Orleans Saints running back Alvin Kamara appears in Clark County District Court on an initial arraignment at the Regional Justice Center on March 02, 2023 in Las Vegas, Nevada. Kamara, Kansas City Chiefs cornerback Chris Lammons, Darrin Young and Percy Harris were each indicted by a Clark County grand jury on a felony charge of battery with substantial bodily harm and a gross misdemeanor charge of conspiracy to commit battery in connection with an alleged attack on Darnell Greene outside Drai's After Hours nightclub at The Cromwell Las Vegas during the NFL Pro Bowl weekend on February 05, 2022. (Photo by Ethan Miller/Getty Images)
Ethan Miller/Getty Images
March 2023: New Orleans Saints running back pleads not guilty in connection to 2022 alleged assault
Kamara, along with three other men, including Indianapolis Colts cornerback Christopher Lammons, were arrested in February 2022 by Las Vegas Metropolitan Police. They were charged earlier this year. Lammons has also been suspended three games for his role in the incident.
According to online court records, Kamara in July entered a "no contest" plea to a misdemeanor breach of peace charge and agreed to a $500 fine, reimbursement of medical expenses to the victim and 30 hours of community service.
Kamara's attorney, David Chesnoff, confirmed details of the sentence but didn't offer further comment.
CNN has reached out to the Clark County District Attorney's Office about the case.
On Friday, Kamara told reporters he met with NFL Commissioner Roger Goodell in New York a day prior and said the discussion went well.
He said the incident and legal trouble have affected him mentally, monetarily and with friendships for the last 17 months.
"I'm not glossing over the situation and downplaying it in any way," he said. "It was poor judgment on my end, and it was obviously unfortunate. It's just got to be a thing where I'm mature, take ownership of it and make better decisions."
Kamara will be eligible to return in the team's Week 4 matchup against the Tampa Bay Buccaneers.
He is entering his seventh season in the NFL after being drafted by the Saints in the third round of the 2017 NFL Draft out of the University of Tennessee.
Kamara, who was named to his fifth career Pro Bowl last season, rushed for 897 yards and two touchdowns in 15 games played.
CNN's Andy Rose and Steve Almasy contributed to this report.