close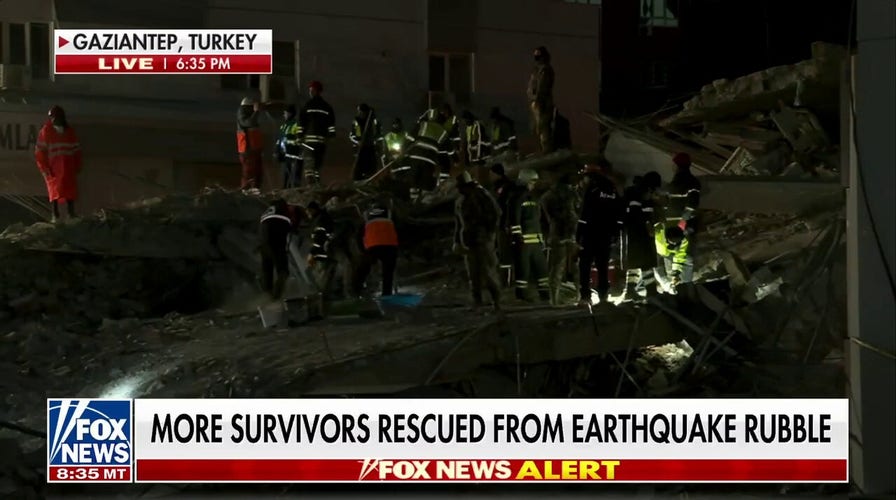 Video
Survivors heard in Turkey earthquake rubble as rescue crews rush to free them
Fox News' Greg Palkot reports from Gaziantep as crews search for survivors in the rubble of an apartment building.
While rescuers in Turkey and Syria continue to search for survivors after Monday's 7.8-magnitude earthquake, hopes of finding more people alive in the rubble three days after the disaster are starting to fade as 15,000 people are confirmed dead.
As of Thursday morning, at least 12,391 people died from the earthquake and its aftershocks in Turkey. The country's disaster management agency said more than 60,000 have been injured and tens of thousands have been displaced. More than 2,900 people have been reported dead on Syria's side of the border.
Emergency crews working through the night in the city of Antakya managed to pull a young girl trapped in the ruins of building to safety, according to news agency IHA via the Associated Press. Two hours later, they also rescued her father.
In Diyarbakir, a city approximately 300 miles east of Antakya, rescuers freed an injured woman from a collapsed building, but found three others dead next to her, according to a report from Turkish news agency DHA.
TURKEY EARTHQUAKE DEVASTATION CAPTURED ON VIDEO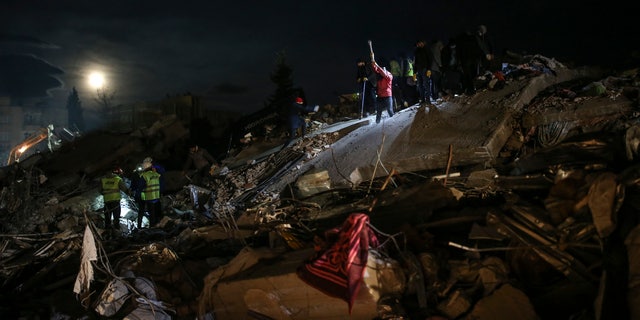 Rescue teams search for people at a destroyed building, in Adiyaman, southeastern Turkey, Wednesday, Feb. 8, 2023. (AP Photo/Emrah Gurel)
As the days go on, the survival window for those trapped under the destruction rapidly declines, but experts still insist it's too soon to completely abandon hope.
"The first 72 hours are considered to be critical," said Steven Godby, a natural hazards expert at Nottingham Trent University in England. "The survival ratio on average within 24 hours is 74%, after 72 hours it is 22% and by the fifth day it is 6%."
Antakya resident Serap Arslan told the AP many people, including her mother and brother, are still buried nearby under a collapsed building. Machinery arrived in the area to move some of the heavy concrete on Wednesday.
"We tried to clear it by our own means, but unfortunately we are very inadequately prepared for the job," the 45-year-old said.
Selen Ekimen, another Antakya resident, told the AP that both of her parents and brother are buried.
"There's been no sound from them for days," she said while wiping tears with gloved hands. "None."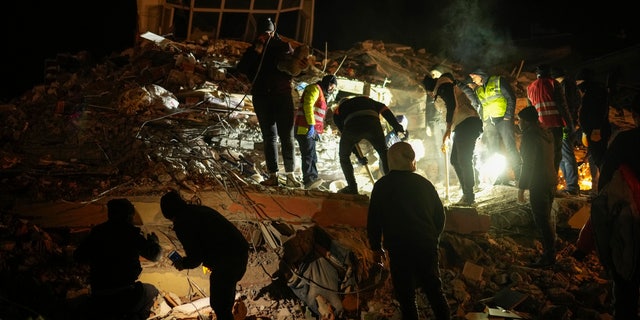 People and rescue teams search for survivors in destroyed buildings in Elbistan, southern Turkey, Wednesday, Feb. 8, 2023. (AP Photo/Francisco Seco)
EARTHQUAKES IN TURKEY, SYRIA PROMPT UN TO ACTIVATE EMERGENCY SATELLITE MAPPING
Turkey's President Recep Tayyip Erdogan visited the province of Hatay on Wednesday, a hard-hit area where residents criticized the government's alleged slow response.
Erdogan, who is up for reelection in May, acknowledged problems with the response to the catastrophic earthquake, but said winter weather and the quake's destruction of the runway at the Hatay airport disrupted the response.
"It is not possible to be prepared for such a disaster. We will not leave any of our citizens uncared for," Erdogan said, adding that "dishonorable people" were spreading "lies and slander" about the government's actions.
Erdogan also said the government would distribute 10,000 Turkish lira ($532) to affected families.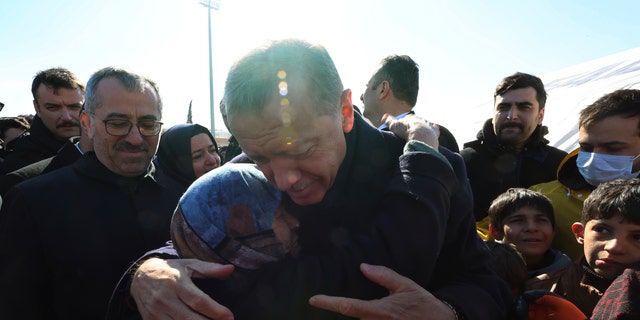 Turkey's President Recep Tayyip Erdogan and a survivor hug each other as he visits the city center destroyed by Monday earthquake in Kahramanmaras, southern Turkey, Wednesday, Feb. 8, 2023. (Turkish Presidency via AP )
EARTHQUAKE IN TURKEY, SYRIA IS DEADLIEST IN MORE THAN A DECADE
As of Thursday morning, the country's disaster management agency reported more than 110,00 rescue personnel were participating in the monumental recovery efforts. It also said more than 5,500 vehicles, including tractors, cranes, bulldozers and excavators had been shipped.
More than two dozen countries have sent teams to assist local emergency personnel, but the scale of destruction was so widespread that many people are still waiting for help.
According to the AP, aid efforts in Syria have been significantly affected by the ongoing civil war and the isolation of the rebel-held region along the border, which is surrounded by Russia-backed government forces. Syria itself is also an international pariah under Western sanctions linked to the war.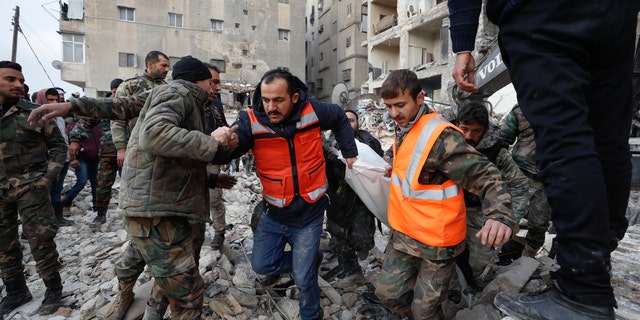 Rescue teams carry a victim from a destroyed building in Aleppo, Syria, Tuesday, Feb. 7, 2023. (AP Photo/Omar Sanadiki)
CLICK TO GET THE FOX NEWS APP
The number of deaths in Syria and Turkey is one of the largest in recent history, surpassing the 8,800 killed in Nepal in 2015 by a 7.8-magnitude quake and the nearly 20,000 killed in Japan following a tsunami triggered by an earthquake in 2011.
The region sits on top of major fault lines and is frequently shaken by earthquakes. Some 18,000 were killed in similarly powerful earthquakes that hit northwest Turkey in 1999.
The Associated Press contributed to this report.