close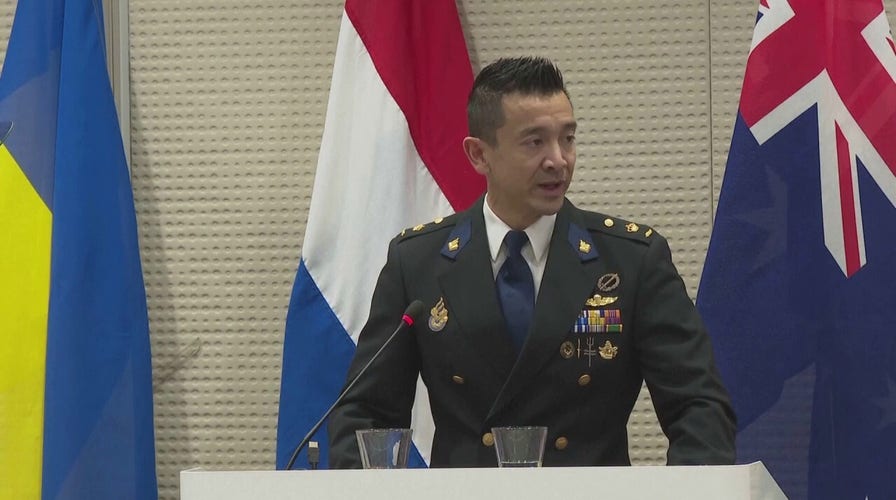 Video
Russia's Putin likely signed off on missile supply in Malaysia Airlines shoot-down, investigators say
Investigators said Wednesday there are "strong indications" that Russian President Vladimir Putin approved the supply of anti-aircraft missiles that were used to shoot down MH17. (APTN)
Russia on Thursday is saying it "cannot accept" the results of an investigation that found "strong indications" Russian President Vladimir Putin was the person who approved the supply of anti-aircraft weaponry to Ukrainian separatists who shot down Malaysia Airlines Flight 17 in 2014.
The results of the probe were announced Wednesday by the Joint Investigation Team, comprised of experts from the Netherlands, Australia, Malaysia, Belgium and Ukraine.
MH17 was traveling from Amsterdam to Kuala Lumpur in Malaysia on July 17, 2014, when it was shot out of the sky in eastern Ukraine, killing all 298 onboard.
"Russia did not take part in this investigation, so we cannot accept these results — especially since no basis for these statements has been made public," Kremlin spokesman Dmitry Peskov told reporters Thursday when asked about Putin's alleged role in the disaster, according to Reuters.
RUSSIA'S PUTIN LIKELY SIGNED OFF ON MISSILE SUPPLY IN MALAYSIA AIRLINES SHOOT-DOWN, INVESTIGATORS SAY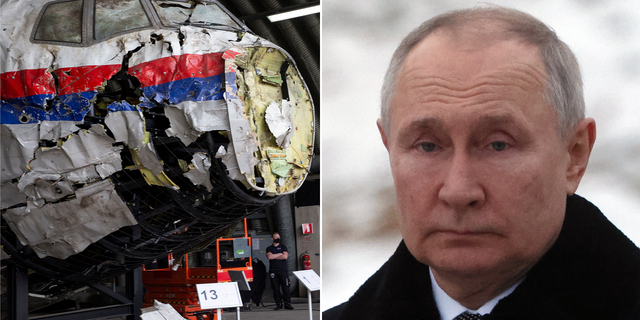 The Kremlin is pushing back on an investigation that determined Russian President Vladimir Putin had a key role in the shoot-down of Malaysia Airlines Flight 17 in 2014. At left, the wreckage from MH17 is seen reconstructed at the Gilze-Rijen military airbase in the Netherlands in 2021. (Peter Dejong/Pool/AFP/Getty Images)
The Joint Investigation Team, during a press conference Wednesday, played a recording of an intercepted phone call in which they said Putin could be heard discussing the conflict in eastern Ukraine.
Dutch prosecutors said in their summary of investigation findings that "there are strong indications that the Russian president decided on supplying" a Buk missile system to Ukrainian separatists. A Buk system from the Russian military's 53rd Anti-Aircraft Missile Brigade, based in the city of Kursk, was used to bring down MH17.
"Although we speak of strong indications, the high bar of complete and conclusive evidence is not reached," Dutch prosecutor Digna van Boetzelaer said, adding that without Russian cooperation, "the investigation has now reached its limit. All leads have been exhausted."
UKRAINE'S ZELENSKYY VISITS KING CHARLES III ON UNITED KINGDOM TRIP, ASKS LAWMAKERS FOR JETS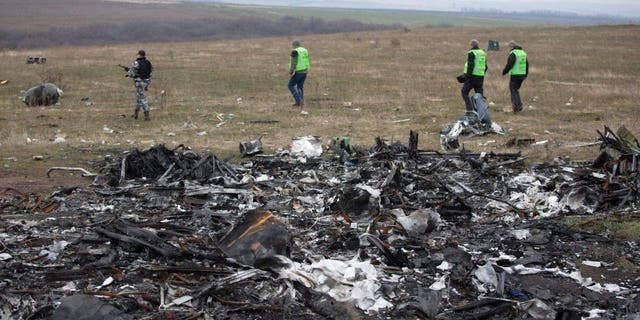 Dutch investigators accompanied by pro-Russian armed rebels arrive near parts of the Malaysia Airlines Flight MH17 at the crash site near the Grabove village in eastern Ukraine on Nov. 11, 2014. (Photo by MENAHEM KAHANA/AFP via Getty Images)
Peskov dismissed the phone call as not being conclusive.
"We know that a recording of a supposed phone call was published… in which not a single word is said about weapons," Peskov said, according to Reuters. "Even assuming that this conversation is real… there is not one word about weapons. Nobody has published anything else, so it's impossible to say anything."
But Australian Prime Minister Anthony Albanese is vowing to keep pursuing justice for the 38 Australian citizens and residents who died aboard MH17, describing Putin as "reprehensible."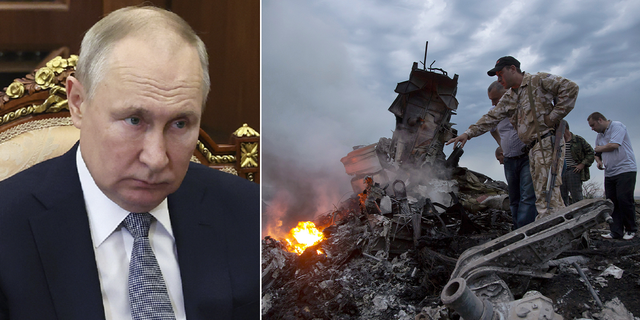 Russian President Vladimir Putin, shown left during a meeting in Moscow on Tuesday, is accused of signing off on the supply of weaponry that was used to shoot MH17 out of the sky in July 2014. (AP/Mikhail Klimentyev/Sputnik/Kremlin Pool Photo/Dmitry Lovetsky)
CLICK HERE TO GET THE FOX NEWS APP
"The shooting down of MH17 was an act of terrorism that had an impact here in Australia but on many countries as well. And we will continue to pursue these issues with every avenue at our disposal," Albanese said Wednesday.
He described Putin as "a guy who runs an authoritarian regime, that doesn't care about human rights, that doesn't care about devastation of communities — whether it be in Ukraine, whether it be the oppression of his own citizens, or whether it be acts outside of Russia, of which we've seen a number."
The Associated Press contributed to this report.
Greg Norman is a reporter at Fox News Digital.