LEXINGTON, Ky. – Former U.N. Ambassador Kelly Craft is vowing a "full court press" to combat the Chinese Communist Party's contributions to the fentanyl crisis plaguing the United States should she be elected as the next governor of Kentucky in the state's gubernatorial election this year.
"We can do better," Craft, who served as U.N. Ambassador and as Ambassador to Canada under former President Donald Trump, told Fox News Digital in an exclusive interview about her run to unseat vulnerable Democratic Gov. Andy Beshear.
"I have called out China, the Chinese Communist Party. I have stood very, very firm with them on their human trafficking, their modern slavery, their human abuses and their fentanyl. I've called them out and stood up to them to the point now that I am sanctioned for the rest of my life by the Chinese Communist Party," Craft said.
"If I can stand up to the Chinese Communist Party, I can stand up to special interest groups in Kentucky and stand firm and strong for what Kentuckians deserve. And that's the promise," she added.
VULNERABLE DEMOCRAT GOVERNOR FACES CROWDED FIELD OF CHALLENGERS, INCLUDING TWO-WELL-KNOWN REPUBLICANS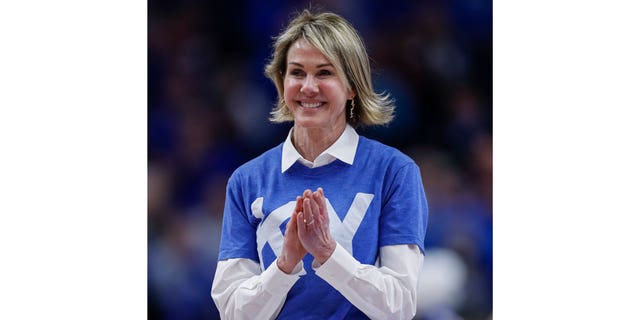 Kelly Craft, the former United States Ambassador to the United Nations, is introduced during a time-out during the Kentucky Wildcats and Georgia Tech Yellow Jackets game at Rupp Arena on December 14, 2019 in Lexington, Kentucky.
(Michael Hickey/Getty Images)
According to the Drug Enforcement Agency, China continues to be the primary source of fentanyl being imported into the United States, killing more than 100 Americans every day. It also continues to be the primary source of fentanyl for the rest of the world.
Kentucky has been one of the most hard-hit states when it comes to the fentanyl crisis. In 2021, the drug accounted for 70% of the 2,250 overdoes deaths in the state, according to state figures.
The state surpassed the 2,000 death milestone again in 2022, reaching that figure with four months still remaining in the year, and with 73% of the deaths involving fentanyl. The state's final report on overdoes deaths for 2022 has not yet been released.
Craft criticized Beshear for avoiding the subject of overdoses and the fentanyl crisis in his State of the Commonwealth address earlier this month.
"Not one time did he mention fentanyl. And we have a crisis in this state. We have a terrible drug crisis," she said. "And that is one area that I am going to stand very firm. And, you know, I'm going to have a full court press when it comes to drugs in Kentucky."
RISING GOP STAR VOWS TO STAND AGAINST 'EXCESSES OF THE BIDEN ADMINISTRATION' IN QUEST TO UNSEAT DEM GOV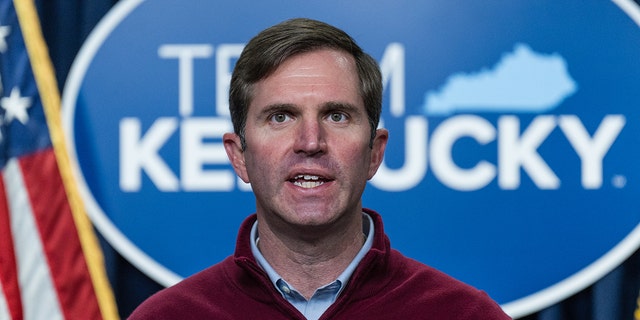 Democratic Kentucky Gov. Andy Beshear speaks during a news conference in Frankfort, Kentucky on Thursday, Jan. 27, 2022.
(Jon Cherry/Bloomberg via Getty Images)
Craft is one of twelve candidates hoping to win the Republican nomination and take on Beshear, a crowded field that includes Kentucky Attorney General Daniel Cameron, Agriculture Commissioner Ryan Quarles, and state Auditor Mike Harmon.
She argued, however, that being a non-career politician and having never run for office separated her from the pack and showed she was looking to get a job done for the benefit of the state, rather than advancing a political career.
"I'm seeing there's great grit and resilience and determination in this state," Craft said. "Understanding the grit and determination of Kentuckians, we deserve better, we can do better."
"I've had results driven leadership. I have served this country not once, but twice," she added, touting her role in negotiating the United States-Mexico-Canada (USMCA) agreement alongside Trump, as well as the Abraham Accords between Israel, Bahrain and the United Arab Emirates.
FORMER GOP GOVERNOR PUNKS REPORTERS, WALKS OUT OF STATE CAPITOL AFTER SPEECH TEASING RE-ELECTION RUN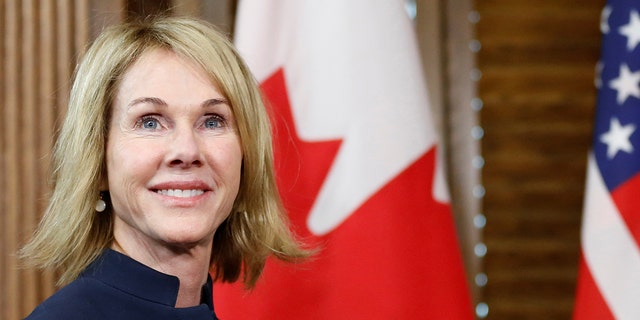 Then-U.S. Ambassador to the United Nations Kelly Craft, previously the ambassador to Canada, takes part in a meeting with Canada's Prime Minister Justin Trudeau in Trudeau's office on Parliament Hill in Ottawa, Ontario, Canada, November 3, 2017.
(REUTERS/Chris Wattie)
When asked why she decided to throw her hat into the ring last September, months after many of the other candidates, Craft cited her love for Kentucky, as well as her desire to the state rise from being at "the bottom" of many categories compared to other states.
"We can do better. And I have had results-driven leadership. And I'm the type of person that when I see a need, I want to meet the moment," Craft said.
"I'm not a career politician. I'm not looking for a job in order to get the next job. I want to do the job and I want to have jobs for Kentuckians. And that's why I'm running. Because we can do better. Because we are better," she added.
CLICK HERE TO GET THE FOX NEWS APP
The Republican primary will be held on Tuesday, May 16. The winner is expected to face Beshear in the November general election.