Former President Donald Trump has officially endorsed Rep. Jim Banks, R-Ind., to become the Hoosier State's next senator, strengthening his election odds in the state.
"Jim Banks is running for the United States Senate from the Great State of Indiana. I know Jim well, have seen him tested at the highest and most difficult levels, and WIN!" Trump wrote in a Wednesday morning post to Truth Social. "Strong on the Border, Crime, our Military and our Vets, Jim will fight for low taxes and regulations, Sanity in Government, and our under siege 2nd Amendment."
"Jim Banks is respected by all, will never let you down, and has my Complete & Total Endorsement!" he added.
SEN. JD VANCE OF OHIO BACKS REP. JIM BANKS IN INDIANA'S SENATE GOP PRIMARY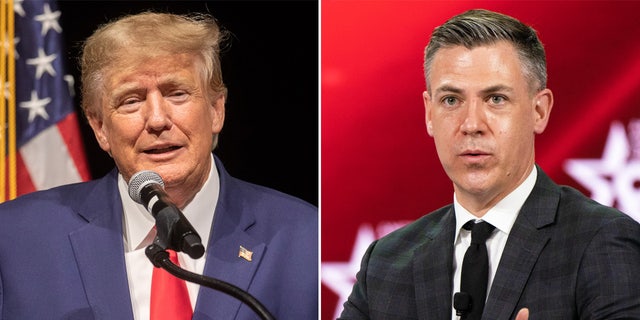 Former President Donald Trump officially endorsed Rep. Jim Banks, R-Ind., on Wednesday to become the Hoosier State's next senator.
(Scott Eisen, Elijah Nouvelage/Bloomberg via Getty Images)
Trump's endorsement in the race comes just one day after newly elected Ohio GOP Sen. JD Vance tossed his support behind Banks, a 43-year-old former state senator and a veteran of the Afghanistan war who is in his fourth term representing a district in northeast Indiana.
"Jim puts the interests of our own country first, like working to secure our border from illegal immigration and illicit drugs and fentanyl, standing up against Big Tech censorship and fighting for America First trade policies that support working families with job creation right here at home," said Vance, who defeated Democratic Rep. Tim Ryan in November to succeed retiring Republican Sen. Rob Portman.
INDIANA REP. JIM BANKS LAUNCHES 2024 SENATE RUN, HIGHLIGHTS RECORD AS 'CONSERVATIVE FIGHTER'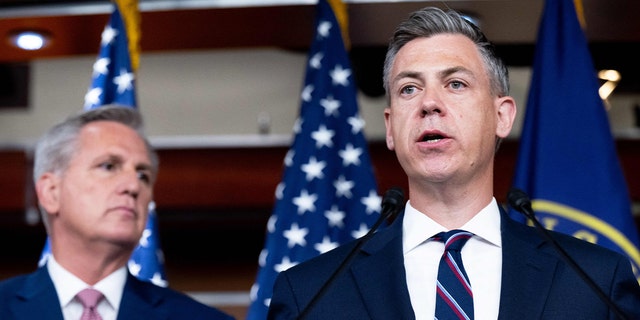 Indiana GOP Rep. Jim Banks holds a press conference on Capitol Hill in Washington, DC, June 9, 2022.
((Photo by SAUL LOEB/AFP via Getty Images))
Earlier this month, Banks launched his candidacy for the Senate in a 2024 run to fill a seat that is currently held by GOP Sen. Mike Braun, who in December announced that he's running for governor of the Hoosier State rather than seek re-election.
Banks, in an interview with Fox News ahead of his announcement, said he intends "to go to the Senate and be the type of conservative fighter that Hoosiers expect out of their senator."
"I'm 100% pro-life, pro-family, pro-military, pro-veteran, focused on the issues that the voters care most about today, which is holding the Biden administration accountable and restoring America, fighting for our conservative values, putting America first, and that's what I want to do in the Senate," he said.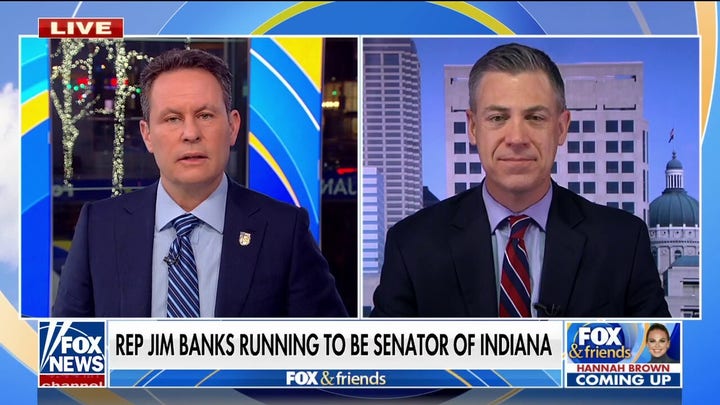 Video
CLICK HERE TO GET THE FOX NEWS APP
Banks launched his Senate campaign with a statement and video and announced it in a live national interview on Fox News' "Fox and Friends." At the time, Banks vowed to travel throughout the state to meet with friends and supporters and speak with local media about his candidacy in the race.
Banks is the only candidate who has announced a run for Senate in Indiana.
Indiana was once a general election battleground state. But it's turned reliably red in recent cycles and next year's Republican Senate nominee will be considered the front-runner in the 2024 general election.
Fox News' Paul Steinhauser contributed to this article.