Former President Donald Trump fired a new shot at Florida Gov. Ron DeSantis on Wednesday.
Trump, the only major Republican to date to launch a 2024 Republican presidential campaign, taking aim at DeSantis — who if he jumps into the White House race later this year would instantly become Trump's most formidable rival — with a new accusation on social media.
"The real Ron is a RINO GLOBALIST, who closed quickly down Florida and even its beaches. Loved the Vaccines and wasted big money on 'Testing.' How quickly people forget!," Trump claimed in a post on his Truth Social site.
And the latest string of verbal punches from Trump directed at the Florida governor may be followed by attack ads from a well-financed super PAC that's aligned with the former president.
DESANTIS CLAPS BACK AT TRUMP BY POINTING TO 'SCOREBOARD'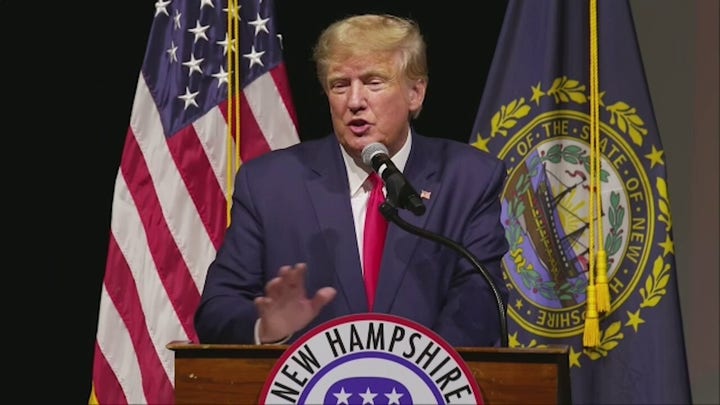 Video
A source in the Florida governor's political orbit who requested anonymity to speak more freely, said Trump's attacks show that "it's pretty clear that Gov. DeSantis is living rent-free in Donald Trump's head at this point."
The newest attack from Trump follows a barrage of blistering comments the former president made on Saturday, during the first major campaign swing of his third White House run.
TRUMP TAKES AIM AT POTENTIAL 2024 GOP RIVALS, SAYING HE DOESN'T HAVE MUCH 'COMPETITION'
"If he runs, that's fine. I'm way up in the polls. He's going to have to do what he wants to do, but he may run," Trump said in an AP interview in South Carolina, a crucial early voting state that holds the third contest in the GOP presidential nominating calendar.
Trump once again pointed to his crucial support which helped then-Rep. DeSantis, an underdog at the time, capture the Republican gubernatorial primary in 2018 en-route to narrowly winning election as Florida governor.
"I do think it would be a great act of disloyalty because, you know, I got him in. He had no chance. His political life was over," Trump said on Saturday.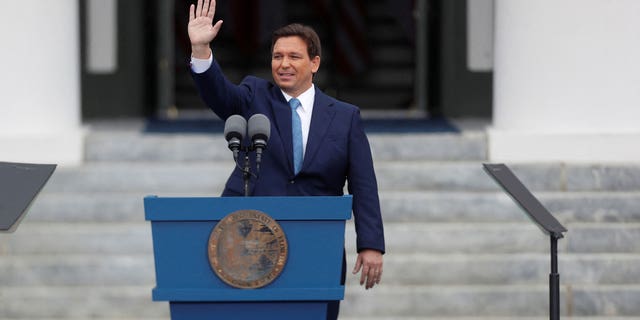 Florida's Governor Ron DeSantis after taking the oath of office waves to those in attendance at his second term inauguration in Tallahassee, Florida, U.S. January 3, 2023.
(REUTERS/Octavio Jones)
The governor saw his popularity soar among conservatives across the country the past three years, courtesy of his forceful pushback against coronavirus pandemic restrictions and his aggressive actions as a conservative culture warrior going after media and corporations.
DeSantis routinely dismissed talk of a 2024 White House race for more than a year as he focused on his gubernatorial re-election. But he's dropped some hints the past three months of a possible presidential bid, starting with his re-election victory speech in November after he cruised to an historic 19-point win in Florida, a onetime battleground state.
2024 WATCH: TRUMP'S IN — HERE'S WHO ELSE MAY JOIN THE GOP PRESIDENTIAL PRIMARY FIELD
The governor has already pushed legislation in the opening days of his second term that is popular with conservatives in Florida and nationwide. And, as Fox News first reported, he'll be releasing a memoir, "The Courage to Be Free: Florida's Blueprint for America's Revival," later this month. Writing a book is a rite of passage for many potential and actual presidential candidates.
While Trump remains the most popular and influential politician in the GOP and arguably the party's top fundraiser when it comes to energizing the grassroots, the first two and a half months of his latest White House bid have been anything but spectacular.
Political pundits from both the left and the right torched his campaign launch, and he's been criticized by Democrats and some Republicans for controversial actions and comments he's made during the past couple of months. In the wake of a lackluster performance by the GOP in the midterm elections — when the party underperformed in what many expected to be a red wave election — Trump has also been blamed for elevating polarizing Republican nominees who ended up losing in November.
While the former president remains the overall front-runner in the early 2024 GOP nomination polls, DeSantis has eclipsed him in some surveys, including a new poll last week in New Hampshire, which holds the first primary in the White House race.
DESANTIS TOPS TRUMP IN CRUCIAL PRIMARY STATE POLL
Trump, who last autumn nicknamed the Florida governor "Ron DeSanctimonious," took aim at DeSantis over the COVID crisis while speaking with reporters aboard his campaign plane en-route to South Carolina.
"There are Republican governors that did not close their states. Florida was closed for a long period of time." Trump said to reporters on Saturday. "They're trying to rewrite history."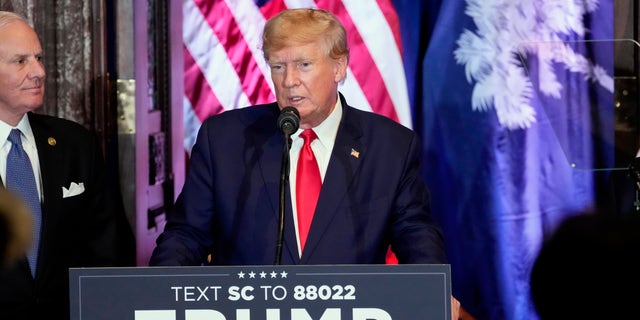 Former President Donald Trump speaks at a campaign event at the South Carolina Statehouse, Saturday, Jan. 28, 2023, in Columbia, S.C. 
(AP)
A couple of hours earlier, as he kicked off his day with a campaign speech in New Hampshire, the state that votes second in the GOP's presidential nominating calendar, Trump touted his poll position and recollected that he didn't have much competition as he cruised to his 2020 renomination as the sitting president.
Then, as he looked to a potential 2024 GOP primary field that might eventually include rivals such as DeSantis, former Vice President Mike Pence, former South Carolina governor and former ambassador to the United Nations Nikki Haley, and other well-known Republicans, Trump asserted that "I don't think we have competition this time either to be honest."
2024 WATCH: NIKKI HALEY TO JOIN TRUMP IN HUNT FOR GOP PRESIDENTIAL NOMINATION
DeSantis didn't engage or respond over the weekend to the slights from Trump.
But at a news conference in Florida on Tuesday when asked about the former president's attacks, the governor clapped back even without mentioning Trump's name.
"What I would just say is this. I roll out of bed, I have people attacking me from all angles," the Florida governor said. "It's been happening for many, many years. And if you look at the good thing about it, though, is if you take a crisis situation like COVID, you know — the good thing about it is when you're an elected executive, you have to make all kinds of decisions. You got to steer that ship."
DeSantis then emphasized the electoral scoreboard, saying "the good thing is that the people are able to render a judgment on that, whether they re-elect you or not. And I'm happy to say, you know, in my case, not only did we win re-election, we won with the highest percentage of the vote that any Republican governor candidate has in the history of the state of Florida."
David Carney, a longtime national Republican consultant who's based in New Hampshire, pointed out that "Trump's style is to fight and anybody who pokes their head up, he'll take a swipe at them."
But Carney, a veteran of numerous presidential campaigns, said that the DeSantis response on Tuesday "was a clever way to deflect the issue…. A charge made that's not responded to becomes more difficult to respond to down the road. That's always been the truth."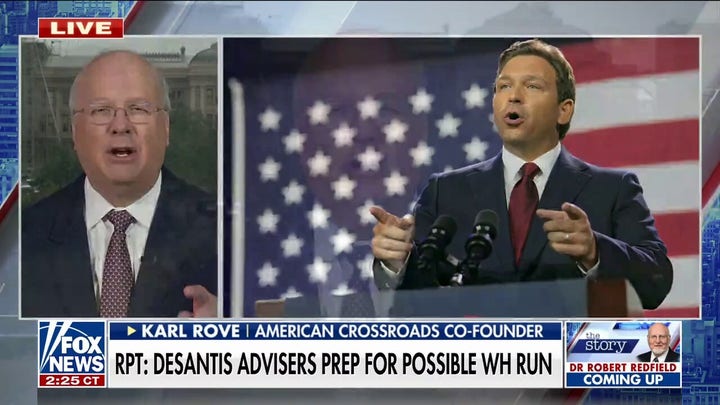 Video
The GOP strategist in the DeSantis political orbit who asked to remain anonymous to speak more freely told Fox News "I think Ron is absolutely right to point to the scoreboard because right now it shows he just won a center-right state by 19 points while Donald Trump has effectively lost three elections in a row."
"I think Trump's people understand that that is a powerful and potent argument that Ron's going to be able to make and it something that they have zero credible response to," the strategist argued.
WHY THE REPUBLICAN PRESIDENTIAL NOMINATION RACE IS OFF TO A SLOW START
The strategist also confirmed that DeSantis political advisers are beginning to make preliminary staffing moves in Iowa, which kicks off the GOP nominating schedule, and New Hampshire, a sign that DeSantis appears to be laying the foundations for a national campaign. The news was first reported over the weekend by the Washington Post.
Trump may soon be targeting DeSantis and other potential 2024 rivals with more than just words.
Fox News confirms that top officials with MAGA Inc, the top super PAC supporting former President Donald Trump's 2024 White House campaign, met last month to discuss lines of attack against DeSantis, Pence, Haley, and other likely contenders for the nomination.
At the meeting, which was helmed by Taylor Budowich (former Trump communications director who now steers the PAC) and Tony Fabrizio (the top pollster on Trump's 2016 and 2020 campaigns), opposition research that could end up in MAGA Inc. ads was discussed, and plan of attack was drawn up.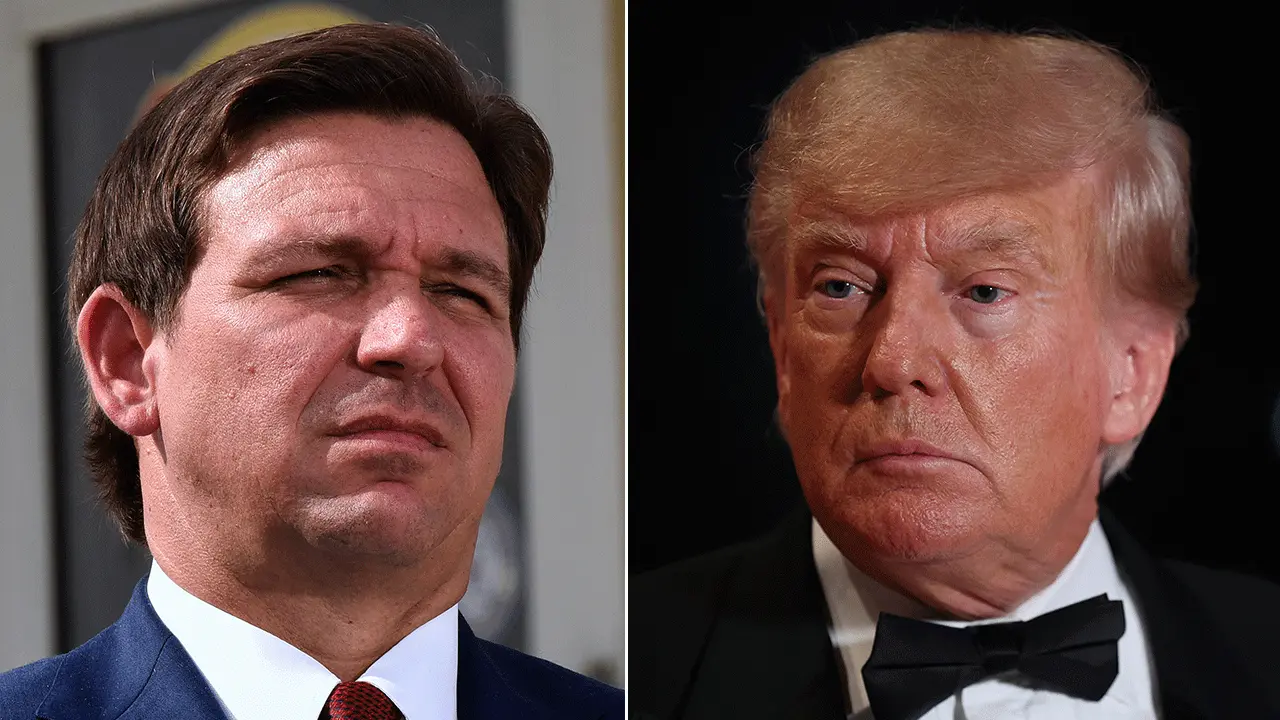 DAYTONA BEACH SHORES, FLORIDA, UNITED STATES – 2023/01/18: Florida Gov. Ron DeSantis seen during a press conference on Jan. 18, 2023 in Daytona Beach Shores, Florida (Photo by Paul Hennessy/SOPA Images/LightRocket via Getty Images)  Former U.S. President Donald Trump arrives for a New Years event at his Mar-a-Lago club on December 31, 2022 in Palm Beach, Florida. (Photo by Joe Raedle/Getty Images)
(Paul Hennessy/Joe Raedle)
Fox News also confirmed that in the coming weeks, MAGA Inc. officials are expected to travel to four early voting states to give road test to the lines of attack against Trump's likely rivals, which again, could end up in ads that start running as early as March. The news was first reported Tuesday by Politico.
"MAGA Inc., through deep opposition research, tested messages, and a significant war chest, is building a GOP primary guillotine that will welcome every challenger with swift and decisive force," Budowich told Fox News in a statement.
MAGA Inc. has the money to follow through on their plan. Trump's political action committee, Save America, transferred $55 million to the super PAC late last year. And Fox News has confirmed that MAGA Inc. plans to hold its first fundraiser — at Mar-a-Lago — on Feb. 23.
CLICK HERE TO GET THE FOX NEWS APP
The verbal fireworks in recent days appears to be just an appetizer of things to come as the 2024 cycle heats up.
"We're going to see a lot of this," Carney predicted. "This is going to be no cakewalk for anybody."