Rapper Tory Lanez's sentencing for shooting Megan Thee Stallion in the feet has been delayed until August.
A jury in the US found him guilty of firing at the Savage singer in the Hollywood Hills during an argument.
Almost three years have passed since the 2020 shooting, and a lot has happened inside – and outside – court.
It's a case that's divided fans and spilled out into the wider hip-hop world, with Drake being accused of taking sides at one point.
What the trial heard
When the trial finally got going in Los Angeles late last year, after months of delays, Megan got to take the stand and give her version of events under oath.
"I can't believe I have to come here and do this," was how Megan started her testimony in the LA courtroom.
She told the jury it all began at the party hosted by Kylie Jenner in the Hollywood Hills on 12 July 2020.
Megan, real name Megan Pete, and Tory Lanez, real name Daystar Peterson, got into an argument as they drove away from the event.
She told the trial the row started when she mocked Lanez' musical talents.
According to Megan, she demanded to be let out of the car and heard Tory shouting at her to dance.
He then opened fire with a handgun.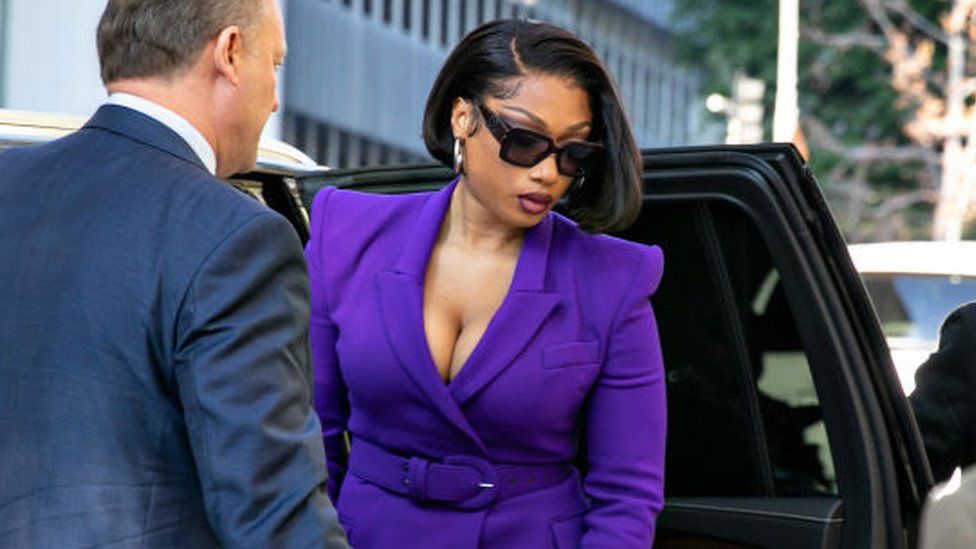 Image source, Getty ImagesImage caption, Megan Thee Stallion gave evidence at the LA courthouse in December
The jury heard how she left a trail of blood at the scene and minutes after the shooting a friend messaged her security saying: "Help… Tory shot Meg."
Megan told the courtroom Lanez had offered her $1m to keep quiet about what happened, and called her afterwards to apologise, claiming he was "just too drunk".
Through tears, she said she had regrets about coming forward, saying speaking out had been "torture".
Lanez hasn't been sentenced yet
Lanez was convicted in December of three charges: assault with a semiautomatic firearm, having a loaded, unregistered firearm in a vehicle and discharging a firearm with gross negligence.
Prosecutors are seeking a 13-year prison sentence and the 30-year-old faces deportation to his native Canada.
But he still hasn't been sentenced.
On 13 June, a judge accepted his lawyer's request to delay the sentencing until 7 August to give them more time to prepare their recommendations.
During the brief court hearing, Lanez – wearing an orange jail outfit and black cap – mostly kept his head down and barely made eye contact with anyone.
Why the case was so divisive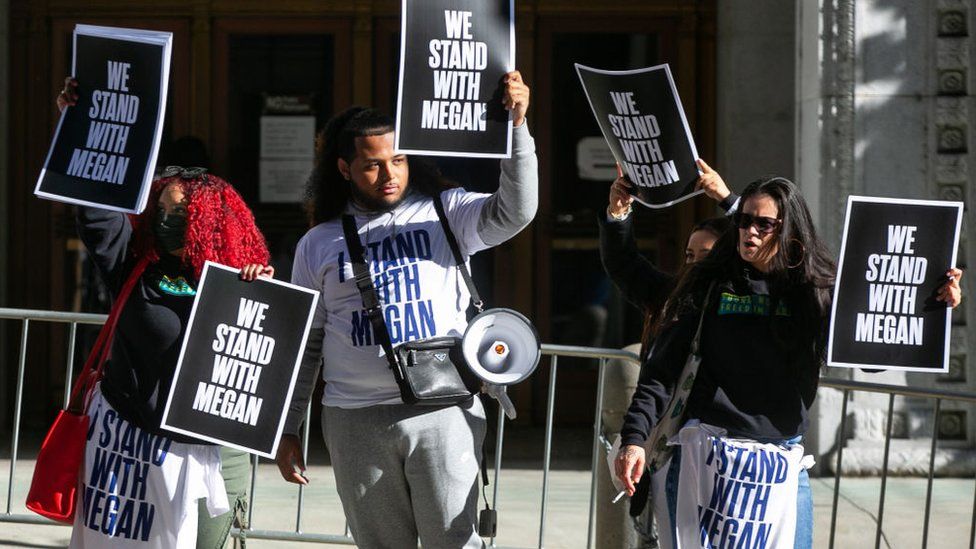 Image source, Getty ImagesImage caption, Fans showed their support for the rapper outside the courthouse in LA
Outside the court, Lanez' supporters stood opposite crowds of fans carrying "We stand with Megan" signs.
And as Megan arrived at the building, his side heckled her by shouting: "Why are you lying on that boy?"
Accusations of lying have dogged the Grammy-winning rapper throughout the case, because her story changed early on.
She initially told police she'd been hurt by stepping on broken glass.
It wasn't until later, on Instagram, when she first said that Tory had shot her.
She then told an interviewer she'd needed surgery to remove bullets from her feet which had missed her bones and tendons.
Megan, 27, said she lied to officers at the time because she didn't want to "get in more trouble".
It sparked a long war of words between her and Lanez – they both released tracks about the case.
In his song Money Over Fallout, Lanez accused Megan of trying to frame him, while Megan said she was the one "speakin' facts" in her track Shots Fired.
Taking sides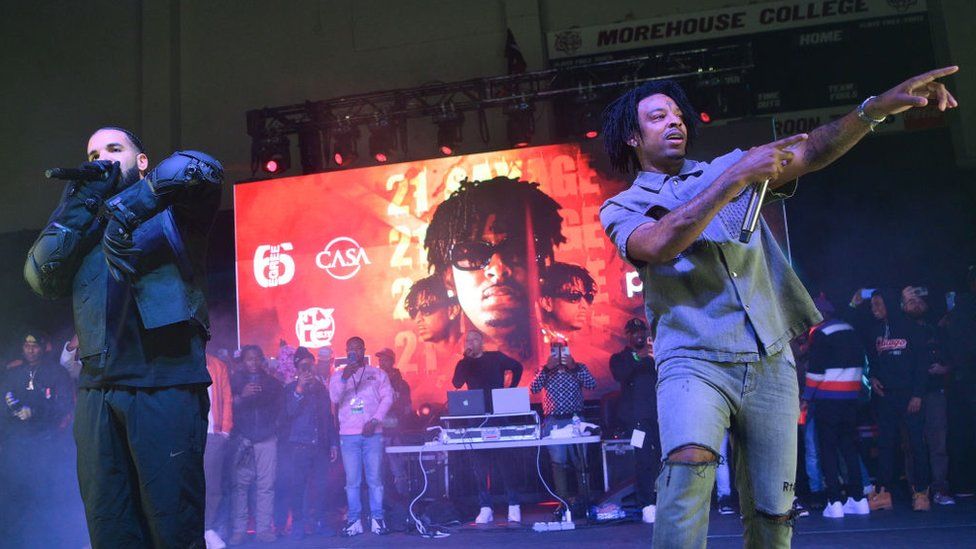 Image source, Getty ImagesImage caption, In his collab with 21 Savage, Drake appears to suggest Megan lied about being shot
The dispute spilled out into the wider hip-hop world, with artists like 50 Cent and even Drake getting involved.
Megan frequently defended herself on Twitter and said she'd been painted as aggressive and a "snitch".
She suggested misogynoir – misogyny against black women – could be why she was targeted.
Megan criticised Drake when he released Circo Loco, a collab with 21 Savage that appeared to reference the shooting case.
Tory Lanez guilty of shooting Megan Thee Stallion
Megan Thee Stallion testifies Tory Lanez shot her
50 Cent sorry for Megan Thee Stallion lying claims
But she did receive support from fellow artists, like JoJo and Kehlani.
And a group of prominent black women, including #MeToo founder Tarana Burke, released an open letter backing Megan.
In Da Club rapper Fiddy eventually apologised for sharing memes casting doubt on Megan's version of events.
He said he'd changed his mind after hearing evidence from the trial.
'A victory for every woman'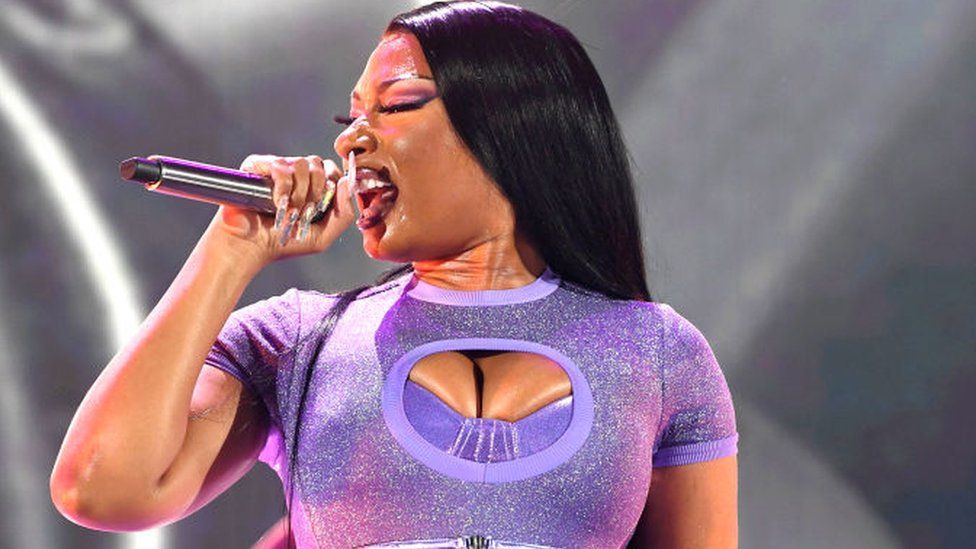 Image source, Getty ImagesImage caption, Megan says the guilty verdict was a "victory for women"
Lanez has always denied the charges against him, he's filed various appeals and his lawyers could launch other motions after his sentence.
Since the guilty verdict, Megan has tried to reclaim the narrative around the shooting, and spoken about the effect "false narratives" and "conspiracy theories" had on her.
In an Elle Magazine feature, she said the guilty verdict "was a victory for every woman who has ever been shamed, dismissed, and blamed for a violent crime committed against them".
"We can't control what others think, especially when the lies are juicier than the truth," she said.
"But as a society, we must create safer environments for women to come forward about violent behaviour without fear of retaliation."


Follow Newsbeat on Instagram, Facebook, Twitter and YouTube.
Listen to Newsbeat live at 12:45 and 17:45 weekdays – or listen back here.