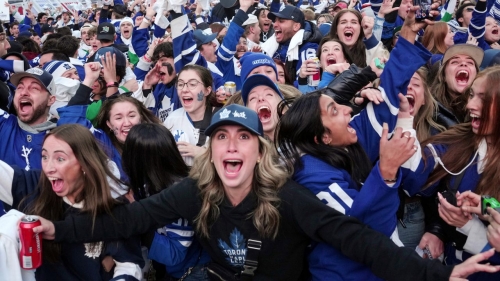 Fans in Maple Leaf Square celebrate.
Chris Young/AP

CNN
—
When the Toronto Maple Leafs last won a playoff series, George W. Bush was the US President, Lance Armstrong was winning Tour de France titles and The Facebook had just been launched.
A lot has happened since 2004, and it has been quite the wait for the Maple Leafs.
But Saturday they advanced to the second round of the NHL playoffs following a 2-1 overtime victory over the Tampa Bay Lightning in Game 6 in Florida.
"Obviously it's a bit of a monkey off our back and we still got plenty of work to do but this one obviously feels really great," said Maple Leafs forward Auston Matthews, according to Reuters.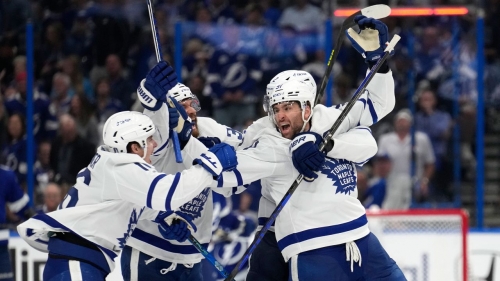 John Tavares (91) celebrates scoring the game-winning goal.
Chris O'Meara/AP
Matthews got the scoring started in the second period before Lightning captain Steven Stamkos netted the game-tying goal in the third period to eventually send it to overtime.
Just under five minutes into the overtime period, John Tavares scored the series-clinching goal to send the Leafs into the next round.
Before Saturday, the Maple Leafs had lost six straight first-round series, in addition to a qualifying-round loss in 2020 during the NHL bubble.
In 2004, the Maple Leafs defeated the Ottawa Senators in seven games to advance to the Eastern Conference semifinals. The Philadelphia Flyers later went on to eliminate the Leafs in six games.
The Maple Leafs will face the winner of Game 7 between the Boston Bruins and Florida Panthers Sunday.