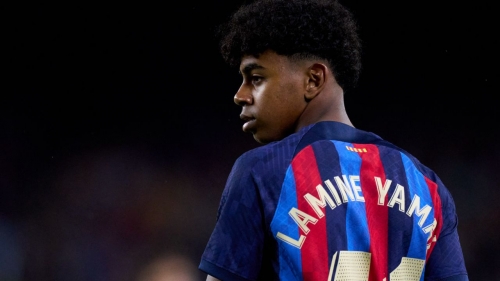 Lamine Yamal made his debut against Real Betis.
Alex Caparros/Getty Images

CNN
—
Back in 2007, in the months before Lamine Yamal was born, the first iPhone was released and Lionel Messi was already announcing himself as one of the greatest footballing talents ever.
Fast forward to 2023 and smartphones have taken over the world, Messi has won the World Cup and it was Yamal's turn to announce himself to the footballing world, becoming Barcelona's youngest debutant in La Liga.
Aged 15 years, 9 months and 16 days, Yamal entered the fray after 86 minutes as a substitute for Gavi during Barcelona's 4-0 victory against Real Betis Saturday.
According to Barcelona's website, only three younger players have represented the club – Armand Martínez-Sagi in 1920 (14 years, 6 months and 16 days), Carles Comamala in 1903 (14 years, 7 months and 5 months), and Paulino Alcántara in 1912 (15 years, 4 months and 18 days).
"We were talking about it on the bench and I think when I was 15 I was playing for the local team in my neighbourhood," Barça forward Raphinha said afterwards, according to ESPN.
And, although the result was decided when Yamal ran out onto the pitch, he still made an impact, with only a brilliant save from goalkeeper Rui Silva stopping him from scoring Barcelona's fifth goal of the night.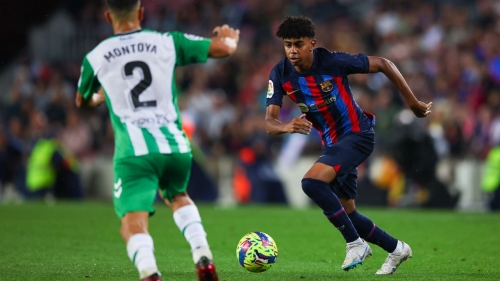 Lamine Yamal turns 16 in July.
Eric Alonso/Getty Images
"Seeing him come on in front of the fans was incredible," Raphinha added. "It would have been even better if he scored, but I am sure he will get one sooner rather than later."
Raphinha added Barça's fourth goal of the night, which along with goals from Andreas Christensen and Robert Lewandowski, and an own goal, sealed a victory that takes the Blaugrana 11 points clear at the top of La Liga with just six games to play.
"I told (Yamal) to try things and he did," Barcelona manager Xavi said, according to ESPN. "At 15 years old, just imagine it… He is special and he could have even scored tonight, but [Betis goalkeeper Rui Silva] saved.
"He played with confidence and he showed what he is about. He has no fear and bags of talent. Some of his passes in the final third were really good.
"Lamine doesn't seem like a 15-year-old, he's very mature. He's ready [to play] and he is training well. He can mark an era at this club as part of this team."