The chairman of the House Homeland Security Committee took aim at the Biden administration's "after dark" drop of December border numbers, accusing the administration of a lack of transparency — while promising the "tides are changing" now the Republicans have control of the committees.
Customs and Border Protection (CBP) released its border numbers for December late Friday evening, confirming that there were more than 250,000 migrant encounters that month — a new high for the Biden-era crisis that is now moving into its third year.
Rep. Mark Green, the new chairman of the House Homeland Security Committee, criticized what he saw as a Friday night dump of bad news for the administration. His office noted that the 251,487 encounters is greater than the population of Scottsdale, Arizona.
"Another month and another effort from DHS to hinder transparency with the American people. It's no surprise we get our most important information from DHS on a Friday after dark," he said. "The Southwest border is an unmitigated disaster and these monthly encounter numbers from DHS prove just that."
OVER QUARTER OF A MILLION MIGRANT ENCOUNTERS IN DECEMBER ALONE, CBP CONFIRMS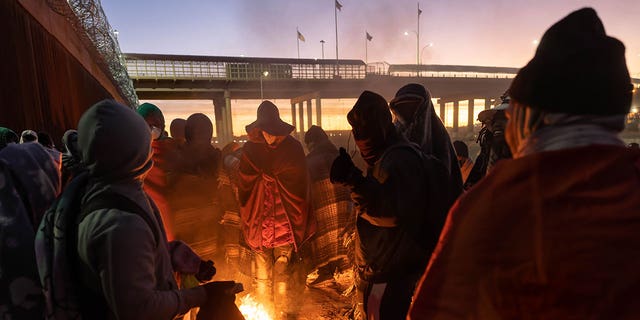 Immigrants warm by a fire at dawn after spending a night alongside the U.S.-Mexico border fence on Dec. 22, 2022, in El Paso, Texas.
(John Moore/Getty Images)
The numbers are a new record, and eclipse the highest month of the Biden-era crisis so far, which came in May when numbers hit 241,136, during what are typically busier summer months.
"The Biden administration continues to break its own records every month. Never before in DHS history has there been a month with encounters this high," Green said. "It's no coincidence that all of these dangerous records are happening on Biden's watch."
Green pledged to crack down on what he sees as foot-dragging from the administration now that Republicans have control of the House – and its investigative committees.
"However, the tides are changing," he said. "This Committee will no longer tolerate receiving these critical updates 20 days into the month and we will no longer tolerate this refusal to enforce law and order at the border. We look forward to having Secretary Mayorkas before the Committee soon to provide answers and accountability for the significant threat these border security policies have had on our homeland security posture."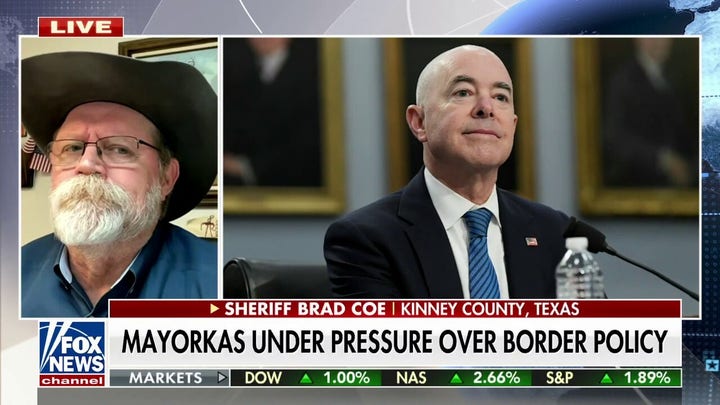 Video
Green's statement shows how the escalating border numbers are continuing to fuel Republican criticism of the Biden administration's handling of the crisis at the border. Republicans have pointed to the rolling back of Trump-era border protections, including wall construction and asylum limits, as well as a narrowing of interior enforcement.
BIDEN-ERA MIGRANT CRISIS SMASHES ANOTHER RECORD AS MIGRANT ENCOUNTERS TOP 250,000 IN DECEMBER
The Biden administration has pushed back, saying it is working to open legal asylum pathways that were closed during the Trump administration as it deals with a Hemisphere-wide crisis, while also blaming Republicans in Congress for not passing a sweeping immigration bill proposed on day one of Biden's administration.
On Friday, the administration hit Republicans for having claimed the border would be open once the Title 42 public health order – which was scheduled to expire on Dec. 21, but was blocked by the Supreme Court – saying that rhetoric contributed to the December surge.
"Of course the numbers will be higher when Republican elected officials, like smugglers, falsely proclaim the border is open because of a court order to lift Title 42," an administration official told Fox News Digital on Friday.
TEXAS BILL WOULD REQUIRE TITLE 42 EXPULSIONS OF MIGRANT UNTIL COVID-19 MANDATES, EMERGENCY LIFTED
The administration pointed to numbers that show a sharp drop of more than 80% in encounters of Venezuelans since the administration implemented a new parole system combined with broader Title 42 expulsions for migrants from that nation.
"Despite their misinformation, our border enforcement measures continue to hold strong with the number of Venezuelan nationals arriving at the border unlawfully continuing to drop dramatically," the official said.
Acting CBP Commissioner Troy Miller, meanwhile, suggested that the expansion of that program was likely to show progress in the January numbers.
CLICK HERE TO GET THE FOX NEWS APP
"Early data suggests the expanded measures for Cubans, Haitians and Nicaraguans are having a similar impact, and we look forward to sharing the additional data in the next update," he said.