The largest Democratic dark money network in the country is facing an Internal Revenue Service complaint alleging that its founder illegally benefited financially through its intricate setup.
On Tuesday, Americans for Public Trust (APT) filed an IRS complaint against entities affiliated with Arabella Advisors, a Washington, D.C., consulting firm that manages a handful of nonprofits that act as fiscal sponsors for many left-wing dark money groups. Eric Kessler, a former President Clinton appointee, founded Arabella Advisors, and his firm has raked in hundreds of millions of dollars over the years for its management services of the nonprofits that are also linked to him and serve as hubs for the network.
"Eric Kessler created one of the most complex and sophisticated dark money networks influencing U.S. politics and policy today," said APT executive director Caitlin Sutherland. "Now, it appears as though he misled the IRS and may have illegally personally benefited by rerouting nonprofit cash back into his own pocket through Arabella Advisors. The IRS must immediately investigate this scheme, and determine to what degree Eric Kessler has used Arabella and their managed-nonprofits for his own self-enrichment."
SECRETIVE SOROS-FUNDED GROUP WORKS BEHIND THE SCENES WITH BIDEN ADMIN ON POLICY, DOCUMENTS SHOW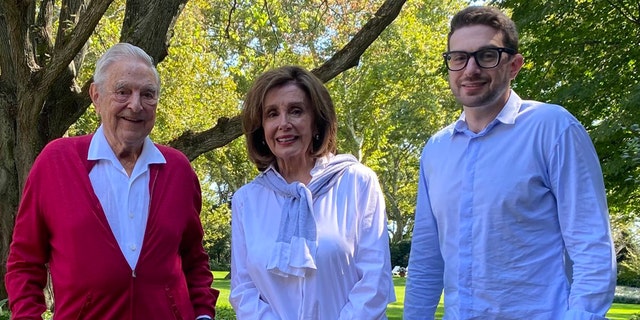 Then-House Speaker Nancy Pelosi poses with liberal billionaire donor George Soros, left, and his son, Alexander. (Alexander Soros/Twitter)
Arabella Advisors manages four nonprofits that host dozens of liberal groups, including one that works with the Biden administration on policy. The network's web of groups sits under the Arabella-managed New Venture Fund, Sixteen Thirty Fund, Windward Fund and Hopewell Fund. A fifth, the North Fund, has also been linked to the network. Each fund is a fiscal sponsor to other nonprofits by providing their tax and legal status to those housed beneath them.
This configuration allows the fiscally-sponsored groups to avoid filing tax records to the IRS, effectively masking their financials and other information. The Arabella-managed nonprofits also do not reveal donor information on their own tax forms, keeping the public in the dark to the full extent of who uses the network as a conduit to fund left-wing initiatives. In recent years, billions of dollars have flowed through the network to progressive causes nationwide.
Financiers such as Swiss billionaire Hansjörg Wyss and George Soros have funneled cash to groups in the network. The Democracy Alliance, the left's premiere big-money secretive donor club, has also included its funds in past confidential documents regarding where to wire money for specific initiatives.
Funds in the nexus have also passed money to entities with links to Democratic leadership. In 2020, the Sixteen Thirty Fund gave $750,000 to House Majority Forward, a dark money nonprofit affiliated with then-House Speaker Nancy Pelosi, tax forms show. That same year, the Sixteen Thirty Fund directed $500,000 to the Sen. Chuck Schumer-aligned Senate Majority PAC.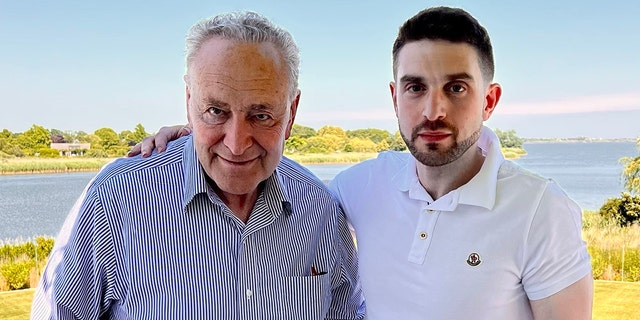 Senate Majority Leader Chuck Schumer, left,  and Alex Soros, son of George Soros, take a picture together in an undisclosed location. (Alexander Soros/Twitter)
APT's IRS complaint calls for an investigation into the tax-exempt status of four Arabella-managed nonprofits, which have paid Arabella Advisors hundreds of millions of dollars for administrative, operation and management services, their respective tax documents show. Kessler founded or acted as president of each of the four funds.
"There are serious questions as to whether the Kessler-Affiliated Nonprofits have directly diverted substantial portions of their income and assets for the personal benefit of Mr. Kessler," the complaint read. "Each of these entities has made substantial independent contractor payments to a for-profit, limited liability company founded and controlled by Mr. Kessler. These payments were generally recorded as being made in exchange for administrative support services; however, there is reason to believe that the payments made far exceeded the fair market value of the services rendered."
LIBERAL DARK MONEY NETWORK HAULED IN MORE THAN $1.5B IN ANONYMOUS DONATIONS FOR LEFT-WING CAUSES IN 2021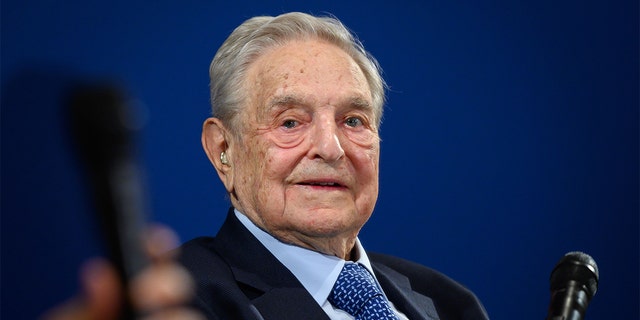 George Soros has sent millions to groups housed at the dark money network. (FABRICE COFFRINI/AFP)
"The details of these concerning commercial transactions are not readily discernible, as the underlying contracts are not publicly available," the complaint continued. "Therefore, only the IRS, using its summons, investigatory, and related enforcement powers, can compel the production of information necessary to determine whether private inurement, private benefit, and/or excess benefit have resulted from the hundreds of millions of dollars that have been transferred as independent contractor payments."
The complaint says that since 2006, the four Arabella-managed nonprofits have wired $228 million to Arabella Advisors firm for operating support. The watchdog further wrote that two of the nonprofits – the New Venture Fund and Sixteen Thirty Fund – informed the IRS their arrangement with Arabella would be temporary at the time of their formation.
"Neither NVF nor Sixteen Thirty made any move to terminate their relationship with Arabella; such inaction was in direct contradiction to what each had previously told the IRS regarding their plans," the complaint said. "There is evidence that indicates that these fees exceeded the fair market value of the services provided to the Kessler-Affiliated Nonprofits by Arabella Advisors, LLC, the company he also founded."
"The payments have also vastly exceeded the initial estimates that the Kessler-Affiliated Nonprofits provided to the IRS on their applications for tax exemptions."
LIBERAL DARK MONEY GROUP FUNNELED MILLIONS OF DOLLARS TO GROUPS CONNECTED TO TOP WH OFFICIALS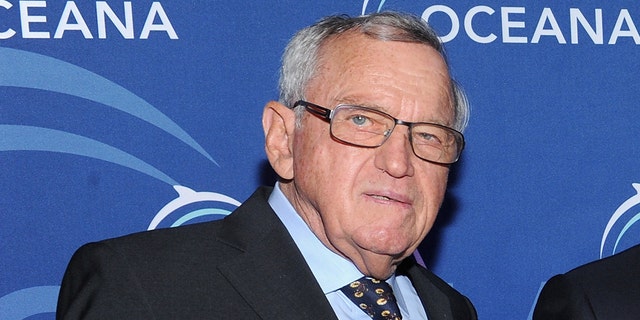 Swiss billionaire Hansjörg Wyss has also funneled large amounts of cash into Arabella Advisors-managed nonprofits. (Getty Images)
APT demands the IRS open an investigation to "determine that the Kessler-Affiliated Nonprofits have engaged in egregious and systemic violations of their tax-exempt status." If found to have done so, APT says the IRS "should take appropriate regulatory actions" and refer "violations to the Department of Justice for possible criminal prosecution."
An Arabella Advisors spokesperson, Steve Sampson, told Fox News Digital the complaint is "meritless" and will not deter them from their work.
"This is a meritless complaint from an organization that is obviously pursuing an agenda," Sampson said. "To be clear, Arabella Advisors is a business dedicated to making philanthropic work more efficient, effective, and equitable. We pride ourselves on helping our clients identify efficiencies, saving them tens of millions of dollars in operational costs and allowing them to focus their resources on their intended impact."
CLICK HERE TO GET THE FOX NEWS APP
"We are compensated in exchange for a series of robust administrative and operational services, including HR, compliance, accounting, and grants management, and our success over the years is a testament to the services and expertise we provide," Sampson continued. "We regularly benchmark our fee structure to ensure our clients are getting the best value, and our nonprofit clients continue to work with us because of the best-in-class service we provide."
"We remain committed as ever to helping our clients achieve their impact goals; frivolous allegations won't deter us," Sampson added.