close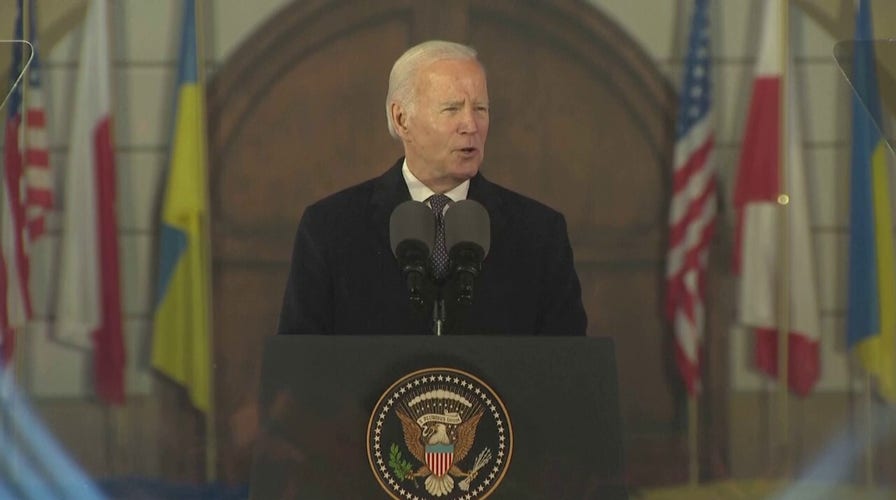 Video
Biden in Poland says US support for Ukraine will 'never waver'
President Biden delivered a speech Tuesday in Warsaw, Poland, where he called on Russian President Vladimir Putin to end the war in Ukraine, and said Russia has committed crimes against humanity.
China's top diplomat is traveling in Russia on a diplomatic mission that will touch on the countries' roles in propagating "world peace."
Wang Yi, the director of China's Office of the Central Foreign Affairs Commission, landed in Moscow on Tuesday for the first diplomatic meeting between the two allied countries since the beginning of Russia's invasion of Ukraine.
RUSSIA SUSPENDS PARTICIPATION IN NEW START NUCLEAR TREATY WITH US, PUTIN SAYS
China's Ministry of Foreign Affairs spokesperson Wang Wenbin commented on the trip Tuesday as Yi was en route to Russia, describing the visit — announced last week — as an opportunity for discussion on the two countries' roles in promoting world peace.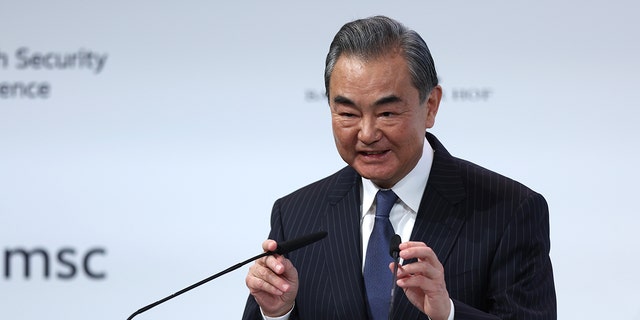 Chinese foreign affairs Minister Wang Yi speaks during the 2023 Munich Security Conference on Feb. 18, 2023, in Munich. (Johannes Simon/Getty Images)
"Last week, we announced that Member of the Political Bureau of the CPC Central Committee and Director of the Office of the Central Commission for Foreign Affairs Wang Yi would visit Russia," said Wenbin.
PRESIDENT BIDEN MAKES SURPRISE VISIT TO KYIV. UKRAINE, MEETS WITH PRESIDENT ZELENSKYY
He continued, "China would like to take the opportunity of this visit to work with Russia to promote the steady growth of the bilateral relations in the direction identified by our presidents, safeguard the legitimate rights and interests of both sides, and play a positive role for world peace. We will release relevant information in a timely manner."
Yi is set to meet with Russian Foreign Minister Sergey Lavrov during the trip, but whether there will be an audience with President Vladimir Putin is still unknown.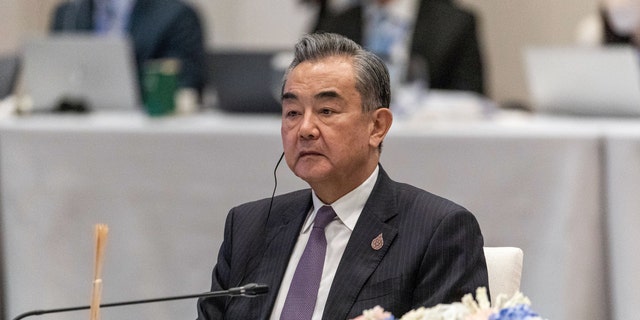 Wang Yi, China's foreign minister, at the Asia-Pacific Economic Cooperation leaders informal dialogue with guests in Bangkok on Friday, Nov. 18, 2022.  (Andre Malerba/Bloomberg via Getty Images)
Vice President Kamala Harris announced last week that the United States has officially determined the Russian military is committing crimes against humanity in its invasion of Ukraine.
UKRAINE WARNS OF MASSIVE RUSSIAN MISSILE ATTACK ON ANNIVERSARY OF PUTIN'S INVASION: 'WE HAVE TO BE READY'
"From the starting days of this unprovoked war, we have witnessed Russian forces engage in horrendous atrocities and war crimes. Their actions are an assault on our common values, an attack on our common humanity," Harris said during her speech at the Munich Security Conference in Germany.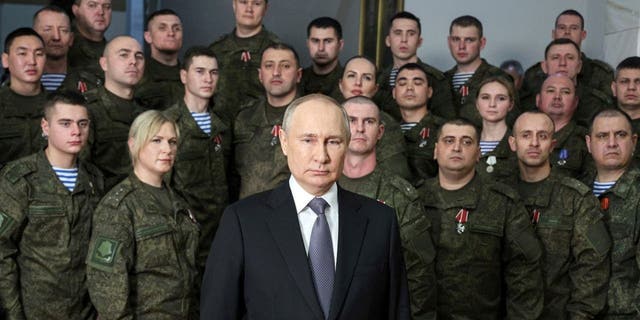 President Vladimir Putin speaks in his annual televised New Year's message after a ceremony during a visit to the headquarters of the Southern Military District, at an unknown location in Russia, on Saturday, Dec. 31, 2022.  (Mikhail Klimentyev, Sputnik, Kremlin Pool Photo via AP, File)
"And let us be clear. Russian forces have pursued a wide spread and systemic attack against a civilian population," she continued. "Gruesome acts of murder, torture, rape and deportation. Executions, killings, beatings and electrocution. Russian authorities have forcibly deported hundreds of thousands of people from Ukraine to Russia, including children."
BIDEN ANNOUNCES MILLIONS MORE TAXPAYER DOLLARS TO ASSIST UKRAINE DURING SURPRISE TRIP TO KYIV
Secretary of State Antony Blinken met with Yi at the Munich conference amid tensions between the two countries over a Chinese surveillance object shot down by the United States.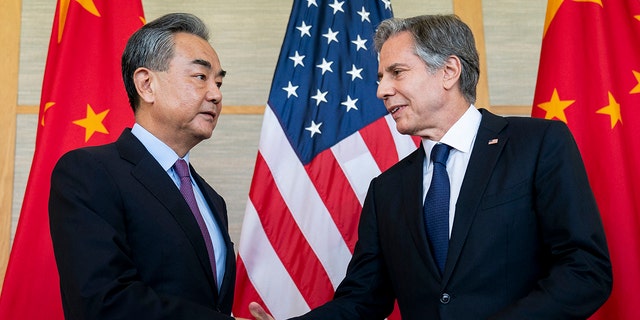 Secretary of State Antony Blinken, right, shakes hands with China's Foreign Minister Wang Yi during a meeting in Nusa Dua on the Indonesian resort island of Bali on July 9, 2022. (STEFANI REYNOLDS/POOL/AFP via Getty Images)
State Department spokesperson Ned Price released a statement confirming the two diplomats "met on the margins" of the Munich meeting which represents the first in-person meeting between China and the U.S. since the surveillance object was shot down.
CLICK HERE TO GET THE FOX NEWS APP
"The Secretary directly spoke to the unacceptable violation of U.S. sovereignty and international law by the PRC high-altitude surveillance balloon in U.S. territorial airspace, underscoring that this irresponsible act must never again occur," Price said.
Fox News' Andrew Mark Miller contributed to this report.
Timothy Nerozzi is a writer for Fox News Digital. You can follow him on Twitter @timothynerozzi and can email him at [email protected]