Millions of people have already viewed, liked and commented on Tom Brady's emotional video sharing his decision to retire from the NFL, but it's his ex-wife Gisele Bündchen's message that really stands out.
"Wishing you only wonderful things in this new chapter of your life," she wrote, alongside a praying hands emoji.
The supermodel also liked the post, which included the caption, "I love my family I love my teammates I love my friends I love my coaches I love football I love you all."
In addition to the video, Brady also uploaded a series of photos featuring Bündchen, as he highlighted all those who had supported him over his 23-season career with both the Tampa Bay Buccaneers and New England Patriots.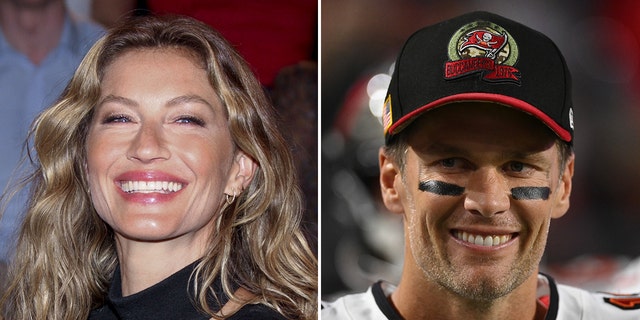 Tom Brady received a sweet message from his ex-wife Gisele Bündchen after announcing his retirement from football.
(Tristar Media/Norm Hall)
SIGNS TOM BRADY AND GISELE BÜNDCHEN WERE HEADED FOR THE END ZONE
"I'm retiring, for good," Brady said sitting beach-side to the camera.
"Thank you guys for allowing me to live my absolute dream. I wouldn't change a thing," he said, getting choked up. "I love you all."
 

 
 

 
 
View this post on Instagram
 

 
 
 

 
 

 
 
 

 
 
Brady previously retired from the NFL for 40 days last year before deciding he would play another season in Tampa.
Bündchen, who was noticeably absent from games at the start of the football season, finalized her divorce with Brady in October.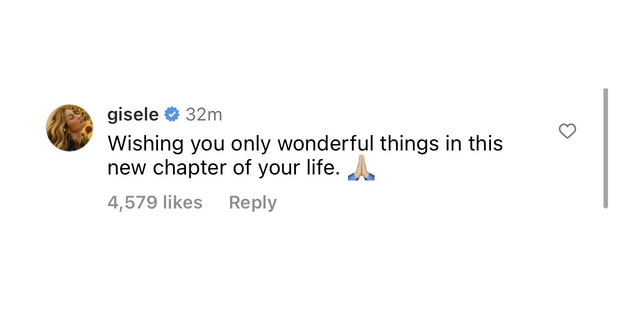 Gisele Bündchen commented on her ex-husband's post announcing his retirement.
(Instagram)
While several notable athletes commented on the 45-year-old's post, he also garnered recognition from Hollywood's elite.
Kate Hudson wrote, "I know I can say this for my whole fam, it's been an honor to watch such a phenomenal career. You brought us all much joy for so many years. Welcome to the next chapter, may it bring as many blessings as the last two decades."
Hugh Jackman commented, "A sensational career. To say the least! Onward. Love HJ."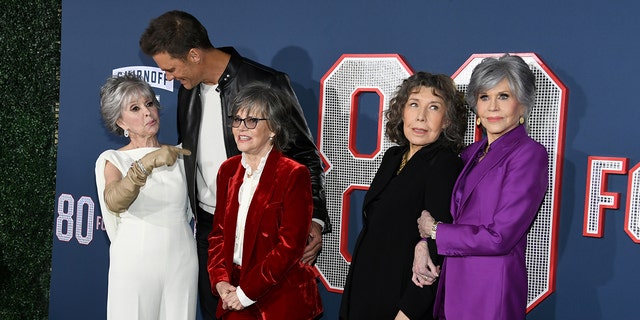 Rita Moreno, Tom Brady, Sally Field, Lily Tomlin and Jane Fonda attend the premiere screening of "80 for Brady" on Jan. 31, 2023, in Los Angeles.
(Jon Kopaloff)
CLICK HERE TO SIGN UP FOR THE ENTERTAINMENT NEWSLETTER
Hours before announcing his retirement, Brady was living the Hollywood life, smiling in front of cameras for his first red carpet post divorce.
On the carpet for the "80 for Brady" premiere, a film in which he starred and co-executive produced, the seven-time Super Bowl champion was focused on his co-stars, Jane Fonda, Lily Tomlin, Sally Field and Rita Moreno.
Brady warmly greeted the women with affection, often looking like he had his hands full.
His co-stars haven't been shy about their admiration for Brady. The women recently gushed over their love for the former quarterback in an interview with AARP the Magazine, February/March 2023 issue.
"He's at the top of his game and the best in his field, and beyond that, he's gorgeous, kind and sweet," Fonda said.
"Your jaw drops at the skill level," Field noted
Moreno echoed Field's statements, saying, "Oh, he's remarkable in his work, just remarkable."
On the other hand, Tomlin's affinity for Brady was a bit more motherly.
"He's like a great big, beautiful, perfect 20-year-old that you'd want to be your son," she said of her co-star.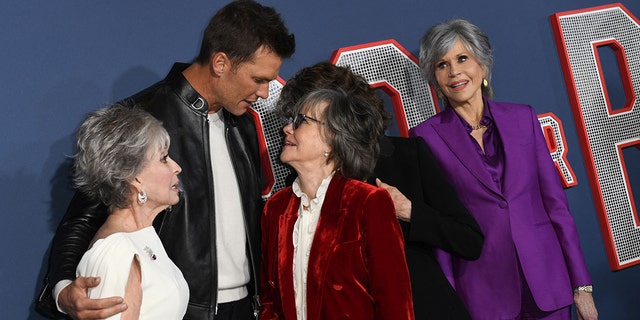 Tom Brady hugs Rita Morena and Sally Field.
(Valerie Macon/AFP)
CLICK HERE TO GET THE FOX NEWS APP
At times on the red carpet, the leading ladies seemed transfixed by Brady's stature and poise, often staring at him.
In one photo, Brady puts his arms around Moreno and Field, as Tomlin pokes her head into the conversation. Fonda, stands off to the side watching, as they prepared for photos.
The film "80 for Brady" premieres Feb. 3.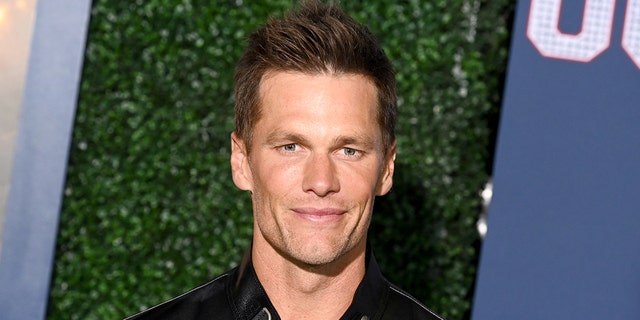 Tom Brady walked the red carpet on the eve before announcing his retirement from football, for the second time.
(Gilbert Flores/Variety)