When Bob Hope made his last USO tour, the beloved Hollywood comic made sure to bring some of his favorite "girls" along, including Marie Osmond.
The actor played before an estimated 10 million servicemen and women at 700 bases and hospitals before his final tour in 1990. For Hope's grand finale, Osmond joined The Pointer Sisters, Ann Jillian and other acts to entertain the troops during the holiday season.
″It was just exciting as hell,″ Hope said at the time. ″The morale is immense. It was just great. They're just all ready.″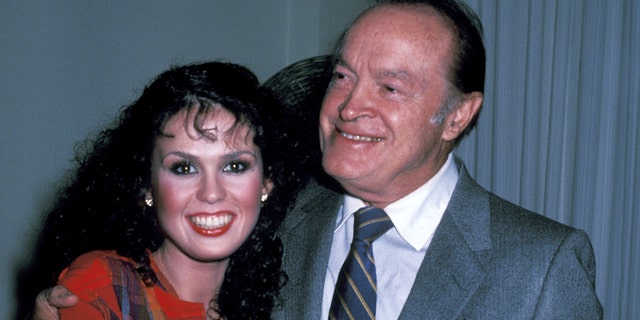 Marie Osmond and Bob Hope during the taping of Bob Hope's USO 40th Anniversary Show at West Point in West Point, N.Y.
(Ron Galella/Ron Galella Collection via Getty Images)
The "Paper Roses" songstress performed on the USS Wisconsin in front of 1,600 sailors and marines in the Persian Gulf during the Christmas season, WTKR reported. The event took place weeks before the ship participated in Operation Desert Storm.
MARIE OSMOND ON 50-POUND WEIGHT LOSS JOURNEY: 'FOOD IS NOT MY ENEMY ANYMORE'
"Bob was like a second dad to me," the star told Fox News Digital. "The first time I sang 'Paper Roses' on national television was on Bob Hope's Christmas special. I was barely 13. And he never asked my brother to do shows with him, it was just me. [And then] he asked me to do his very last USO tour with him. … I stood where the guns were shot when Desert Storm started. I performed on those guns for all those troops.
"I've had some wonderful experiences, and I love our military," the 63-year-old gushed.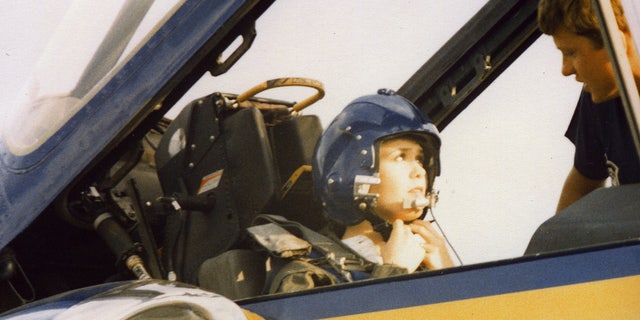 Marie Osmond said she's proud to have flown with the Blue Angels.
(Courtesy of Marie Osmond)
Hope died in 2003 at age 100. In his lifetime, Hope dedicated much of his nearly 80-year career to entertaining the troops, both at home and abroad, USO.org reported. Whether it was performing on the front lines, befriending injured soldiers or personally writing heartfelt letters home, he was committed to using his talents to give thanks for their sacrifices.
Osmond noted that Hope's determination to give back to our servicemen and servicewomen remained an inspiration for her.
CLICK HERE TO SIGN UP FOR THE ENTERTAINMENT NEWSLETTER
In 2018, Osmond was awarded the Secretary of Defense Medal for Outstanding Public Service by four-star General Robert B. Brown, U.S. Army Pacific (representing Secretary of Defense James Mattis), during her birthday concert in Honolulu.
Over the years, Osmond has performed and connected with our troops. But there was one encounter with a disabled veteran that left an unforgettable impression. Osmond described how this fan was missing both of his legs.
Marie Osmond (left, seen here with Brooke Shields, right) said she learned many life lessons from Bob Hope, who died in 2003 at age 100.
(Ron Galella/Ron Galella Collection via Getty Images)
"He was sweating, and he said, 'I'm so sorry,'" Osmond recalled. "I said, 'Why are you sorry?' He says, 'Well, I don't have hands. We sweat out of our feet and our hands and I don't have them. So it's just my forehead.'"
Osmond became visibly moved as she described the meeting.
MARIE OSMOND DEBUTS HER NEW LOOK IN RARE PHOTO WITH HUSBAND STEVE CRAIG AT DISNEY WORLD
"We don't realize the sacrifice these people make for us," she said, fighting back tears. "And so, I honor them deeply. I see what they have done. It's maybe why I love people so much. You know, all those things – they affect you."
And Osmond's love for our troops hits close to home.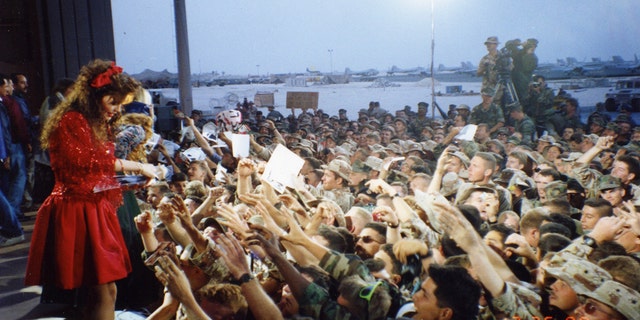 Marie Osmond's connection with American troops hits close to home. Her father, George Osmond, served during World War II.
(Courtesy of Marie Osmond)
"My dad was an army sergeant, and he had my brother wake us up to 'Reveille' every morning. Seriously, that's how [he] raised nine children," she laughed.
During World War II, George Osmond served in the army and met his future wife Olive at a military depot, where she worked as a secretary, The Seattle Times reported. They married in 1944 and remained together until the matriarch's death in 2004 at age 79. The patriarch died in 2007 at age 90.
BOB HOPE'S LETTERS TO AMERICAN TROOPS DURING WWII CHRONICLED IN BOOK: IT 'AFFECTED HIS ENTIRE LIFE'
"My husband's dad was in the Navy," Osmond shared. "[Our troops] protect our freedoms and give us the ability to do the things that we want to do. … It's life-changing. … And I learned so much from Bob [Hope].
"I remember going into the tents, and a lot of the celebrities wanted to be on camera," she said. "I didn't care so much. I just wanted to see the troops. But I remember walking back and there were a few people back there who were sick. … I just saw tent after tent lined with plasma. And just the profound proudness … the sacrifice that these people made. People don't understand what our military sacrifices."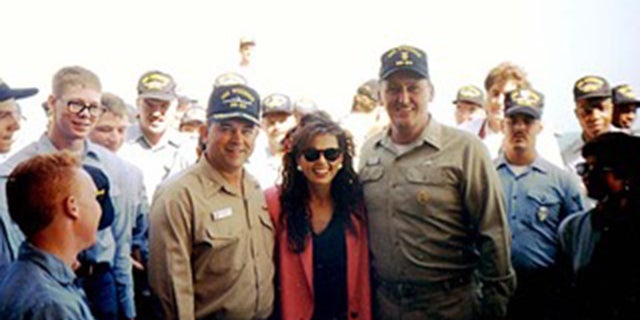 Marie Osmond was part of a USO tour with The Pointer Sisters and other acts when she performed on the USS Wisconsin in front of 1,600 sailors and marines, WTKR reported. According to the outlet, it was Dec. 26, 1990, just weeks before the ship participated in Operation Desert Storm.
(Courtesy of Marie Osmond)
In 2021, 31 years after performing on the USS Wisconsin, Osmond returned to the ship at its location outside Nauticus Museum in Norfolk, Virginia. She also reunited with the veterans who saw her original performance.
"When I heard it was docked there, and I could go see it, that's the first thing I wanted to do," Osmond told WTKR at the time. "People do not understand what those men and women went through unless they were right over there with them, especially for the holidays."
BOB HOPE'S LETTERS TO TROOPS IS A TOUCHING REMINDER TO THANK VETERANS, DAUGHTER SAYS: 'HE LOVED THOSE GUYS'
Marie's autograph is still showcased on the ship today.
Over the years, Osmond has successfully pursued her passions. During the holidays in 2022, she led a sold-out tour. She's also a longtime spokeswoman for Nutrisystem, encouraging fans to shed pounds for a healthier lifestyle just as she did 15 years ago.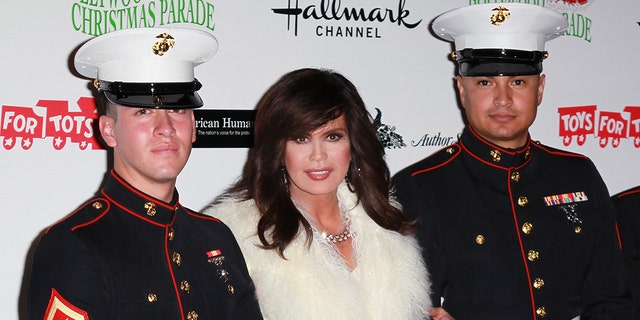 Singer and parade Grand Marshal Marie Osmond poses with Marines at the 80th anniversary Hollywood Christmas Parade benefiting Marine Toys for Tots Nov. 27, 2011, in Hollywood, Calif. 
(David Livingston/Getty Images)
These days, she's just happy to be a grandma.
"I spent the last 11 years at a Las Vegas residency," she previously told Fox News Digital. "You miss the football games, you miss the basketball games. You miss those things. And I don't want to miss them anymore. I'm still doing the things I love. I'm still performing, and I feel so blessed."
KATHIE LEE GIFFORD CELEBRATES VETERANS DAY BY REMEMBERING HER LATE FATHER: 'I KNOW HOW FRAGILE LIFE IS'
"On my Christmas tour, I had a bunch of 20-year-old girls in the front row. I looked down at them from the stage and said, 'Do you guys even know who I am?'" she shared. "And they said, 'Yeah, we found you on YouTube!' … This whole new generation is finding me, and they're just so cute. There are three projects I'm looking at right now, but I just love being a grandma. I really love all of life."
The Associated Press contributed to this report.