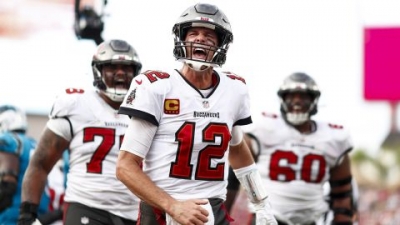 Tom Brady of the Tampa Bay Buccaneers celebrates after a touchdown during the fourth quarter of the game against the Carolina Panthers.
Kevin Sabitus/Getty Images

CNN
—
Tom Brady and the NFL playoffs have become synonymous over his long and storied career.
And the 45-year-old once again booked his place in the postseason on Sunday thanks to a comeback 30-24 victory by the Tampa Bay Buccaneers against the Carolina Panthers.
The Bucs twice fell to large deficits – 14-0 and 21-10 – at Raymond James Stadium but were twice able to produce scoring drives to claim their second successive NFC South division title.
Brady produced his best performance of what has been a disappointing season so far, completing 34 of 45 passes for 432 yards, three touchdowns and no interceptions.
Afterwards, the Bucs quarterback – having sealed his place in the NFL playoffs for the 14th consecutive season – praised his team's resolve as an up and down regular season approaches its finale.
"It felt great," Brady said, per the Buccaneers website. "I'm really proud of our guys and everyone on the team, coaches.
"We powered through a lot of tough things this year. Happy to win the division; it's always tough to do it. NFL games are tough to win and we always figure out a way to keep them somehow exciting. I wish they wouldn't be as exciting as we made it, but I'm happy we got the win and happy so many guys contributed."
All three of Brady's touchdowns were thrown to wide receiver Mike Evans, who enjoyed a career afternoon in the Week 17 clash.
Evans caught 10 passes for 207 yards and the trio of touchdown passes. Not only did the monster afternoon extend his streak of consecutive seasons with 1,000 receiving yards to nine, becoming the first NFL player to open his career with such a streak, Evans also became the first Bucs player to record 200 or more receiving yards and three scores in a single game.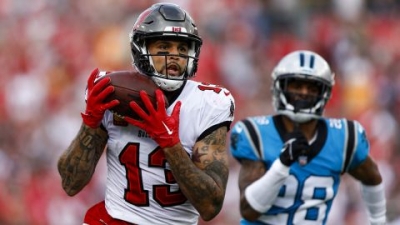 Evans catches a pass past Keith Taylor Jr. of the Carolina Panthers to score a touchdown.
Kevin Sabitus/Getty Images
The pair had connected for 26 touchdowns in their previous two seasons, but only for three in the previous 16 weeks of the 2022 season.
But after weeks of struggles and looking off-kilter, Brady and Evans dissected a Panthers defense just when it mattered.
"It feels great," said Evans. "It's been an up-and-down year. We just kept fighting and we played our best ball today and it was much needed."
Big Blue

Elsewhere on Sunday, the New York Giants sealed their place in the playoffs with a dominant 38-10 victory over the Indianapolis Colts.
Giants quarterback Daniel Jones threw for two touchdowns and ran for two more as New York returned to the postseason for the first time since 2016.
It caps off a dramatic improvement under first-year head coach Brian Daboll after five straight losing seasons and underperformance.
But the resurgence of running back Saquon Barkley and a burgeoning defense has led the Giants to a 9-6-1 record and place in the playoffs.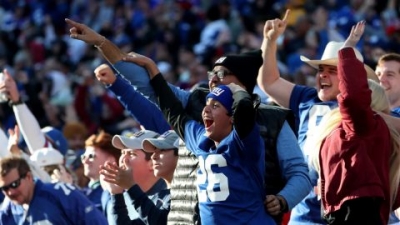 Giants fans celebrate a touchdown during the second quarter against the Colts.
Vincent Alban/Getty Images North America/Getty Images
As is tradition when a team reaches the playoffs, Daboll was doused in Gatorade in celebration when the win was assured.
A smiling Daboll described the victorious celebrations as "sticky and wet."
"It was good excitement, obviously," Daboll said, per the Giants website.
"You work hard in this business to try to give yourself a chance to play extra innings or more games. So, we have done that. We put ourselves in a position to compete more than just one other game. So, excitement, sure. Definitely."