Tim McGraw knows how to "Live Like You Were Dying" – it's simply become his way of life.
Between hours in the gym to maintain his physique, to hours at home with his wife, Faith Hill, and their three daughters (if they have a chance to drop by), McGraw has made sure to put just as much of a focus on his family as his career through the last 30 years as a country music star.
His rise to the top – just like his battle with alcoholism – wasn't linear. While his first album was a flop, he stayed the course and didn't settle for anything but the best. Faith in himself and gratitude for those who have supported him along the way have helped him remain standing on solid ground.
TIM MCGRAW CONFESSES MAKING LOVE TO THIS SONG LED TO 27-YEAR MARRIAGE WITH FAITH HILL
Tim McGraw has been a staple in the country music industry for three decades. (Getty Images)
Tim McGraw and Faith Hill were in relationships with other people when they first met at a gig in 1994, but reconnected two years later when she opened for him on his tour.
"We were young and silly and goo-goo-eyed in love," McGraw told People of their initial spark. He proposed backstage at a festival in the summer of 1996, and they married months later.
McGraw and Hill have been married now for nearly three decades and have three daughters: Gracie, 26; Maggie, 24; and Audrey, 21.
Hill gave birth to their first daughter in May 1997, the same month they released their first single together, "It's Your Love," which earned single, song, video and vocal event of the year at the Academy of Country Music Awards. The song is still one of McGraw's top hits of all time.
They've since released multiple hit songs and performed around the country on their co-headlining Soul2Soul tour – one of country music's highest grossing tours. He's sold more than 50 million records, with 10 albums topping the charts and dozens of No. 1 singles.
McGraw and Hill also have the acting bug and starred as James and Margaret Dutton in the "Yellowstone" prequel series, "1883." His time on the silver screen also included starring roles on "Friday Night Lights," "The Blind Side," and "The Kingdom."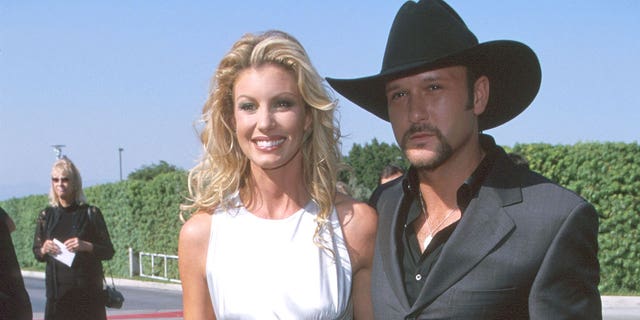 Tim McGraw and Faith Hill had a No. 1 hit the same month she gave birth to their first daughter in 1997. (J. Vespa/WireImage)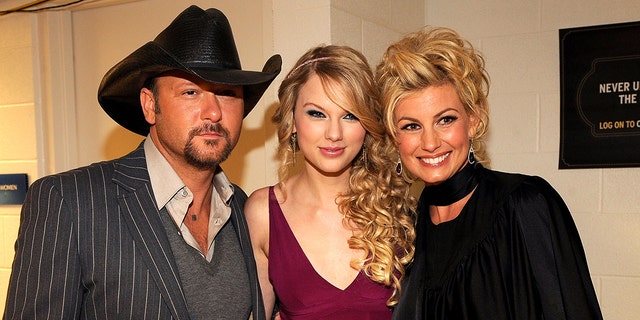 Taylor Swift's first hit song was simply named "Tim McGraw." (Rick Diamond)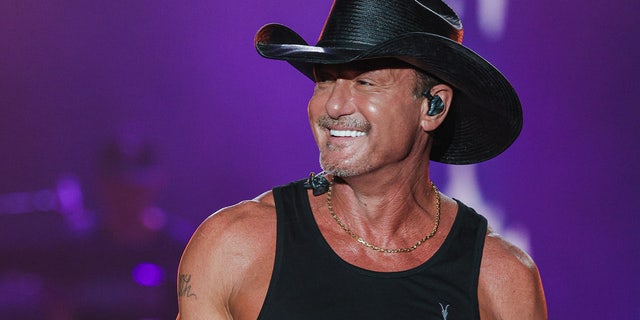 Tim McGraw has performed for millions of fans as one of the top country artists of all time. (Michael Hickey/Getty Images)
McGraw, the son of legendary professional baseball player Tug McGraw, recently confessed there's one special tune that still makes him think about his wife.
"Well, there's one song, and it's really an instrumental, but there's one. I'm probably going to get in trouble for saying this. God, please forgive me, baby," McGraw said in an interview with Yahoo Entertainment. "It's 'Samba Pa Ti' by Santana. It's kind of our song."
'1883' STAR TIM MCGRAW SAYS WORKING WITH WIFE FAITH HILL ENHANCES HIS PERFORMANCE: 'I BETTER STRAIGHTEN UP'
His uncle introduced him to the melody by the iconic '70s band, and also suggested Tim save the tune for a special occasion.
"My uncle told me one time — my uncle Hank, old hippie who lives in Napa Valley — he played it for me one time years ago on the road," McGraw said. "He loved that song too. He said, 'I'm going to tell you something.' He says, 'Never make love to a woman with this song on unless you intend to marry her.' And so I didn't until I did. And then I did."
They're in the "second honeymoon" phase of their marriage.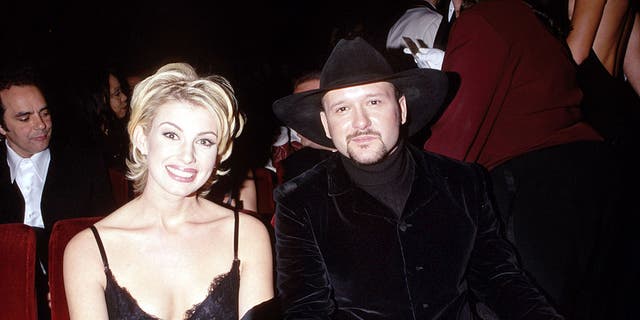 Faith and Tim first met in 1994, but only began dating in 1996. (Kevin Mazur)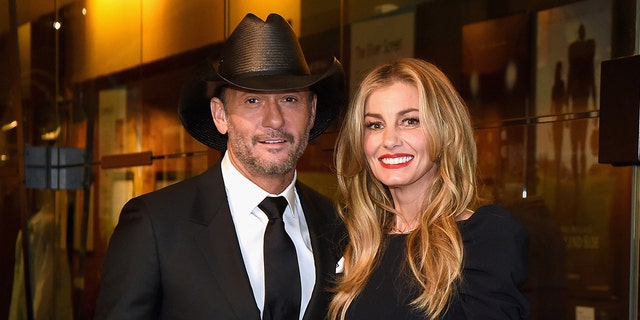 Faith and Tim have been married for 27 years and are still going strong. (Rick Diamond)
"We always like to say we've been married 92 years in showbiz language; it's like dog years," he joked.
TIM MCGRAW REVEALS THE ONE THING HE WON'T DO AT HIS CONCERTS: 'I'M SCARED TO DEATH'
A few things that keep their 27-year marriage going strong are date nights, praying and little time to be alone.
"We both have our daily routines, and we have our own dressing rooms," Hill told People. "We each have our own space to retreat to, so we do get time to ourselves."
He's leaned on Faith for as long as he can remember. In 2008, McGraw came clean to his wife about his battle with alcoholism.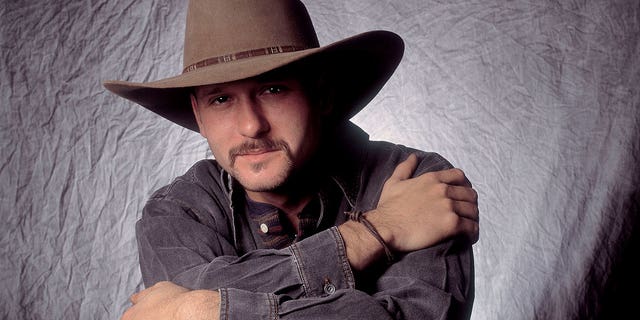 McGraw's first album was released in 1993, but he became a commercial success one year later with his second hit album, "Not A Moment Too Soon." (Paul Natkin/Getty Images)
"I remember a moment when I was getting out of bed and going to the liquor cabinet and taking a big shot at 8:00 in the morning and thinking, 'I have to wake the kids up,'" he told Esquire in 2021.
"I went straight to my wife and said, 'This is where I'm at.' I was scared. She just grabbed me and hugged me and changed my life."
CLICK HERE TO SIGN UP FOR THE ENTERTAINMENT NEWSLETTER
His sobriety journey hasn't been easy, but he praised Hill for being a guiding light despite the struggles. "She's always been my rock. She's my rock in everything that I do," McGraw told Yahoo Entertainment. "I don't think I could stand up straight without leaning on her in everything that I do."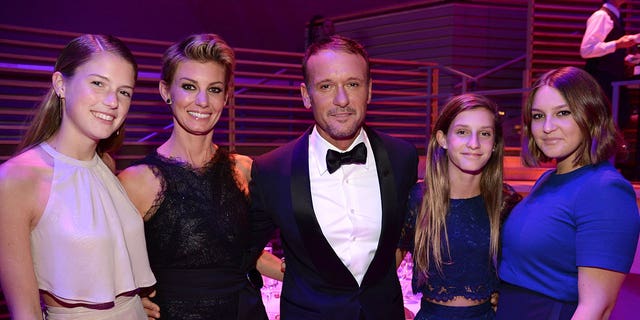 Tim's family has helped him through the years; from left: Gracie McGraw, Faith Hill, Tim McGraw, Audrey McGraw and Maggie McGraw. (Kevin Mazur/Getty Images for TIME)
In addition to his wife, McGraw's kids have been a guiding force to help him change his perspective on health.
Around the same time he faced his alcoholism battle head-on, McGraw starred in the 2008 film "Four Christmases" with Vince Vaughn and Reese Witherspoon. He weighed around 215 pounds when the movie was released.
When his daughter Gracie noted that her father looked "big on the screen," McGraw started implementing changes in his diet and exercise routine, and lots 40 pounds.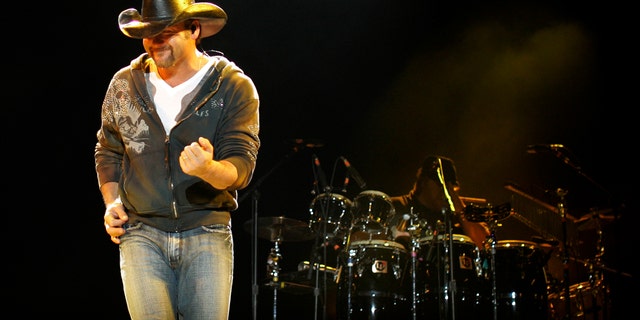 McGraw focused on his health after an eye-opening conversation with his daughters in 2008. (Kevin Winter)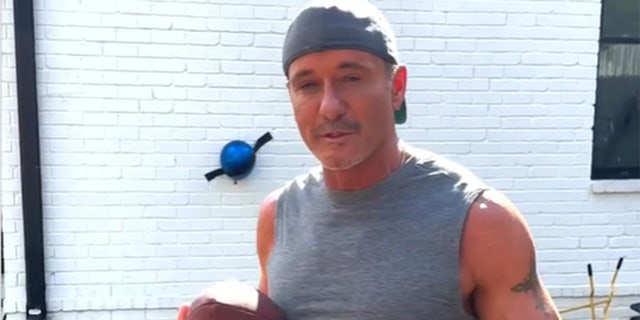 McGraw showed off his muscles and football skills in an Instagram video shared earlier this year.  (Instagram/ Tim McGraw)
"I got out of it for a while," McGraw told Men's Health. "I was in the prime of my career, and I wasn't capitalizing on it."
In addition to alcohol, he completely cut out "truck-stop foods" and cheeseburgers, and began incorporating more movement into his day-to-day.
"I use my whole body to sing—my legs, my butt," he said. "And having more control over those things makes my voice stronger."
          View this post on Instagram                      
APP USERS CLICK HERE TO VIEW POST
          View this post on Instagram                      
APP USERS CLICK HERE TO VIEW POST
"Focusing on my physical health hasn't just made my body healthier, it's made me healthier at every level," McGraw said in a recent Instagram post in 2019. "Moving daily and exercising regularly was a pebble that set off a ripple effect, improving the way I eat, sleep, relate to others, and show up both personally and professionally. It made me a better person to be around."
His latest ballad, "Hey Whiskey," draws comparisons to his own complicated relationship with alcohol.
He sings, "All I ever did was give you my attention / Every Friday night since I turned twenty-two / I trusted you with my naive intentions / Hey whiskey, what'd I ever do to you? / I gave you every penny in my pocket / You helped me lie and made me tell the truth / Stayed out with you all night when you came calling / Hey whiskey, what'd I ever do to you?"
McGraw's gearing up for a tour in 2024 for his 17th studio album, "Standing Room Only." (Jason Kempin/Getty Images)
McGraw admitted he wanted to "dig deeper" with his 17th album, "Standing Room Only," which debuts end of August and includes a tour in 2024 with special guest Carly Pearce.
"As an artist, I always want to dig deeper and get better every time I make a new record," McGraw said in a statement. "It's a big part of what drives me, and I really believe this is one of the best projects we've made. I've been working on this album since 2020, and this collection of songs are some of the most emotional, thought-provoking, and life-affirming music I've ever recorded."
CLICK HERE TO GET THE FOX NEWS APP