Swifties and Ticketmaster are apparently, never, ever, ever, getting back together.
Or maybe, after the debacle Taylor Swift fans suffered trying to purchase seats for her tour, you could say there is "Bad Blood" between them and the ticket industry.
The puns and plays on Taylor Swift's canon rolled through a hearing this week by the Senate Judiciary Committee probing potential antitrust practices by Ticketmaster. The ticket giant dominates events ranging from concerts to sports.
Ticketmaster and Live Nation merged in 2010.
TAYLOR SWIFT TICKETMASTER CRISIS SPARKS SENATE JUDICIARY HEARING; LIVE NATION AND SEATGEEK CALLED AS WITNESSES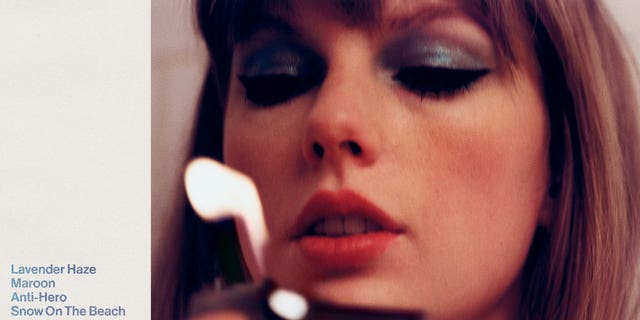 This image released by Republic Records shows "Midnights" by Taylor Swift. 
(Republic Records via AP)
"I believe in capitalism and to have a strong capitalist system," said Sen. Amy Klobuchar, D-Minn. "You can't have too much consolidation. Something that unfortunately for this country, as an ode to Taylor Swift, I will say we know 'All Too Well.'"
Klobuchar leads the Judiciary Committee's antitrust subcommittee after Democrats retained control of the Senate in the midterm elections.
"I had hoped as of a few months ago to get the gavel back," mused Sen. Mike Lee, R-Utah, of Klobuchar. "But she's 'cheer captain, and I'm on the bleachers.'''
That's a line from Swift's tune "You Belong With Me."
"Nice of Taylor Swift to have written a song about this very situation," Lee added.
All I can say is that it's a good thing Black Sabbath never had issues with its tickets. Imagine the jokes senators could concoct surrounding Black Sabbath classics like Fairies Wear Boots, Sweet Leaf and War Pigs?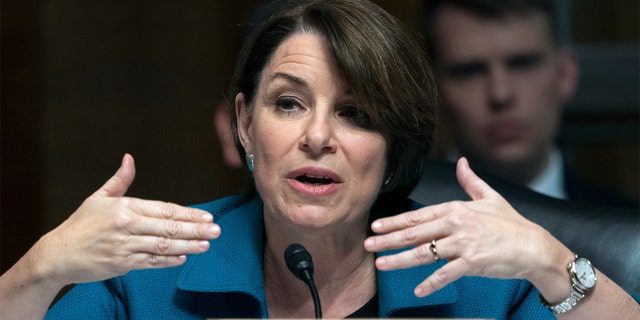 In this May 1, 2019 file photo, Sen. Amy Klobuchar, D-Minn., speaks during a Senate Judiciary Committee hearing on Capitol Hill in Washington.
(AP Photo/J. Scott Applewhite)
Perhaps I'm just being "Paranoid."
But back to Taylor Swift.
TAYLOR SWIFT BREAKS SILENCE ON TICKETMASTER FIASCO
Lawmakers credited Swift and her acolytes for focusing attention on possible antitrust issues. A small contingent of Swift fans protested outside the Dirksen Senate Office Building before the hearing.
"As I was driving up this morning, I couldn't help but notice I'd never seen more smiling and happy demonstrators than I saw today," said Lee. "I think Swifties have figured something out, and they're very good at getting their message across."
"We apologize to the fans. We apologize to Ms. Swift. We need to do better, and we will do better. Ticketmaster learned valuable lessons from the sale," Joe Berchtold of Live Nation testified before the committee.
Despite the mea culpa, Berchtold punted.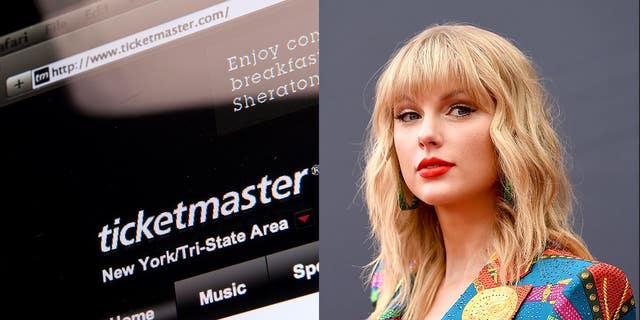 Taylor Swift and Ticketmaster
(Scott Eells/Bloomberg via Getty Images/Jamie McCarthy)
"Primary ticketing companies, including Ticketmaster, do not set ticket prices. We do not decide how many tickets go on sale and when. And, we do not set service fees. Pricing and distribution strategies are determined by the artists. Service fees, even if they're called ticketing fees, are retained mainly by the venues and their portion of the service fee," said Berchtold.
He also said that Live Nation "lost, not gained, market share since the merger" with Ticketmaster in 2010.
As to the digital disaster with ticket sales for Swift's upcoming "The Eras" tour, Berchtold claimed that automated consumers and bots deluged systems, blocking fans from purchasing tickets.
"We were then hit with three times the amount of bot traffic that we'd ever experienced," said Berchtold.
GAVIN ROSSDALE ON TAYLOR SWIFT TICKET FIASCO: 'EVERYBODY WANTS TO CRASH THE SERVERS'
He noted that Live Nation has spent around $1 billion over the past decade to combat bots.
But that failed to impress Sen. Marsha Blackburn, R-Tenn.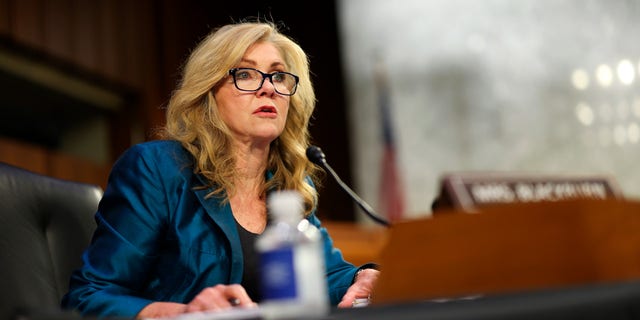 U.S. Sen. Marsha Blackburn sits on the Senate Judiciary Committee
(Kevin Dietsch/Getty Images)
"Our critical infrastructure in this country — whether it is utilities, electric, water, power, banking services, credit card processors, payment processors, health care companies — they get bot attacks every single day by the thousands. By the thousands. And they have figured it out. But you guys haven't," chided Blackburn. "This is unbelievable."
The House and Senate are narrowly divided. But the Swift ticket maelstrom achieved something rare on Capitol Hill.
"I have to thank Ticketmaster for an absolutely stunning achievement. Bringing Democrats and Republicans together in clear unity," said Sen. Richard Blumenthal, D-Conn. "Ticketmaster has the view that it's everyone but us. You ought to look in the mirror and say 'We're the problem. It's me.'"
TAYLOR SWIFT IS THE MOST POWERFUL NON-POLITICIAN: JOE CONCHA
That's a reference to a line in Swift's latest hit, "Anti-Hero," when she sings, "I'm the problem. It's me."
"Anti-Hero" hit No. 1 for eight non-consecutive weeks.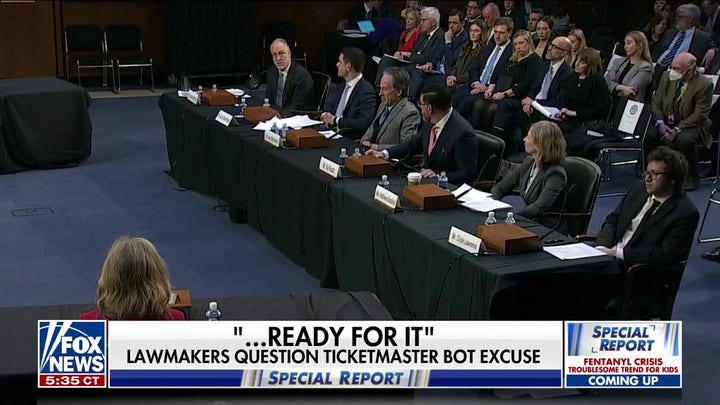 Video
To lawmakers, Live Nation is certainly a central player in this drama. And probably an anti-hero. But many in the music industry believe they are cornered by Live Nation and are compelled to work with Ticketmaster.
"We truly do not see Live Nation as the enemy," testified singer Clyde Lawrence. "They're just the largest player. And that feels stacked against us as artists and often our fans as well."
Lawrence told senators that Live Nation takes a 20% commission on merchandise sold at concerts, and performers rarely see a cut of revenues generated from concessions and parking.
TAYLOR SWIFT TOUR DEBACLE: TICKETMASTER AND LIVE NATION MAY NEED BREAKUP, DEMOCRATIC SENATORS SAY
"Venues fear losing Live Nation concerts if they don't use Ticketmaster," said Jack Groetzinger, CEO of SeatGeek. "The only way to restore competition in this industry is to break up Ticketmaster and Live Nation."
There's also a dispute over who sets fees for concert tickets. A Government Accountability Study report found that fees make up 27% of all ticket prices. Many consumers don't know the grand total for tickets until they have already made a final transaction.
"I don't know where the answer lies. But no one is taking responsibility," said Lawrence.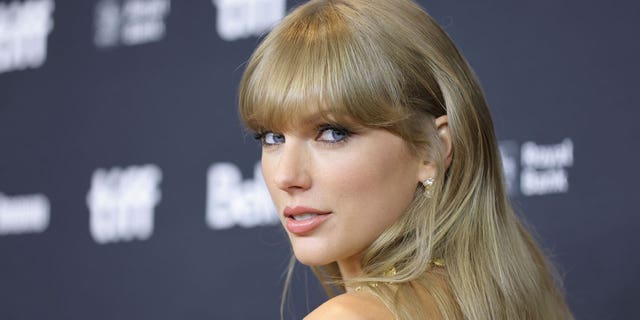 Taylor Swift reportedly turned down an offer to perform at the 2023 Super Bowl.
(Amy Sussman/Getty Images)
"The market can't work well without transparency," testified Kathleen Bradish of the American Antitrust Institute.
"Clearly there isn't transparency when no one knows who sets the fees," added Klobuchar.
Criticism over fees and Ticketmaster date back to the mid-1990s.
In 1993, Pearl Jam capped ticket prices for its "Vs." tour at a scant $18. This came just after Ticketmaster scooped up its main marketplace competitor, Ticketron. Pearl Jam eventually canceled its tour because it tried to perform in venues where Ticketmaster wasn't contractually bound to handle tickets. Things were a logistical nightmare.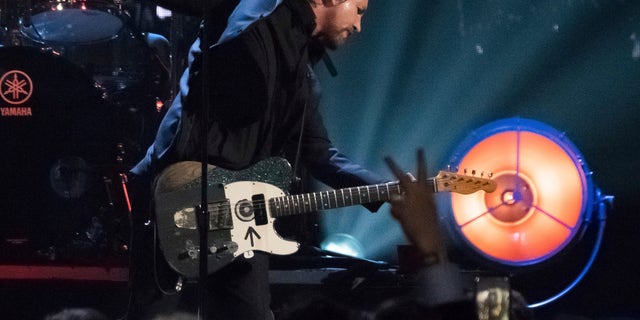 In this Friday, April 7, 2017, file photo, inductee Eddie Vedder from the band Pearl Jam performs at the 2017 Rock and Roll Hall of Fame induction ceremony at the Barclays Center in New York. 
(AP)
Pearl Jam guitarist Stone Gossard and bassist Jeff Ament testified before a House panel in 1994 about their plight.
"Many Pearl Jam fans are teenagers that do not have the money to pay $30 or more that is often charged for tickets today," Gossard testified. "It is this incestuous relationship and the lack of any national competition for Ticketmaster that has created this situation we're dealing with today."
CLICK HERE TO GET THE FOX NEWS APP
Back at this week's hearing, Sen. John Kennedy, R-La., offered a solution to the ticket conundrum.
"Cut out the middle people," suggested Kennedy. "If you really care about the consumer, give the consumer a break. Not every kid can afford $500 to go see Taylor Swift."
With ticket prices soaring, it remains to be seen whether the music industry can "Shake It Off."