close
Video
Fox News Flash top headlines for March 16
Check out what's clicking on Foxnews.com.
Thousands of students and other opponents of Hungary's government marched in the capital Budapest on Wednesday to demand educational reforms and a change in the Central European country's political culture.
The protest, dubbed a "freedom march" by organizers, was called by teachers unions and student groups who have spent months pressuring Hungary's government to provide salary raises and better working conditions for educators. The groups have also demanded the repeal of legislation that limits teachers' right to strike.
Marchers chanted slogans like "no teachers, no future" and "striking is a basic right" as they moved down one of Budapest's main avenues. Student groups and teachers have engaged in strikes, walkouts and other acts of civil disobedience in recent months after the government didn't fulfill their demands, resulting in several teacher firings.
WHITE HOUSE TEASES STUDENT LOAN HANDOUT APPLICATION FORM
Katalin Torley, a teacher that was fired from a Budapest high school after working there for 23 years, said at the demonstration that Hungary had become an "extremely centralized authoritarian system" which has taken away autonomy from those working in the public sphere.
"I think that this movement is not anti-government but against the system," she said. "Those teachers who engaged in civil disobedience showed that a normal system must be restored."
The March 15 demonstration came on a national holiday commemorating the 175th anniversary of Hungary's failed 1848 revolution against Habsburg rule. One of Hungary's most important national holidays, March 15 often features large patriotic demonstrations as well as protests in the capital.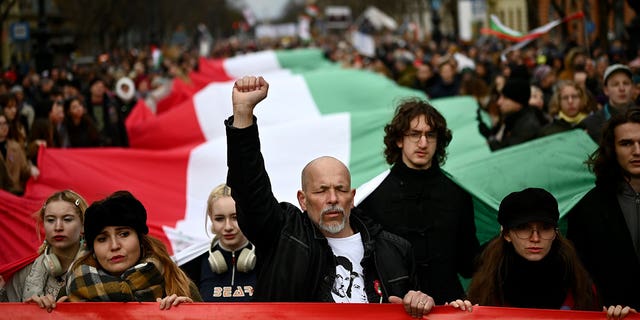 People carry a huge Hungarian flag during a march while calling for educational reforms in Budapest, Hungary, on March 15, 2023. (AP Photo/Denes Erdos)
Hungary's populist prime minister, Viktor Orbán, broke with his tradition of giving an address in Budapest, instead speaking to supporters in the small town of Kiskoros, around two hours from the capital.
The address was given in front of the childhood home of Sandor Petofi, widely regarded as one of Hungary's greatest poets who was instrumental in fomenting the Hungarian rebellion against the Austrian empire in 1848.
In his speech, Orbán spoke at length about Petofi's contributions to Hungarian political culture, saying the poet had "created the dialect of Hungarian freedom."
UTAH BILL LOOKS TO BAN GENDER-AFFIRMING SURGERY FOR MINORS
Although Petofi is thought to have been killed in 1849 as he fought in the revolution, Hungarians still feel his presence today when foreign forces attempt to impose their will on Hungary, Orbán said.
"He flashes before our eyes, whenever we hesitate, when we falter. We see him as he rebels when foreigners want to tell the Hungarians how to live. We see him turning against the great powers of the world who want to reintegrate Hungarians into a European superstate," he said.
Hungary's government is a frequent critic of the European Union, which has held up billions in funding to Budapest over concerns that Orbán has overseen widespread official corruption and violated the bloc's rule-of-law standards.
CLICK HERE TO GET THE FOX NEWS APP
Orbán has often referred to the EU as an "empire" that seeks to dominate Hungary, just as the Austrian Empire and Soviet Union had in the 19th and 20th centuries. He won his fourth-straight term in office in elections in 2022.
"We will never allow the flag of freedom to be wrenched from the hands of the Hungarians," Orbán said Wednesday. "We will not allow it, and it will not succeed."