A Paralympics medal from the Tokyo 2020 Games.
Alex Pantling/Getty Images/FILE

CNN
—
Social media is awash with memes and GIFs and, at times, 'edginess,' but it can be a difficult balancing act as the official Paralympics TikTok account is discovering.
The account, which has 3.3 million followers, has earned some criticism for being insensitive from some athletes and people on social for posting videos from a variety of disciplines with footage of para-athletes competing in official contests often overlayed with sounds popular on the social media app.
The account is run by the International Paralympic Committee (IPC), the organization which organizes and manages the Paralympic Games.
One of its most viewed videos shows Australian para-cyclist Darren Hicks – who had his right leg amputated above the knee after a motor vehicle accident in 2014 – crossing the line at the Tokyo 2020 Paralympic Games in the 24-kilometer men's time trial C2 to win gold with an audio track saying: "Left … left … left."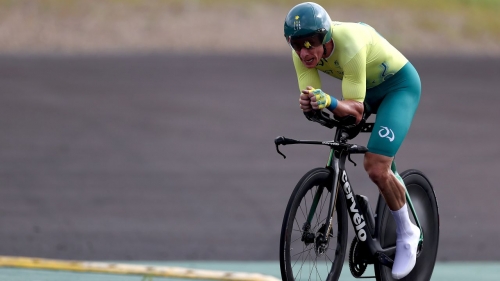 Darren Hicks competes during the Men's C2 Time Trial at the Tokyo 2020 Paralympic Games.
Dean Mouhtaropoulos/Getty Images
Another video shows Chinese athlete Zhong Zhiqiang competing in the T42 long jump – the classification allows athletes "with lower limb competing without prosthesis affected by limb deficiency or leg length difference" – at the 2015 IPC World Athletic Championships with a sound over the top which repeats: "I said right foot, I said right foot." Zhong's right leg is the one he competes on.
In yet another, a visually impaired US athlete reaches for his bike in the triathlon having just come out of the water. The caption reads "Para Triathlon is swimming, cycling and air piano," where a piano sound is played over the top. In the comments, the official Paralympic account replied: "This is Brad Snyder. He is brilliant at triathlon and Beethoven on the air piano."
From Paralympic glory to TikTok "Beethoven"

Snyder was competing in the Paratriathlon at the 2020 Tokyo Paralympic Games at the time. The moment captured in the video comes during the changeover between swimming to cycling for Snyder and his guide, Greg Billington.
In the video, Billington guides Snyder – who is fully blind after losing his sight from an IED explosion while serving for the United States Navy in Afghanistan – to their station to equip their cycling gear and get onto their tandem bike for the next stage.
As Billington goes to pick up a dropped swimming cap, Snyder feels around for the tandem bike so he can use the most of his time and begin to get ready for the next stage before Billington comes back to redirect him in the correct area.
READ: South African Paralympic archer Shaun Anderson defies odds, aims to push sport forward
Describing the moment in question, Snyder told CNN Sport he purposefully searches with delicacy to avoid knocking over their equipment and slowing down the process.
"So I think that's why I'm feeling for what I'm doing, but I'm doing it in a way that I'm trying not to knock something over," Snyder said. "Beethoven is most certainly not in my mind at the moment."
Snyder admits that he initially found the video funny when he was made aware of it by his wife, and even reposted it across his social media account.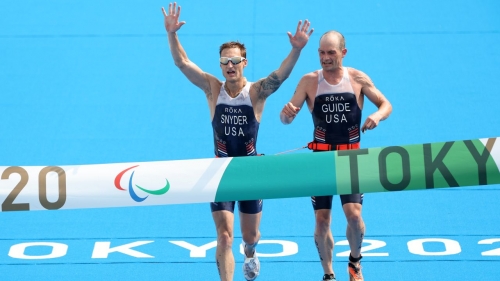 Brad Snyder (L) told CNN Sport that he found the TikTok video involving him funny.
Adam Pretty/Getty Images
In the comments of the video, both the official Team USA and the US Ski and Snowboard official accounts also chimed in with their own humorous remarks referencing Snyder's movements and their similarity to playing a piano.
It can be a jarring experience watching athletes compete in Paralympic events with these with these seemingly clashing sounds on top – the competitors are at the pinnacle of their sport and are achieving life-changing feats only to have phrases like "Corrrn" and "Powaaauggh."
It's not a stretch to say the account is breaking the expectations of what traditional Olympic or Paralympic content should be.
Mixed reactions

As a result, the videos posted on the official account have received a mixed reaction, with commentators on many of them left disbelieving that the content published there is permitted.
Imani Barbarin, a writer with cerebral palsy, said on Twitter that the videos on the account have "no voice and they have no perspective."
"Quite frankly, all of their videos are all over the place. They keep trying to make the existing content they already have fit trending audios but those audios don't always fit. Not only that, but if you use certain audios with disabled people, the context changes almost entirely," Barbarin said.
"For instance, if you have a visibly disabled Paralympic athlete on the screen thinking about something and the audio is 'duh duh duh,' that had a completely different connotation than if there's a seemingly non-disabled person under that audio. That's the entire page. What's the accommodations for certain sports? Interviewing disabled athletes? All these things could all be content."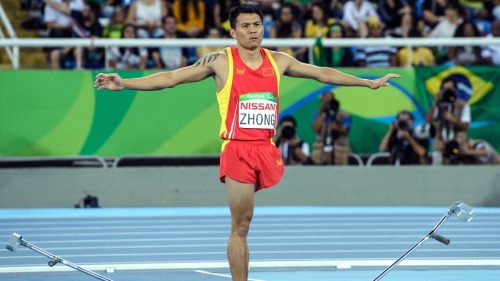 China's Zhong Zhiqiang was the subject of one TikTok where the audio, "I said right foot, I said right foot" keeps repeating over the top.
Yasuyoshi Chiba/AFP/Getty Images
However, for Snyder – a six-time Paralympic gold medal winner – he is broadly in support of a social media approach from the Paralympics to appeal to a different audience.
"I'm glad the IPC (International Paralympic Committee) is doing something what I would categorize as innovative as far as social media, following trends or engaging in a means by which they can reach a broader audience, specifically a younger audience," Snyder explained to CNN.
READ: How Diede de Groot won an unprecedented back-to-back calendar grand slam
"That's a conversation we have domestically within the USOPC realm quite a bit about are we doing what we should or can do to call attention to this amazing movement? And so I remember thinking it was great that the IPC was doing that."
Although Snyder said that he found the video he featured in humorous, he says that being respectful of disabilities and creating "cheeky" content is a tough line to walk.
A spokesperson at the IPC told CNN Sport in a statement that the official Paralympics TikTok account "is run by a Paralympian who fully understands disability."
"We have created a strong following through edgy and unique content that allows us to educate an audience who might be less aware of Paralympic sport and the achievements of our athletes," the IPC continued.
"We appreciate that not everyone will like the content and sometimes we don't get it right, but we do closely monitor posts, always converse in reactions to them, and learn from all feedback. Importantly we find that the account allows us to positively engage with younger fans about the power of Para sport as a tool for driving social inclusion."
Bridging the gap

England amputee soccer player Sean Jackson, however, argues that the account should be focused on the positive achievements of Paralympic athletes, not humorous moments.
"They just choose to sort of mock them and turn them into memes and try and use their sport to entertain people from a comedic point of view," Jackson told the BBC.
"Looking through that whole account, I might have seen one or two [videos] where the athlete actually does something successfully. I think everything else is just sort of mocked and whether it's a fall or whether it's the way they run because they're using the blades or the way that they use a bike.
"Anything that they've used I think it's just used to try and make fun of what disabled athletes have to do to participate in the sports that they love."
While Snyder says he has the "utmost respect" for the campaign the Paralympics are running, he believes it is tough for anybody to "fully understand the gamut of disability."
"I don't understand what it feels like to be a person in a wheelchair or to have cerebral palsy or whatever else. I do know intimately what it feels like to be a blind person, but that doesn't necessarily mean I fully understand and can articulate how to get society to better understand my particular condition.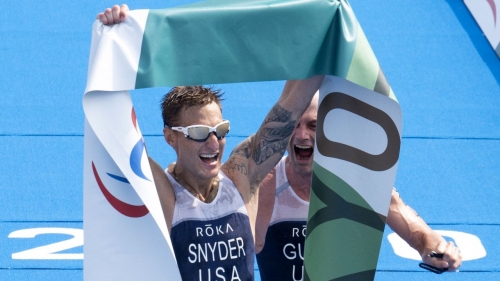 Snyder believes it is tough for anybody to "fully understand the gamut of disability."
Charly Triballeau/AFP/Getty Images
"I do think that my relationship as a blind person, as a person with a disability, with my community and with my society is fraught by many gaps and misunderstandings about what it means to be blind or what my experience might be like."
Snyder explains that the Paralympics TikTok campaign is an attempt by it to not only appeal to a different demographic, but also to use both sports and humor to bridge the gaps in people's knowledge about disability.
"When I know and perceive that someone is uncomfortable around me on the basis of my visual impairment, and I know that they're tripping on the language for fear that they're going to say the wrong thing, I make a self-deprecating joke," Snyder said.
"I joke about the blindness, I joke about the light being off and those sorts of things to set them at ease. 'Don't worry about offending me. I'm aware that I'm blind and that I can laugh about it.
"And now let's have a conversation about what my experience might be like and what my challenges might be, and how you as an able-bodied person, might be able to understand and accommodate me in various ways or help me cross the street or help me without pitying me and those sorts of things.'"
He added: "I recognize that it's a delicate line to walk about being respectful of the experience of disability and the accomplishments of amazing para-athletes. But utilizing that humor, it could go the wrong way. And so far as I can see so far, the person running this campaign has done that really well."