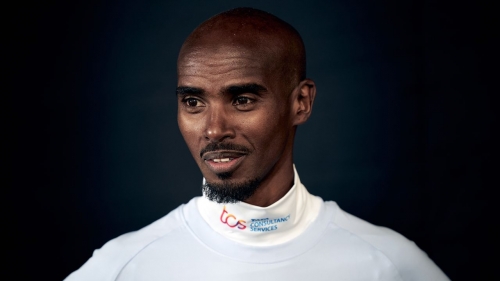 Mo Farah spoke to reporters at a press conference ahead of the London Marathon on Sunday.
John Walton/PA Images/Getty Images

CNN
—
Four-time Olympic champion Mo Farah says this year's London Marathon will be his last as the iconic event braces itself for potential protests.
The long distance running legend told reporters Thursday that, while he plans to continue competing after Sunday's race, he likely won't be racing over the marathon distance again.
"It won't be my last race but, in terms of marathon, I think the London Marathon will be my last," he said.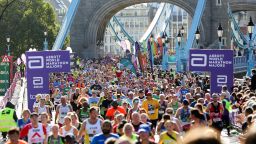 Mandatory Credit: Photo by Dinendra Haria/LNP/Shutterstock (13435473ad)
London Marathon runners crossing Tower Bridge, in central London, as runners reach the half way point. Nearly 42 thousand runners are running alongside elite runners competing for a race in TCS 2022 London Marathon.
TCS 2022 London Marathon, London, UK – 02 Oct 2022
Dinendra Haria/LNP/Shutterstock
London Marathon could face potential disruption from environmental groups
The long distance running legend said he anticipates an "emotional" run on Sunday in front of the thousands of spectators expected to line the streets of London.
There are fears, though, that activists will attempt to disrupt the race to raise awareness for environmental causes.
Campaign group Just Stop Oil, which recently disrupted the World Snooker Championships, says it will "continue to disrupt sports and cultural events" until governments end the use of fossil fuels.
The group's protests have succeeded in gaining attention in recent months, but they have also attracted waves of criticism for disrupting daily life, delaying emergency services and damaging cultural heritage.
The Metropolitan Police told CNN it was prepared for potential anti-social behavior on Sunday.
When asked what he thought of the potential protests, Farah said he trusted race organizers to put on a great event.
"I think the key thing is it's not about the elite athletes, the London Marathon is about the mass race," he told BBC Sport.
"It's about people going out there, running for loved ones, running for charities and making a difference and changing people's lives."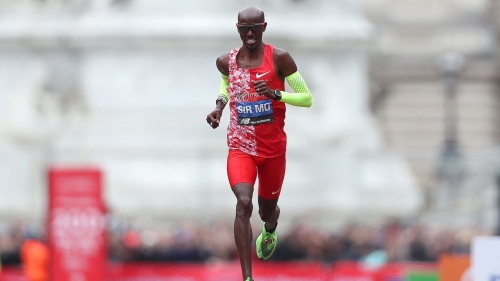 Farah running the London Marathon in 2019.
Naomi Baker/Getty Images
Full circle moment

Farah was a specialist over 5,000 and 10,000 meters during the peak of his career but recorded a third-place finish in the London Marathon in 2018.
In a certain respect, Sunday's race will be a full circle moment, with Farah recalling the time he ran the mini-marathon in London when he was still a teenager.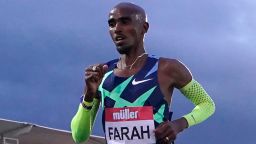 Muller British Athletics Championships 2021 – Day One – Manchester Regional Arena. Great Britain's Mo Farah in the Men's 10000m final during day one of the Muller British Athletics Championships at Manchester Regional Arena. Picture date: Friday June 25, 2021. See PA story ATHLETICS Manchester. Photo credit should read: Martin Rickett/PA Wire. RESTRICTIONS: Editorial Use only, Any commercial use to be approved by British Athletics. URN:60576719 (Press Association via AP Images)
Martin Rickett/AP/FILE
Long-distance running legend Mo Farah tells the BBC he was illegally trafficked to the UK as a child
Despite wanting to carry on his career at the top level, the 40-year-old concedes that his body is no longer able to keep up.
"It's definitely been quite an emotional last couple of years," he told reporters, adding that he took his career for granted at times.
"As an athlete, you always want to go out there and do the best you can, but the last two years, my body hasn't allowed me to do what I needed to do in training and that's the hardest thing."
The London Marathon is set to begin with the wheelchair and elite events before the mass start follows at around 10 a.m. local time.