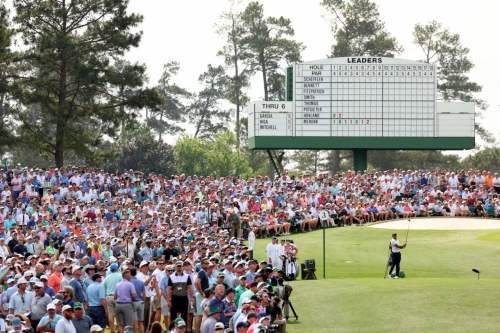 Tiger Woods plays his tee shot on the third hole during Thursday's first round.
Andrew Redington/Getty Images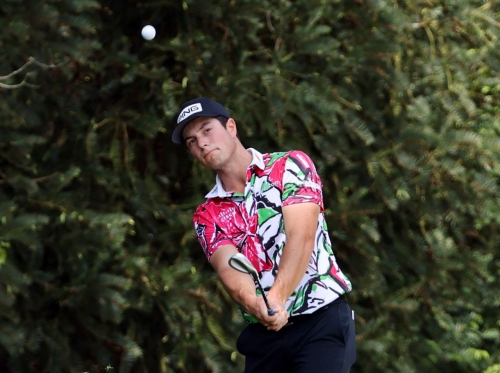 Viktor Hovland chips onto the 10th green Thursday. The Norwegian shot a 7-under 65 to take the early lead.
Mike Blake/Reuters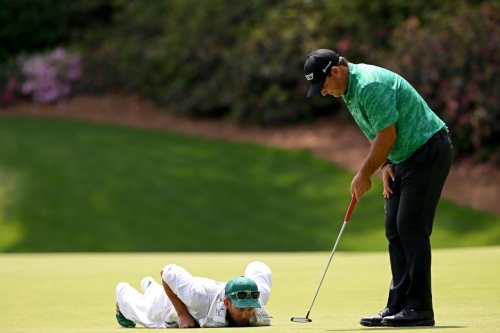 Patrick Reed's caddie, Kessler Karain, helps Reed line up a putt on the 13th hole Thursday.
Ross Kinnaird/Getty Images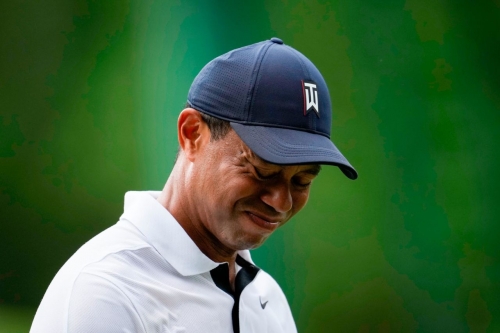 Woods grimaces on the fourth tee. The five-time Masters champion said his surgically repaired right leg felt sore Thursday and that the pain is "constant."
Matt Slocum/AP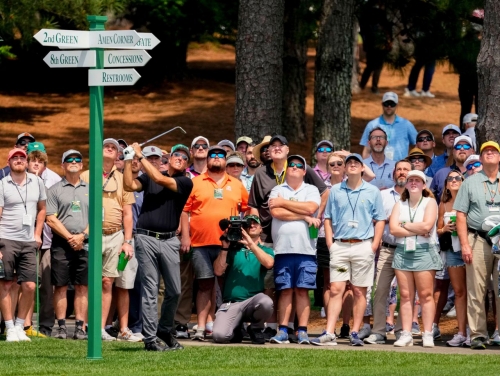 Phil Mickelson hits a shot on the second hole Thursday.
Rob Schumacher/USA Today Network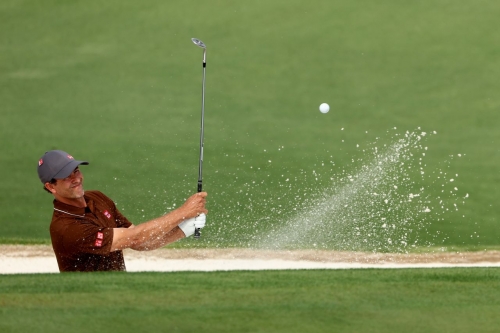 Adam Scott plays a bunker shot on the second hole Thursday.
Christian Petersen/Getty Images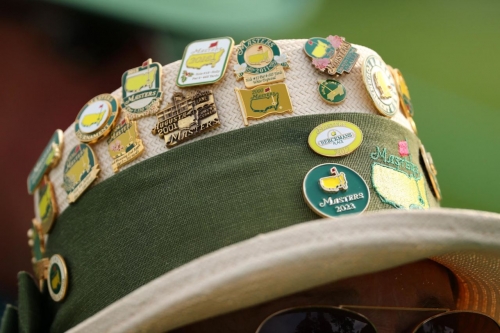 Pins adorn a spectator's hat on Thursday.
Mike Blake/Reuters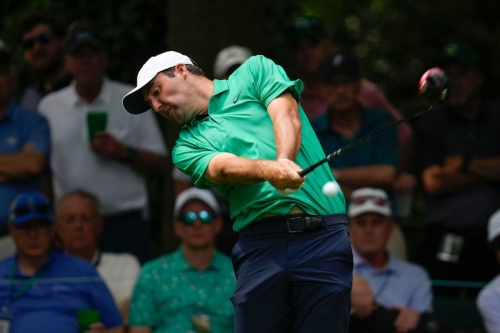 Defending Masters champion Scottie Scheffler hits his tee shot on the seventh hole Thursday.
Matt Slocum/AP
Sergio Garcia fishes his ball out of the creek on No. 13.
David J. Phillip/AP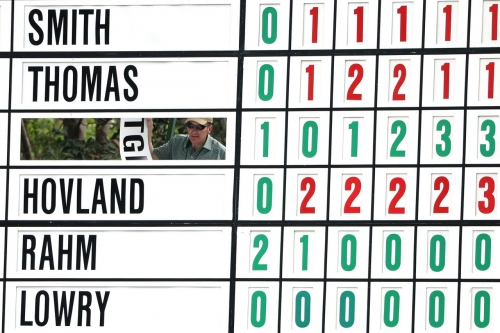 A worker updates one of the leaderboards Thursday at Augusta National.
Patrick Smith/Getty Images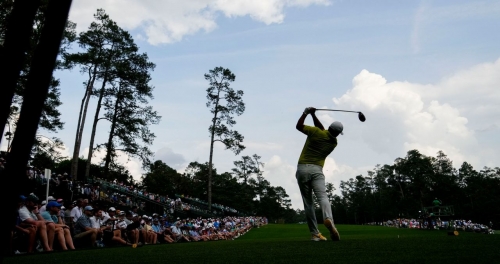 Brooks Koepka hits his tee shot on the 14th hole Thursday. Koepka shot a 7-under 65 to tie Hovland and Jon Rahm for the first-round lead.
Rob Schumacher/USA Today Network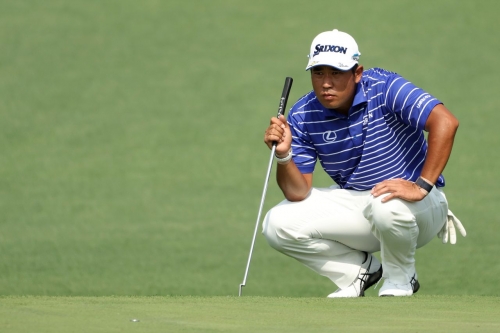 Hideki Matsuyama, who won the tournament two years ago, looks over a putt on the second hole.
Christian Petersen/Getty Images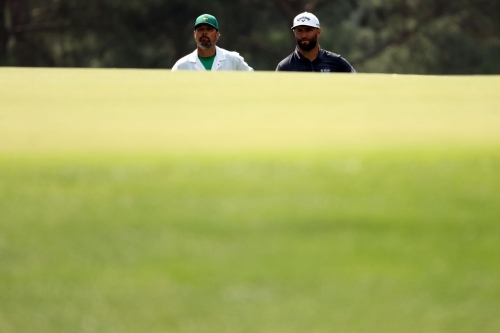 Rahm and his caddie, Adam Hayes, are seen on the third green Thursday.
Patrick Smith/Getty Images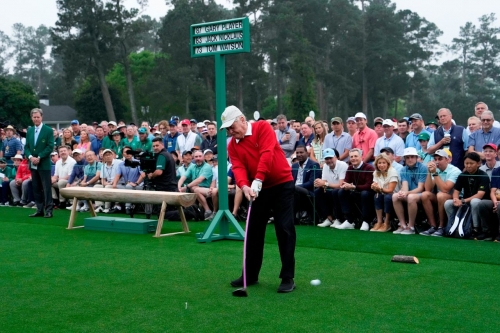 Golf legend Jack Nicklaus hits a ceremonial tee shot before the start of the first round. He was joined by Gary Player and Tom Watson.
Mark Baker/AP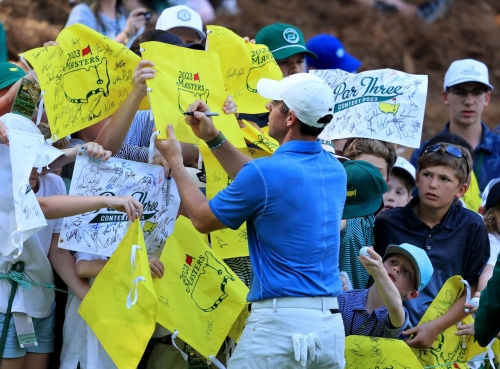 Rory McIlroy signs autographs after competing in the traditional par 3 contest that is held the day before the start of the tournament.
David Cannon/Getty Images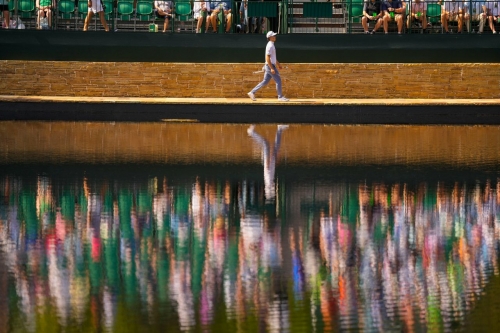 Min Woo Lee walks to the 15th green during a practice round Wednesday.
Mark Baker/AP
Masters 2023: The best pictures from Augusta
Prev
Next

CNN
—
Tiger Woods admitted he was in "constant" pain during his opening round at The Masters on Thursday.
The 47-year-old could be seen wincing at various points across a turbulent start, carding a two-over 74 on his 25th appearance at Augusta National.
It saw the five-time Masters winner finish nine shots adrift of Norwegian playing partner Viktor Hovland, who returned to the clubhouse tied for the lead after a scintillating seven-under opening round.
Woods said Tuesday that he was unsure if this week would be his final appearance at the tournament. The fifteen-time major champion's competitive appearances have been sporadic since he suffered severe leg injuries in a serious car crash in 2021.
Woods reacts to his approach shot on the 11th hole.
Mike Blake/Reuters
A dramatic comeback at the 2022 Masters saw Woods shock many by making the cut, but his physical struggles to navigate a hilly Augusta terrain were evident, compounded by surgery that had put a rod and pins in his right leg.
One year on, he closed his opening round hopping on his left leg after an awkward escape shot from a bunker at the 18th hole. Quizzed on the condition of his leg after his round, Woods was candid.
"Sore," he told reporters.
"Hop on the left leg is fine. If I did it on the other one, not so fine," he added.
A sluggish start saw Woods open with three bogeys across his first seven holes, but the five-time Masters champion rallied with a birdie at the eighth.
Followed en masse throughout the day, the crowd almost erupted as Woods chipped a spectacular approach, only to be denied eagle by mere inches.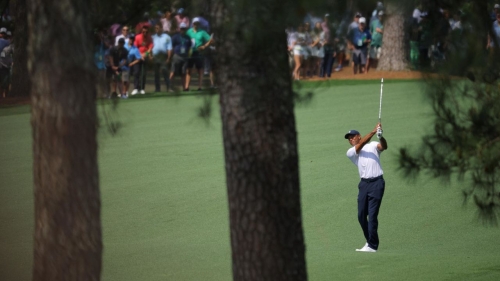 Woods hits his approach on the 7th hole.
Brian Snyder/Reuters
A fourth bogey at the 11th dropped him back to three over, but Woods looked to be putting together a final flourish with back-to-back birdies at the 15th and 16th holes. Yet having narrowly missed a birdie putt to lift him to even-par at the penultimate hole, Woods' closing bogey compounded a frustrating afternoon.
Woods has missed the cut just once in his previous 24 appearances at Augusta and would tie Fred Couple and Gary Player for most consecutive cuts at the major should he make it to the weekend.
However with a host of players making strong starts, Woods will likely require a resurgent second round to achieve the feat.
"I felt like I drove it good. I just didn't do the job I need to do to get the ball close," Woods said. "Today was the opportune time to get the ball – get the round under par, and I didn't do that today.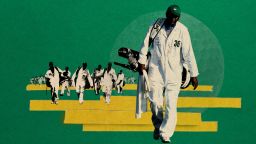 Alberto Mier/Getty/CNN
For nearly 50 years, only Black men caddied The Masters. One day, they all but vanished
"Most of the guys are going low today. This was the day to do it. Hopefully tomorrow I'll be a little bit better, a little bit sharper, and kind of inch my way through it.
"This is going to be an interesting finish to the tournament with the weather coming in. If I can just kind of hang in there, maybe kind of inch my way back, hopefully it will be positive towards the end."
Woods is scheduled to tee off for his second round on Friday at 1:24 p.m. ET (6:24 p.m. BST).