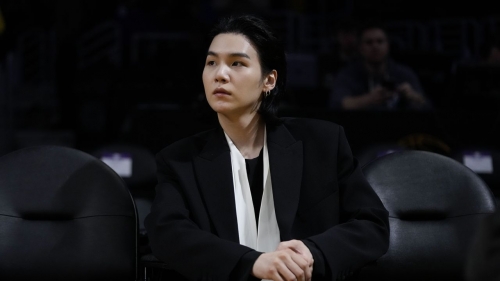 BTS star SUGA has been named as a brand-new NBA Ambassador for the rest of the 2022/23 season.
Jae C. Hong/AP

CNN
—
The NBA has announced that BTS star SUGA has been named as a brand-new NBA Ambassador for the rest of the 2022/23 season.
The rapper, songwriter and producer is a huge basketball fan and his love for the game has been widely publicized throughout his music career – he can even be seen on the basketball court and wearing a 'Tune Squad' jersey in the BTS smash hit 'Dynamite.'
The 30-year-old's stage name is also inspired by the sport. Part of the reason for adopting his stage name is the result of being a shooting guard for his basketball team, so he opted to merge the first syllable of each word to form SUGA.
In its official statement, the NBA said: "As an NBA Ambassador, SUGA will engage NBA fans around the world through the remainder of the 2022-23 NBA season and beyond.
"SUGA, an avid NBA fan, will participate in several league initiatives that will be featured on the NBA's and his personal social media channels, including attending NBA games and events in the U.S. and Asia, and participating in the league's promotional activities."
The partnership will also extend to SUGA's projects.
The statement continued: "Additionally, the NBA will have a presence throughout SUGA's first solo world tour, collaborating around select concerts in celebration of the release of SUGA's debut solo album, D-DAY."
SUGA said: "Music and basketball have been shared passions of mine since my youth, and it's a dream to be named an NBA Ambassador.
"I'm excited to formalize my relationship with the NBA, and I can't wait to share some exciting collaborations I have planned with the league over the coming months."
The BTS star has previously attended NBA games and, when the Golden State Warriors and the Washington Wizards played a preseason game in Japan, SUGA sat courtside and met NBA stars such as Steph Curry and Klay Thompson.
"We're thrilled to join forces with SUGA – a superstar musician, fashion icon, and passionate NBA fan," added NBA Deputy Commissioner and Chief Operating Officer Mark Tatum.