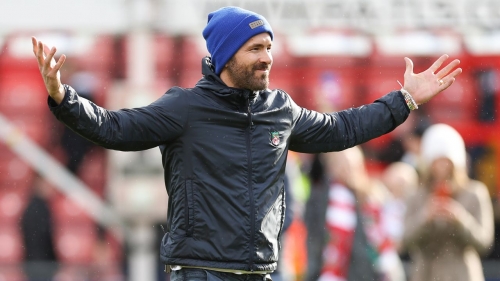 Hollywood actor Ryan Reynolds celebrates his team's 3-2 victory at The Racecourse Ground on April 10, 2023.
Matthew Ashton/AMA/Getty Images

CNN
—
Hollywood actor Ryan Reynolds says he will "never be the same again" after watching Wrexham AFC take a huge step towards promotion in dramatic fashion on Monday.
Reynolds watched from the stands with co-owner Rob McElhenney as the Welsh club beat National League title rivals Notts County 3-2 in a match billed as the biggest in the league's history.
It was a chaotic encounter between two clubs fighting for promotion and culminated in Wrexham goalkeeper Ben Foster saving a penalty in the last minute to ensure the Welsh club sealed a victory which moved it three points ahead of second-placed County at the top of the league having played one game fewer.
Wrexham has four games of the regular season remaining to secure automatic promotion to the Football League. Only the league champion will be automatically promoted, with second place having to navigate a tricky playoff.
Foster, who has played in the Premier League for the likes of Manchester United, came out of retirement last month to sign a short-term contract with Wrexham after its usual keeper injured himself.
Reynolds was waiting for the 40-year-old in the players tunnel after the match.
"What was that about? You're too old for that," a jubilant Reynolds said after giving Foster a massive hug.
"That was just bananas. That was the most dramatic thing I've ever seen in my life."
Both clubs knew that whoever won on Monday would put themselves in pole position for promotion into League Two – the fourth tier of English football.
Such pressure usually results in a cagey match but almost 10,000 people inside the Racecourse Ground watched anything but.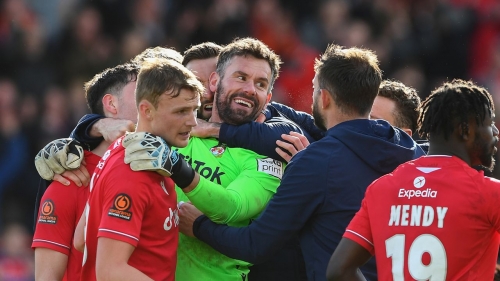 Ben Foster celebrates with his teammates after his dramatic save.
Jon Hobley/MI News/NurPhoto/Getty Images
Notts County had initially taken the lead before half-time after midfielder John Bostock scored a remarkable free kick from distance.
But buoyed by the home support, Wrexham hit back shortly after the break through star striker Paul Mullin before taking the lead after Jacob Mendy finished off a smart team move.
Captain Kyle Cameron then equalized for the visitors before Elliot Lee capitalized on a defensive error to make it 3-2 to Wrexham in the 78th minute.
'That moment gives you goosebumps'

The twists and turns weren't quite done yet, though, with the referee awarding Notts County a penalty in the fifth minute of added time after spotting a handball.
With practically the last kick of the game, Cedwyn Scott had the chance to tie the match from the penalty spot but was denied by a wonderful save from Foster.
"That's about as good as it gets," Foster, who made eight appearances for England and who had briefly played for Wrexham in 2005, told the club's website after the game.
"I can't remember playing in many better football matches myself. Just the drama attached to all of it."
On his last-gasp penalty save, Foster added: "That adrenaline buzz there, that moment gives you goosebumps. It's as good as it gets.
"I've never celebrated a save before […] but I couldn't help myself."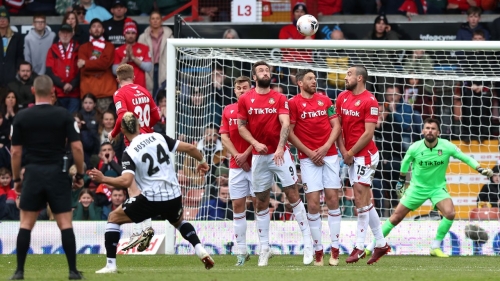 Despite being a non-league match, the game was full of quality.
Jan Kruger/Getty Images
It was yet another fairytale moment in the long history of Wrexham AFC, which has attracted global attention since the star-studded takeover in 2021.
The club had been languishing outside the top four divisions of English football, known as the Football League, for over a decade but now seems to be on an exciting path up the football pyramid.
Wrexham is one of a number of Welsh clubs that play in the English football league system due to being founded before the creation of the Welsh football league.
"I can't believe there was a time when I thought football was boring," McElhenney tweeted after the breathless match had finished.
Freedom of Wrexham

Such has been the impact of the new owners on the local community, both McElhenney and Reynolds were awarded the Freedom of Wrexham in December.
The pair, who have already featured in a TV series documenting their time at the club, attended a ceremony before Monday's match at Wrexham's Guildhall.
"I'm so touched I get to be a part of this story," Reynolds said, according to the BBC.
"I know that we are here so that you guys can thank us for some reason, but I feel like it is the other way around.
"We want to thank you for what you have given us. Words are too clumsy to quantify what it means to me."