close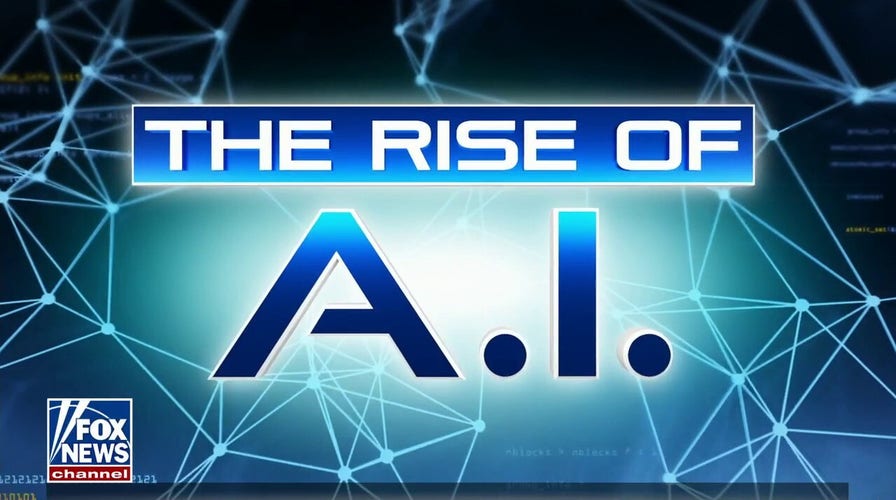 Video
Does artificial intelligence pose a threat to humanity?
Fox News correspondent Grady Trimble has the latest on fears the technology will spiral out of control on 'Special Report.'
Educational leaders at top U.K. schools are taking concerns over artificial intelligence into their own hands, forming an advisory board on the technology and warning AI's risks pose the "greatest threat" to schools.
The United Kingdom is predicting AI could make a "transformative change" to its education system, according to Education Secretary Gillian Keegan, who said the technology could take the "heavy lifting out" of a teacher's day-to-day duties, such as compiling lesson plans.
Following the release of ChatGPT last year, students across the world have reported using the technology to assist with school work, such as for research for term papers.
Eight educators penned a letter to The Times of London this month warning that, though AI could serve as a useful tool to students and teachers, the technology's risks are considered schools' "greatest threat."
AI LIKENED TO GUN DEBATE AS COLLEGE STUDENTS STAND AT TECH CROSSROADS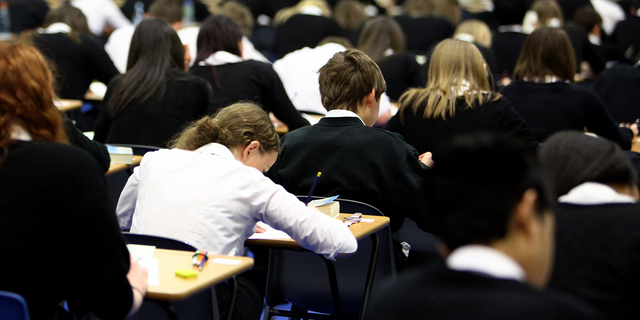 Pupils in the U.K. sit for a test.  (Jeff J Mitchell/Getty Images)
"As leaders in state and independent schools, we regard AI as the greatest threat but also potentially the greatest benefit to our students, staff and schools. Schools are bewildered by the very fast rate of change in AI and seek secure guidance on the best way forward, but whose advice can we trust?" the coalition of teachers in the U.K. wrote in a letter to The Times.
The teachers, who included the chiefs of preparatory schools such as Epsom College, Magdalen College School and Wellington College, argued that schools are "bewildered by the very fast rate of change in AI" and lack a sounding board to navigate it.
CHEATING WITH CHATGPT? STUDENTS DISH ON TEMPTATIONS OF AI IN THE CLASSROOM
"We have no confidence that the large digital companies will be capable of regulating themselves in the interests of students, staff and schools. And, in the past, the government has not shown itself capable or willing to do so," the teachers wrote, noting they are pleased with Prime Minister Rishi Sunak recently saying "guardrails" on artificial intelligence need to be put in place.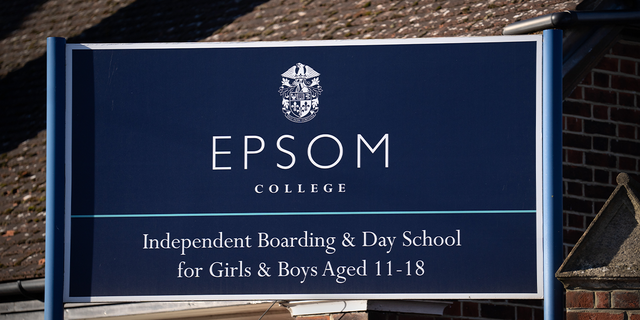 Epsom College  (Carl Court/Getty Images)
They said AI is evolving too rapidly for local leaders to "provide the real-time advice schools need," so they crafted their own solution, creating of an advisory board.
"We are thus announcing today our own cross-sector body composed of leading teachers in our schools, guided by a panel of independent digital and AI experts, to advise schools on which AI developments are likely to be beneficial and which damaging," the teachers wrote.
Anthony Seldon, head of Epsom College, spearheaded the letter and told The Times AI could be this generation's printing press moment but that the risks surrounding AI are "more severe than any threat that has ever faced schools."
"People are startled rabbits in the headlights. Every week things are changing … There's deep concern that the technology will be used for [children's] learning, their stimulation, their care. The grounding of mental health is in relationships and human contact," Seldon said at a conference for school leaders this month.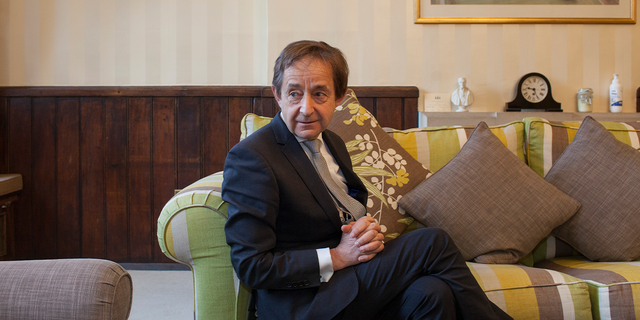 Sir Anthony Seldon, head of Epsom College. (Peter Dench/Getty Images Reportage)
He added that he has concerns over youth "losing touch with reality" by spending so much time interacting with "augmented reality and virtual reality."
"As learning becomes more technological, their grasp of what is real and what is normal, what is true and untrue, will be progressively eroded," he said.
OLDER GENERATIONS TRAIL THE NATION ON AI KNOW-HOW: POLL
In the U.S., studies have shown that younger generations are using AI systems like ChatGPT more than older generations. Gen Z, those born between 1997 and 2013, reported it uses the technology on a regular basis more than older generations, while college students say they use the platform the most for English school work, followed by mathematics and social science.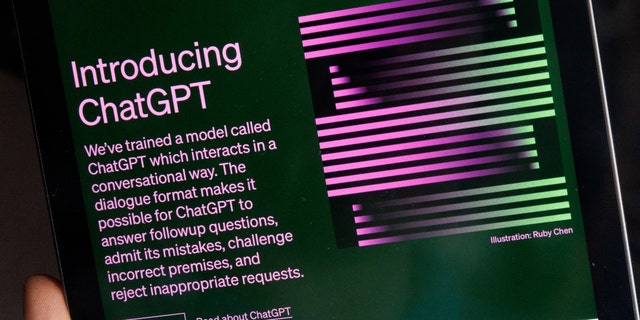 The ChatGPt website on a tablet April 14, 2023, in Madrid, Spain.  (Eduardo Parra/Europa Press via Getty Images)
Earlier this year, public school systems such as New York City Public Schools and the Los Angeles Unified School District restricted the use of ChatGPT from K-12 classrooms over cheating and misinformation concerns.
ChatGPT is trained by retaining text from the internet and using that information in its responses to humans. Students who use the technology to complete classwork risk possible misinformation — the system can "hallucinate" and give answers that seem correct but are not — and even plagiarize.
CLICK HERE TO GET THE FOX NEWS APP
The coalition of teachers in the U.K. is planning to release a website that will be led by 15 science or technology educators on guides for educators on what AI technologies to embrace or avoid.