close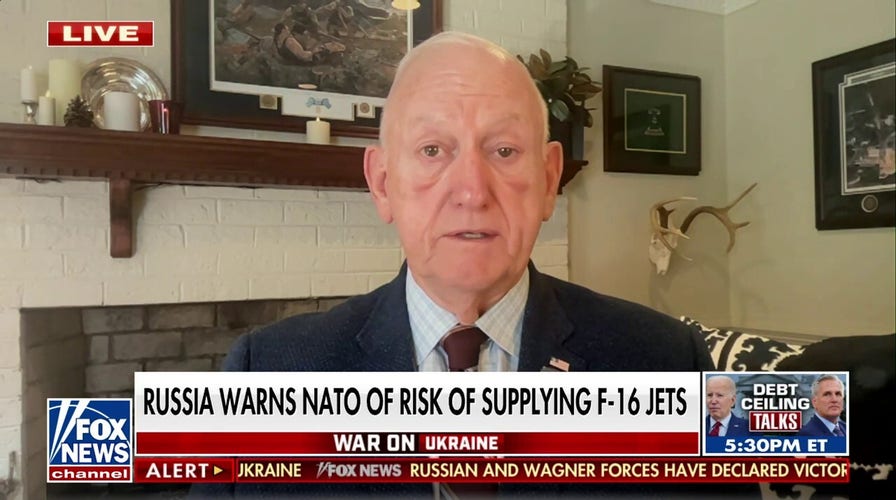 Video
Russia has proven they're willing to do 'anything' to bring down Ukraine: Lt. Gen. Jerry Boykin
Former Deputy Undersecretary of Defense for Intelligence Lt. Gen. Jerry Boykin discusses Russia warning NATO about supplying F-16 jets to Ukraine on 'Your World.'
Chief of Russia's notorious Wagner mercenary force and self-proclaimed "butcher" for Russian President Vladimir Putin, Yevgeny Prigozhin, has once again come out swinging at Moscow's defense ministry, this time warning there will be a revolution like the 1917 Bolshevik Revolution if Russian elites do not get serious about the war in Ukraine.
According to a Reuters report Wednesday, Prigozhin in an interview posted to Telegram said that there are already "tens of thousands" of angry Russians who are sick of seeing loved ones come back in zinc coffins while the children of Moscow's elite "shook their a—s."
"This divide can end as in 1917 with a revolution," he said in reference to the revolution that ended the 300-year reign of the Romanov czar dynasty, prompting the infamous legend around Anastasia, daughter of Czar Nicholas II, who along with his family were murdered in 1918.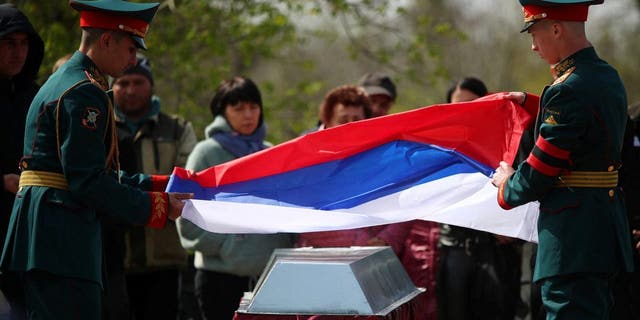 Honor guards cover the coffin with a Russian flag at the funeral of Savely Shashkov, a member of the Russian military volunteer unit "Immortal Stalingrad," who was killed during Russia-Ukraine conflict, at a cemetery in the town of Krasnoslobodsk in the Volgograd Region, Russia April 15, 2023. (REUTERS/Kirill Braga)
POLAND SAYS NO TO ANY 'ARTIFICIAL PEACE PLAN' BETWEEN UKRAINE, RUSSIA
"First the soldiers will stand up, and after that – their loved ones will rise up," Prigozhin said according to a Reuters translation. "There are already tens of thousands of them – relatives of those killed. And there will probably be hundreds of thousands – we cannot avoid that."
The Wagner chief, who has been repeatedly critical of the Russian defense ministry and its handling of the war in Ukraine, criticized the messaging around what the Kremlin has dubbed a "special military operation," reportedly calling it confused and contradictory.
He said Russian leadership had "f—ed up" repeatedly during the war, particularly in failing to demilitarize Ukraine.
"We are in such a condition that we could f—ing lose Russia – that is the main problem," Prigozhin said, adding that more men needed to be mobilized, and the economy directed towards supporting the war. "We need to impose martial law."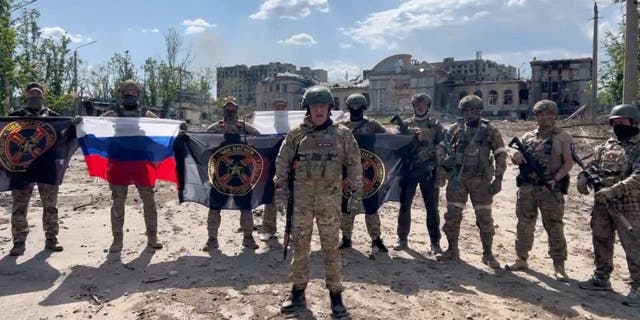 Founder of Wagner private mercenary group, Yevgeny Prigozhin, makes a statement as he stands next to Wagner fighters in the course of Russia-Ukraine conflict in Bakhmut, Ukraine, in this still image taken from video released May 20, 2023. (Press service of "Concord"/Handout via REUTERS)
ANTI-PUTIN GROUPS CLAIM RESPONSIBILITY FOR BELGOROD ATTACK IN RUSSIA
Prigozhin also pointed to the cross-border attack in Belgorod this week as an indication that Ukraine was advancing and had no plans to concede territory in pursuit of a peace plan. Though Kyiv has said it had nothing to do with the assault that began Monday.
The mercenary chief also criticized the viewpoint in Moscow that Russia will eventually achieve its war aims after the West tires of supporting Kyiv and China strikes a peace deal.
Instead, he said Kyiv plans to continue fighting until it has pushed all Russian forces across its borders, including Crimea which Russia has occupied since 2014.
"Most likely of all, this scenario will not be good for Russia, so we need to prepare for an arduous war," Prigozhin said.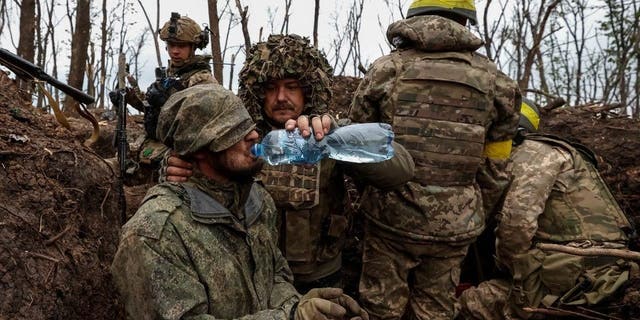 A Ukrainian soldier gives water to a captured Russian army serviceman, according to them, on a position recently gained in offensive, as Russia's attack on Ukraine continues, near the front line city of Bakhmut, in Donetsk region, Ukraine May 11, 2023. (Radio Free Europe/Radio Liberty/Serhii Nuzhnenko via REUTERS)
CLICK HERE TO GET THE FOX NEWS APP
Prigozhin also reportedly called for Defense Minister Sergei Shoigu to be replaced by Colonel General Mikhail Mizintsev, though he noted his frustration was centered around his devotion to Putin and Russia.
"I love my Motherland, I serve Putin, Shoigu should be judged, and we will fight on," he said, adding that he took issue with his nickname as "Putin's chef" and said "Putin's butcher" would have been more appropriate.
Caitlin McFall is a Reporter at Fox News Digital covering Politics, U.S. and World news.