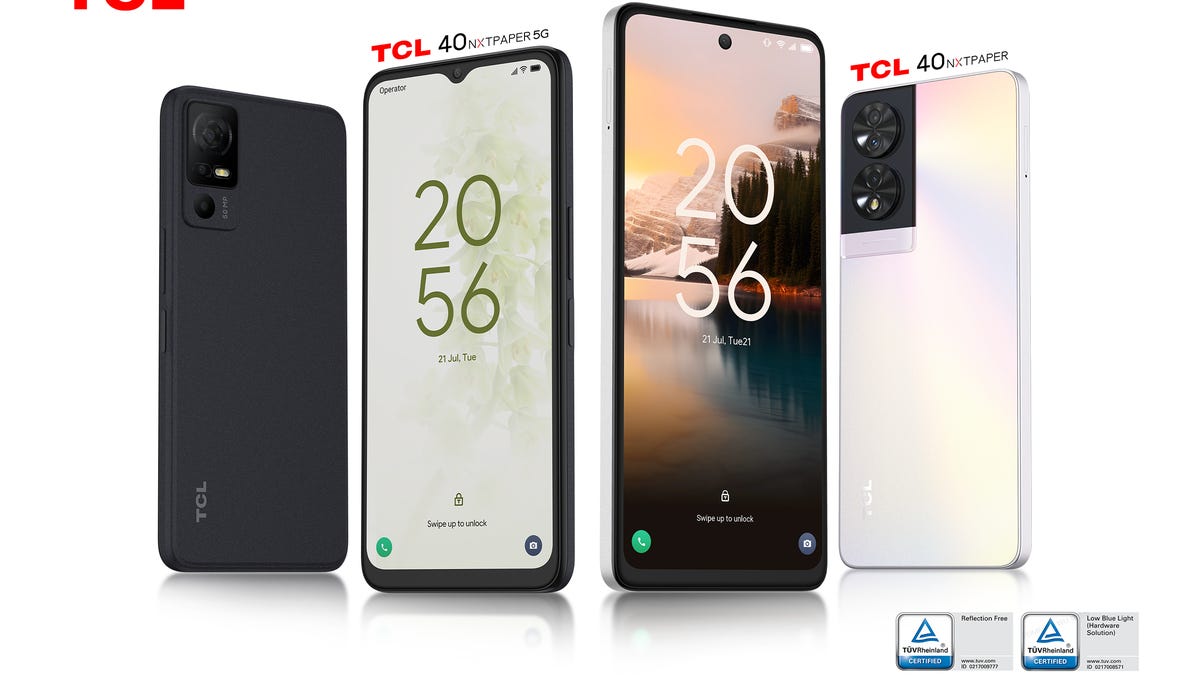 TCL is revealing its first two phones that include the company's NxtPaper screen technology.
TCL
TCL is revealing its first phones with NxtPaper screens Tuesday, which the company says will have a paper-like appearance for improved eye comfort.
The TCL 40 NxtPaper and TCL 40 NxtPaper 5G are both releasing globally later this year, first in Europe, before moving to other territories. TCL has not yet confirmed if the phone will receive a release in the US.
Both phones include a sensor that adjusts display brightness and color temperature in order to optimize how it looks based on environment and time of the day. When using the phones for reading, TCL says its NxtPaper UI can toggle between full color or a black-and-white mode when a reader wants a more book-like experience.
The non-5G model will ship with a 6.78-inch display, 256GB of storage, 8GB of RAM, dual speakers, a 32-megapixel front-facing camera and a triple-camera system that's anchored by a 50-megapixel main camera. It will cost 199 euros when it's released in Europe this September, which converts roughly to $215, £170 and AU$330.
The 5G model comes with a 6.6-inch display, 256GB of storage, 6GB of RAM, a 50-megapixel main rear camera and an 8-megapixel front-facing camera. This model will cost 249 euros and ship in October.
This screen technology has previously been released on TCL's NxtPaper tablets and laptops. Back at CES 2023, TCL showed off a concept NxtPaper phone ahead of today's official reveal.