close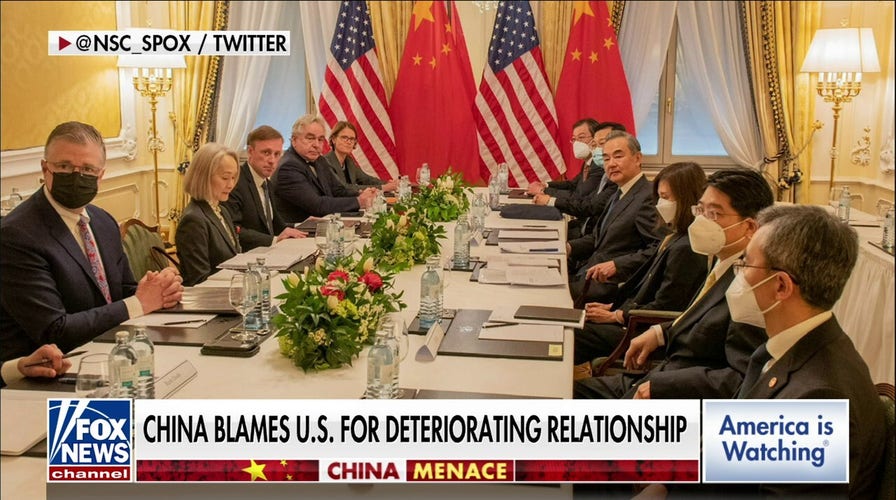 Video
China needs to face some consequences for their role in the COVID-19 pandemic: Dr. Rebecca Grant
IRIS Independent Research President Dr. Rebecca Grant discusses U.S. and Chinese officials meeting in Vienna amid growing tensions.
The Philippines have looked to deter Chinese aggression around islands it claims as its own in the South China Sea by putting up buoys in a show of ownership, as Beijing continues to threaten its sovereignty in the region.
Five buoys carrying the Filipino flag were set up around the Spratly Islands within its Exclusive Economic Zone according to the Philippine coast guard.
Five areas were claimed by the markers within the 200-mile-long stretch of islands, including along the Whitsun Reef where China moored hundreds of maritime vessels in 2021.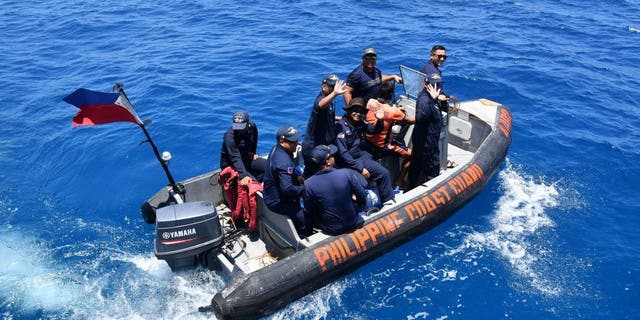 This photo taken on April 21, 2023 shows crew of the Philippine coast guard ship Malabrigo on board their rigid hull inflatable boat sailing towards the Philippine-occupied Thitu island in South China Sea. (Photo by TED ALJIBE/AFP via Getty Images)
CHINA CLAIMS US CRUISER 'TRESPASSED' IN ITS WATERS, NAVY CALLS ACCUSATION 'FALSE'
Ownership over the Spratly Islands – which is made up of nearly two dozen islands and hundreds of reefs – has long been contested with China, Taiwan and Vietnam claiming control of the entirety of the region while the Philippines, Malaysia and Brunei lay claim over portions of it.
However, China's increasingly hostile attitude in the region prompted Philippine's President Ferdinand Marcos Jr. to take action last week to set up the buoys between May 10 -12 to assert Manila's sovereignty.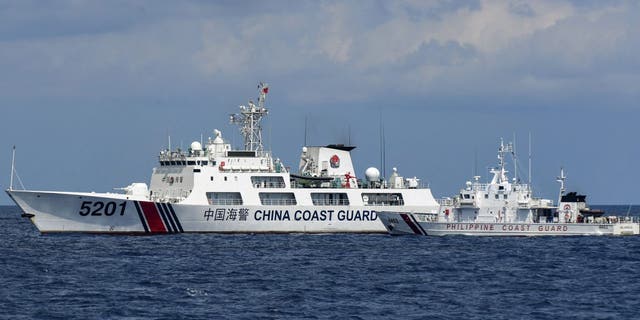 This photo taken on April 23, 2023 shows the Philippine coast guard vessel BRP Malapascua, right, maneuvering as a Chinese coast guard ship cuts its path at Second Thomas Shoal in the Spratly Islands in the disputed South China Sea. (Photo by TED ALJIBE/AFP via Getty Images)
CHINA THREATENS 'SERIOUS CONSEQUENCES' AFTER US WARSHIP AGAIN SAILS BY CONTESTED PARACEL ISLANDS
"This move highlights the Philippines' unwavering resolve to protect its maritime borders and resources and contribute to the safety of maritime trade," Philippines coast guard spokesman Commodore Jay Tarriela, said on Twitter.
Manila took similar steps in May 2022 when it installed five navigational buoys around four of the Spratly Islands.
In recent years, China has attempt to assert control over the internationally-contested islands by deploying hundreds of navy and maritime vessels, as well as building up manmade islands on the reefs by dredging in sand and equipping them with missiles and runways.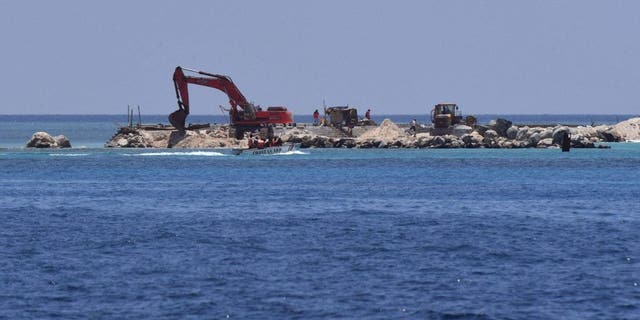 This photo taken on April 21, 2023 shows heavy machinery at the Philippine-occupied Thitu Island in the disputed South China Sea. Beijing claims sovereignty over almost the entire South China Sea, including the Spratly Islands, ignoring an international ruling that the assertion has no legal basis. (Photo by TED ALJIBE/AFP via Getty Images)
CLICK HERE TO GET THE FOX NEWS APP
Though China's claims were invalidated by an international arbitrary ruling in 2016.
Fox News Digital could not immediately reach the Chinese embassy in Manila for comment.
Reuters contributed to this report.
Caitlin McFall is a Reporter at Fox News Digital covering Politics, U.S. and World news.