close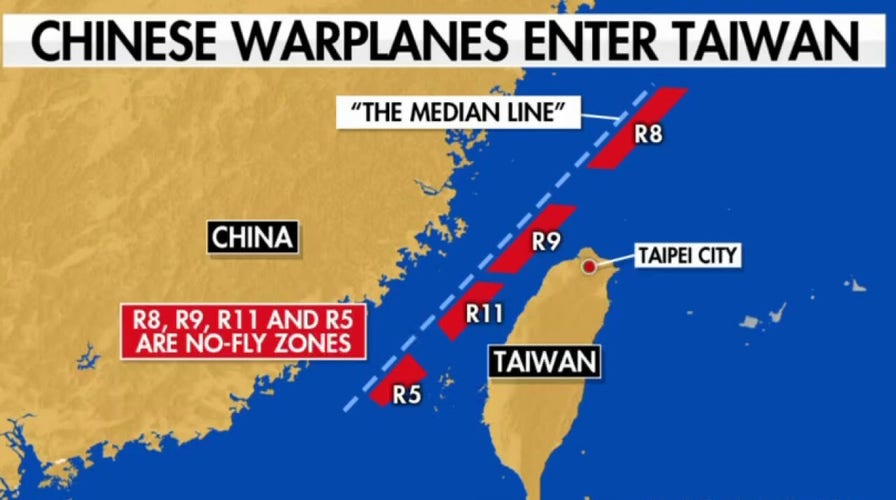 Video
China and Taiwan: Breaking down the military threat
The Heritage Foundation's Lt. Col. James Carafano says there is good news and bad news after China sends 71 planes and seven ships toward Taiwan in 24 hours on 'Your World.' 
Dozens of Chinese military aircraft and four ships were detected around Taiwan on Sunday amid increased tensions, Taiwan's defense ministry said.
At least 28 of the Chinese aircraft crossed the median line of the Taiwan Strait, an unofficial buffer zone that separates the island from China.
The People's Liberation Army's Eastern Theater Command said in a statement that they conducted "joint combat readiness patrols and actual combat drills" to "resolutely counter the provocative actions of external forces and Taiwan independence separatist forces."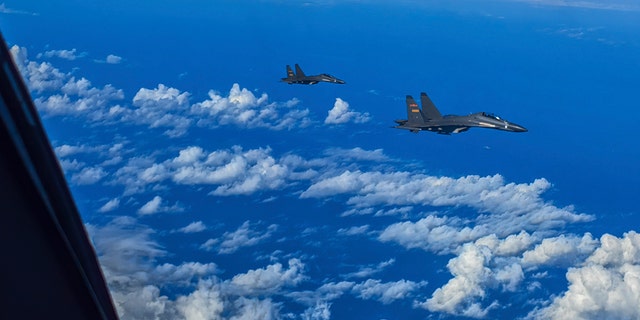 FILE PHOTO: In this photo released by Xinhua News Agency, fighter jets of the Eastern Theater Command of the Chinese People's Liberation Army (PLA) conduct a joint combat training exercises around the Taiwan Island.
(Gong Yulong/Xinhua via AP)
Taiwan's defense ministry said aircraft, ships, and land-based missile systems were activated to respond to the incursion. It's the second time this week that China's military has flown aircraft near Taiwan.
STATE DEPARTMENT CALLS ON CHINA TO BE MORE TRANSPARENT ON CURRENT COVID-19 SURGE, VIRUS' ORIGINS
Tensions came to a head in August after then-Speaker of the House Nancy Pelosi visited Taiwan, with China picking up the frequency of combat drills around the island in recent months.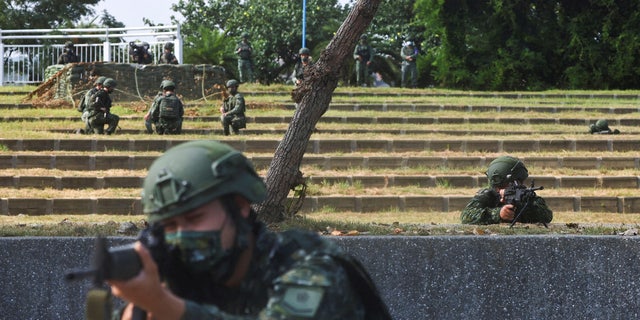 FILE PHOTO: Soldiers take position during Taiwan's main annual "Han Kuang" exercise in New Taipei City, Taiwan, July 27, 2022. 
(REUTERS/Ann Wang)
White House National Security Adviser Jake Sullivan said this week that he thinks war can be avoided.
"There is a risk of conflict with respect to Taiwan, but I believe that with responsible stewardship, we can ensure that this contingency never comes to pass. And that is our responsibility," Sullivan told NPR.
CLICK HERE TO GET THE FOX NEWS APP
Chinese President Xi Jinping told President Biden at the November G20 summit in Bali that the Taiwan question was the "very core of China's core interests" and the "first red line" in bilateral ties.
President Biden said after that meeting that he does "not think there's any imminent attempt on the part of China to invade Taiwan."
Reuters contributed to this report.
Paul Best is a breaking news reporter for Fox News Digital and Fox Business. Story tips and ideas can be sent to [email protected] and on Twitter: @KincaidBest.