close
Video
US needs to make an invasion of Taiwan unattractive, costly to China: Michael Sarraille
Talent War Group CEO and retired NAVY Seal Michael Sarraille joins Fox Report to discuss the Biden administrations handling of China ramping up its war games around Taiwan.
Taiwan is sounding alarms over Chinese military drills that it says could mistakenly spark an "uncontrollable war" that would draw in countries from around the world.
"The Chinese military exercises this couple of days have been very serious," Taiwanese Foreign Minister Joseph Wu told Fox News Sunday. "If you look at the sorties of the Chinese air force, together with the ships, they're coming very close to Taiwan. And any accident might spark an uncontrollable war in between Taiwan and China. And if other countries are trying to intervene, it might be the start of a war of great scale."
The comments come as large scale Chinese military drills entered their third day Monday, with the Chinese military declaring that it is "ready to fight" if Taiwan were to attempt to declare its independence from the mainland.
CHINA CONDUCTS SECOND DAY OF MILITARY DRILLS AROUND TAIWAN, SIMULATES STRIKES ON THE ISLAND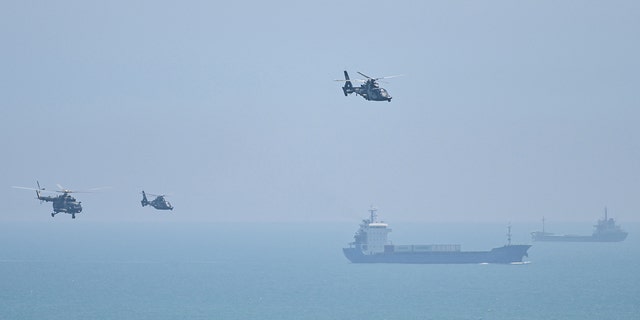 Chinese military helicopters fly past Pingtan island, one of mainland China's closest points to Taiwan, in Fujian province, on Aug. 4, 2022, ahead of massive military drills off Taiwan. (Hector Retamal/AFP via Getty Images)
"The theater's troops are ready to fight at all times and can fight at any time to resolutely smash any form of 'Taiwan independence' and foreign interference attempts," the military said Monday, according to The Associated Press.
The drills China has run played out similarly to those the country conducted in August after Taiwan received a visit from then-House Speaker Nancy Pelosi, D-Calif., this time coming on the heels of a meeting between Taiwanese officials and House Speaker Kevin McCarthy, R-Calif.
Like the previous incident in August, multiple warships and planes have reportedly crossed the median line of the Taiwan Strait, which for decades was understood by both sides as a boundary that military forces should not cross for fear of escalating to war. But China has disregarded the boundary in more recent military drills, insisting the line is "imaginary" in nature.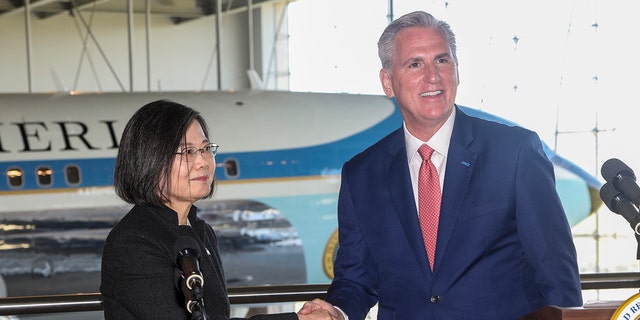 House Speaker Kevin McCarthy shakes hands with Taiwanese President Tsai Ing-wen after delivering statements to the press at the Ronald Reagan Presidential Library in Simi Valley, California, Wednesday, April 5, 2023. (AP Photo/Ringo H.W. Chiu)
TAIWAN RESIDENTS AGREE US WILL NOT COME TO THEIR AID IF CHINA INVADES, ARE DIVIDED ON THREAT LEVEL
Wu warned that the recent drills have shown that the Chinese threat to the independently governed island have continued to increase, arguing that it will be crucial for the U.S. to continue to show support for Taiwan as a way to deter aggression from the mainland.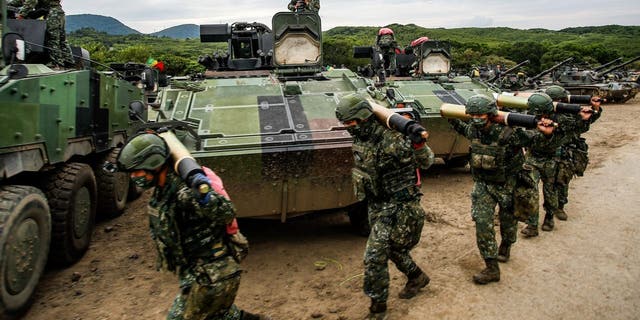 Soldiers carry ammunition to tanks during a two-day live-fire drill, in Pingtung county, Taiwan, on Sept. 7, 2022. (Ceng Shou Yi/NurPhoto via Getty Images)
"If you look at the Chinese military threat against Taiwan, is being increasing, that diplomatic assault against Taiwan is also being increasing," Wu said. "And therefore, for the United States, lawmakers or the administration to show support for Taiwan, it is very critical. And this time around, we saw a tremendous show of support coming from the U.S. Congress."
CLICK HERE TO GET THE FOX NEWS APP
Michael Lee is a writer at Fox News. Follow him on Twitter @UAMichaelLee