close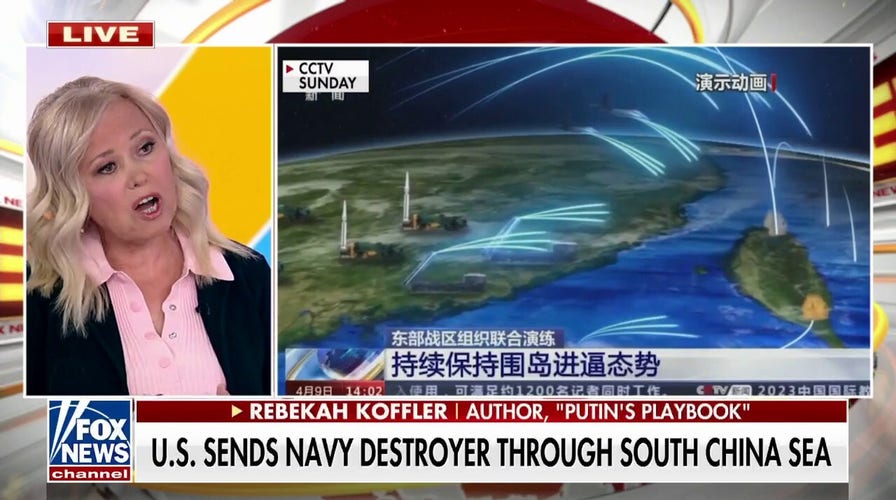 Video
US challenges China by sending Navy destroyer through South China Sea
Rebekah Koffler discusses if the U.S. is prepared to simultaneously provide aid to Ukraine and Taiwan.
China's military reportedly announced Monday it is "ready to fight" after completing three days of large-scale combat exercises around Taiwan that simulated sealing off the island.
Earlier, China's military said so-called "combat readiness patrols" named Joint Sword were meant as a warning to self-governing Taiwan, which China claims as its own.
"The theater's troops are ready to fight at all times and can fight at any time to resolutely smash any form of 'Taiwan independence' and foreign interference attempts," it said Monday.
The drills come in response to Taiwanese President Tsai Ing-wen's delicate mission to shore up the island's dwindling diplomatic alliances in Central America and boost its U.S. support. Tsai met with U.S. House Speaker Kevin McCarthy in California last week – a meeting that China warned would be met with unspecified retaliation.
FRENCH PRESIDENT MACRON REJECTS 'AMERICAN RHYTHM' ON TAIWAN, NODS TO CHINA'S 'UNITY' AFTER MEETING WITH XI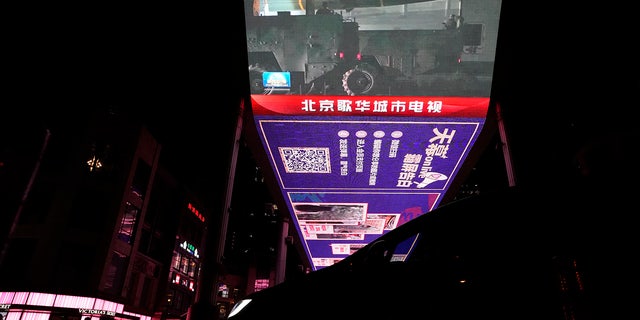 An outdoor screen shows the recently concluded Joint Sword exercise around Taiwan during the evening news broadcast in Beijing. China's military declared Monday it is "ready to fight" after completing the three-day exercise. (AP Photo/Ng Han Guan)
Meanwhile, the U.S. Navy is reportedly challenging Beijing by sending a destroyer vessel through the South China Sea amid the drills near Taiwan.
In a written statement Monday, a spokesperson for the Chinese PLA [People's Liberation Army] Southern Theater Command condemned the U.S. 7th Fleet, which said its missile destroyer USS Milius sailed by Mischief Reef in a "freedom of navigation" operation. China has built an artificial island on the sea feature to stake its claim to the disputed territory.
"China has indisputable sovereignty over the South China Sea islands and their adjacent waters," Chinese Air Force Senior Col. Tian Junli said. "The troops of the PLA Southern Theater Command will always stay on high alert and resolutely safeguard China's national sovereignty and security, as well as peace and stability in the South China Sea."
A U.S. congressional delegation also met with Tsai over the weekend in Taiwan after she returned. The Chinese exercises were similar to ones conducted last August, when Beijing launched missile strikes on targets in the seas around Taiwan in retaliation for then-House Speaker Nancy Pelosi's visit to Taiwan.
U.S. NAVY DESTROYER SAILS NEAR MILITARIZED, MANMADE CHINESE ISLAND, DRAWING REBUKE FROM BEIJING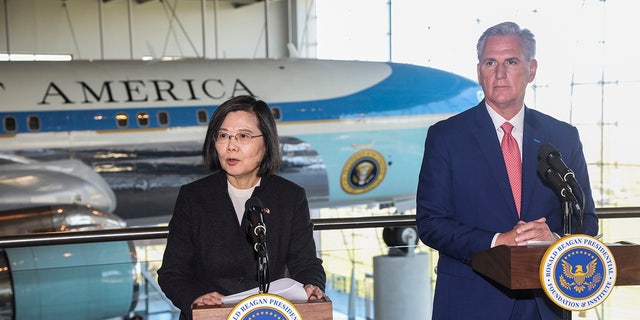 House Speaker Kevin McCarthy and Taiwanese President Tsai Ing-wen met in California last week, drawing ire from China. (AP Photo/Ringo H.W. Chiu, File)
China responded immediately to the McCarthy meeting by imposing a travel ban and financial sanctions against those associated with Tsai's U.S. trip and with increased military activity through the weekend. The exercises this time have focused more on air strength, with Taiwan reporting 200 flights by Chinese warplanes in the past three days.
Chinese state broadcaster CCTV, citing the PLA, said the exercises are "simulating the joint sealing off" of Taiwan as well as "waves of simulated strikes" at important targets on the island. On Monday, the People's Liberation Army (PLA) said its Shandong aircraft carrier was taking part in the exercises encircling Taiwan for the first time.
It showed a video of a fighter jet taking off the deck of the ship in a post on Weibo, the social media platform.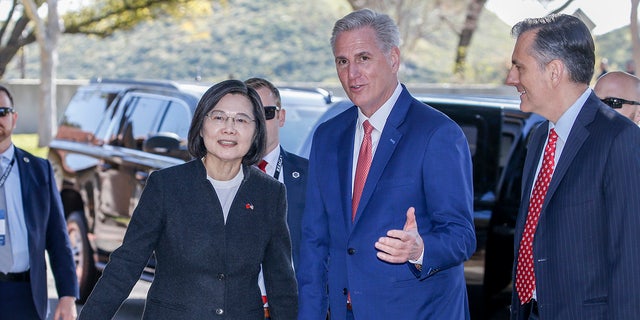 House Speaker Kevin McCarthy welcomes Taiwanese President Tsai Ing-wen to the Ronald Reagan Presidential Library. China threatened unspecified retaliation if the two met. (AP Photo/Ringo H.W. Chiu, File)
Between 6 a.m. Sunday and 6 a.m. Monday, a total of 70 planes were detected and half crossed the median of the Taiwan Strait, an unofficial boundary once tacitly accepted by both sides, according to Taiwan's Ministry of National Defense. Among the planes that crossed the median were eight J-16 fighter jets, four J-1 fighters, eight Su-30 fighters and reconnaissance planes. Taiwan also tracked J-15 fighter jets, which are paired with the Shandong aircraft carrier, The Associated Press reported.
CLICK HERE TO GET THE FOX NEWS APP
Later Monday morning, Taiwan's defense ministry reported another 59 flights by bombers, as well as multiple fighter jets.
That followed a full day between Friday and Saturday in which eight warships and 71 planes were detected near Taiwan, according to the island's Defense Ministry. It said in a statement that it was approaching the situation from the perspective of "not escalating conflict, and not causing disputes."
The Associated Press contributed to this report.
Danielle Wallace is a reporter for Fox News Digital covering politics, crime, police and more. Story tips can be sent to [email protected] and on Twitter: @danimwallace.