close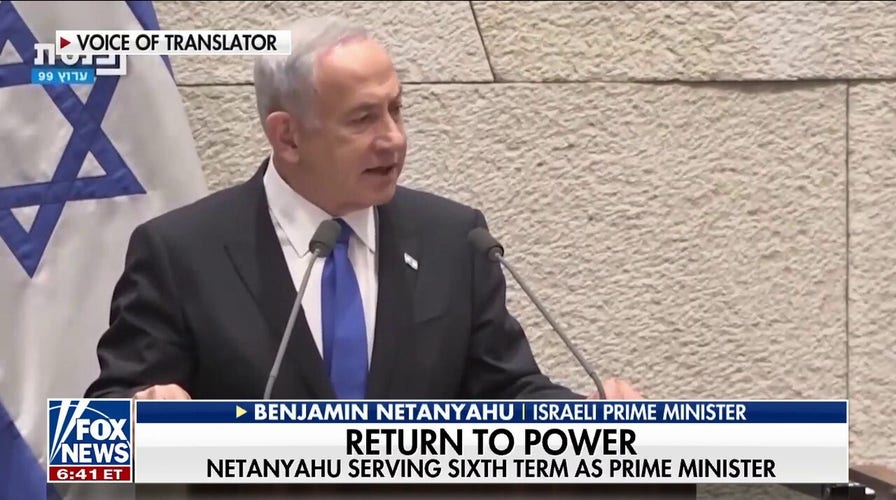 Video
Israeli Prime Minister Netanyahu is back in power
Fox News correspondent Trey Yingst has the latest on the prime minister's sixth term on 'Special Report.'
The Syrian Army says Israel has fired missiles at the international airport in Damascus, adding it took the airport out of service temporarily, killed two soldiers, and wounded two others.
The attack, which occurred shortly after midnight Sunday, was the second in seven months to put the Damascus International Airport out of commission. It caused material damage in a nearby area, the army said, without giving further details.
Syria's Ministry of Transport said work to repair the damage began immediately and later Monday, some flights resumed while work in other parts of the airport continued.
An opposition war monitor reported the Israeli strikes hit the airport as well as an arms depot close to the facility south of Damascus. The Britain-based Syrian Observatory for Human Rights said four people were killed in the strike while the Syrian government reported that two had been killed.
BIBLICAL SITE WHERE JESUS HEALED BLIND MAN EXCAVATED FOR PUBLIC VIEW: 'AFFIRMS SCRIPTURE'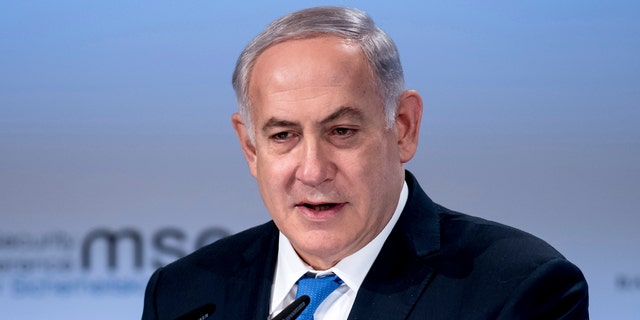 Israel's Prime Minister Benjamin Netanyahu delivers a speech in Munich, Germany, Feb. 18, 2018.
(Sven Hoppe/dpa via AP)
Israeli Prime Minister Benjamin Netanyahu, who returned to power last week, has repeatedly promised to push back against Iran's nuclear and strategic ambitions in the region which often involve Syria's proxy involvement.
"Almost a decade has passed since Israel began its 'campaign between wars' in Syria, whose pace of airstrikes – according to IDF chief of staff Lt.-Gen. Aviv Kohavi – has increased from once in every four months at the outset to once per week today," Mark Dubowitz, Foundation for Defense of Democracies chief executive, told Fox News Digital.
IRAN HOLDS TOP MILITARY DRILLS IN MAJOR OIL WATERWAY IN 'WAR BEFORE THE WAR'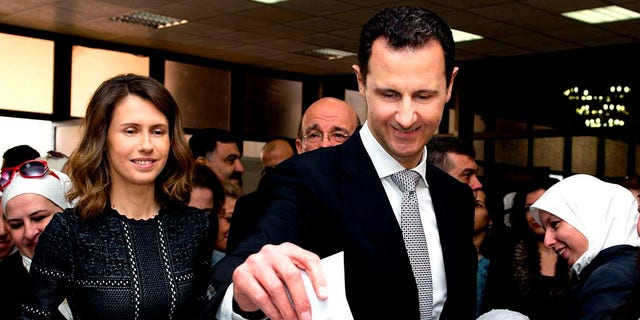 Syrian President Bashar Assad casts his ballot in the parliamentary elections, as his wife Asma, stands next to him, in Damascus, Syria.
(Syrian Presidency via AP, File)
"Syrian airports have increasingly been targeted – a reflection of their increasing use by Iran for unloading advanced weaponry destined for terror groups on Israel's border and Hezbollah in Lebanon. That Damascus International Airport appears to have resumed some operations within eight hours of Monday's strike is a testament to Israeli precision in carrying out the strike."
Israel has not publicly confirmed the strike but Netanyahu spoke during a cabinet meeting on Tuesday and reaffirmed his opposition to a nuclear deal with Iran that appears to have stalled in recent months.
NETANYAHU: IRAN NUCLEAR DEAL IS 'PROBABLY DEAD'; PROTESTS REVEAL THAT REGIME IS 'REALLY WEAK'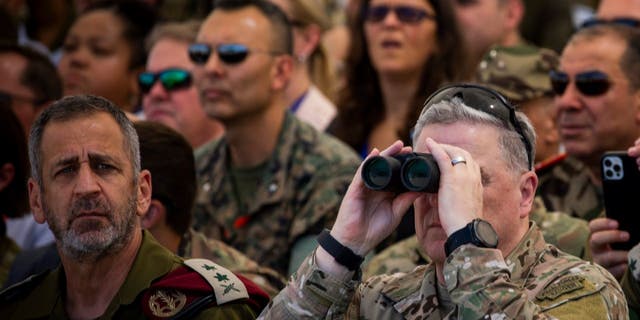 U.S. Chairman of the Joint Chiefs of Staff Mark Milley, right, and Israel's Chief of General Staff Aviv Kohavi watch a live-fire exercise at Tze'elim military base in Israel on Sept. 15, 2022.
(Ilia Yefimovich/picture alliance via Getty Images)
"We will work openly, from a position of strength, in the international arena against a return to the nuclear agreement," Netanyahu said. "Not only in talks with leaders behind closed doors but strongly and openly in the sphere of global opinion, which is now aware of the true dangers posed by Iran – the Iranian regime that is killing innocent citizens in and outside Iran."
Netanyahu warned that supporters of a return to a nuclear deal with Iran may attempt to resuscitate it in the future and that there is a "possibility" it has "not yet finally disappeared from the agenda."
HOLY LAND FIGHT: ISRAELI LAWMAKERS CONDEMN EU'S 'ILLEGAL' ACTIONS ON BIBLICAL LAND
"Therefore, we will do everything to prevent the return to this bad agreement, which is leading to a nuclear Iran under international auspices. We will also take vigorous action to prevent the Iranian military entrenchment in Syria and elsewhere and we will not wait."
Israel has carried out hundreds of strikes on targets inside government-controlled parts of Syria in recent years, but rarely acknowledges or discusses such operations.
Israel has acknowledged, however, that it targets bases of Iran-allied militant groups, such as Lebanon's Hezbollah, which has sent thousands of fighters to support Syrian President Bashar Assad's forces.
CLICK HERE TO GET THE FOX NEWS APP
Thousands of Iran-backed fighters have joined Syria's 11-year civil war and helped tip the balance of power in Assad's favor.
Israel says an Iranian presence on its northern frontier is a red line that justifies its strikes on facilities and weapons inside Syria.
The Associated Press and Fox News' Yonat Friling contributed to this report.
Andrew Mark Miller is a writer at Fox News. Find him on Twitter @andymarkmiller and email tips to [email protected].