close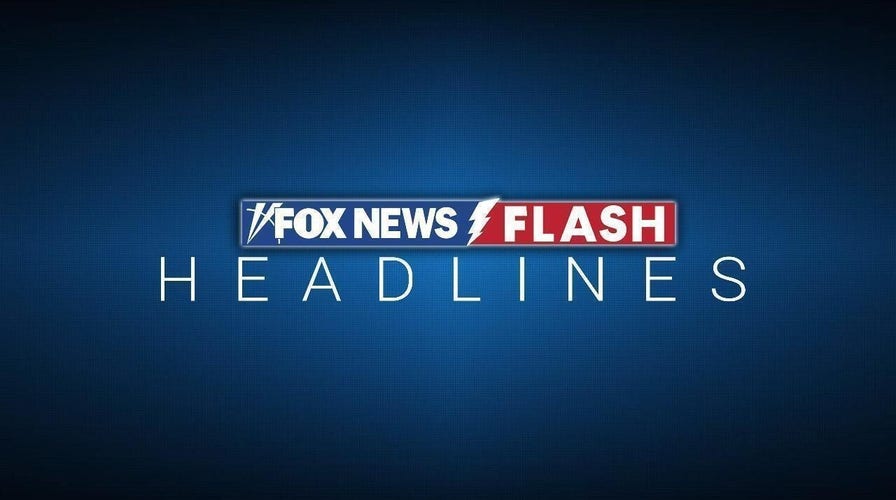 Video
Fox News Flash top headlines for August 14
Fox News Flash top headlines are here. Check out what's clicking on Foxnews.com.
Sweden's National Security Adviser Henrik Landerholm is warning citizens abroad to "observe increased vigilance and caution."
Terrorist groups have called for attacks against Sweden following recent Quran burnings in the country.
Sweden recently stepped up its border control and identity checks at crossing points.
A senior Swedish official said Monday Swedes abroad and businesses linked to Sweden"should observe increased vigilance and caution," following recent Quran burnings in the country and protests in the Muslim world.
Henrik Landerholm, Sweden's National Security Adviser, said there are signs of "a heightened threat" to the country and to Swedish interests abroad, adding the security situation has worsened.
In a statement, Landerholm said that "representatives of terrorist groups have called for attacks against Sweden. States and other actors have helped amplify such messages." He said Sweden has gone from being considered a "legitimate" target to being a "priority" target. The statement did not identify those involved.
SWEDISH CONSULATE IN TURKEY TARGETED IN GUN ATTACK; EMPLOYEE INJURED, ASSAILANT ARRESTED
Landerholm said there also were "indications" that groups are planning other acts against Swedish interests abroad, and cited the storming of Sweden's Embassy in Baghdad last month and an attempted attack on the diplomatic mission in Beirut last week.
The Swedish government and relevant authorities "are monitoring developments, taking a variety of measures and working closely with international partners to protect Swedes and Swedish interests abroad and to counteract the hate messages being spread about Sweden," he said,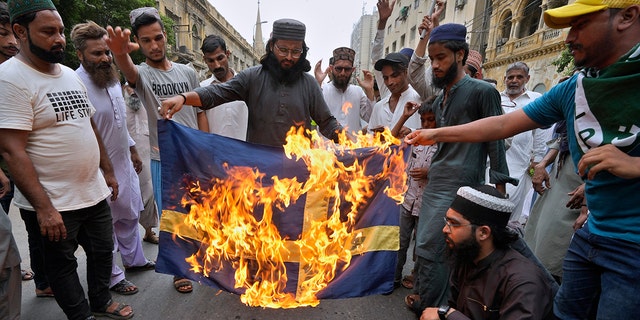 Supporters of a radical Islamist group burn the representation of the Swedish flag during a rally to denounce the burning of Islam's holy book Quran, in Karachi, Pakistan, on July 7, 2023. (AP Photo/Fareed Khan, File)
This month, Sweden stepped up border controls and identity checks at crossing points.
AMERICAN SOLDIER KILLED IN GERMANY AFTER TRUCK STRIKES ARMORED MILITARY VEHICLE
A recent string of public Quran desecrations by a handful of anti-Islam activists in Sweden — and more recently in neighboring Denmark — has sparked angry demonstrations in Muslim countries.
Sweden does not have a law specifically prohibiting the burning or desecration of the Quran or other religious texts. Like many Western countries, it doesn't have any blasphemy laws; Sweden's were abandoned in the 1970s.
The right to hold public demonstration s is protected by the Swedish Constitution. Police generally give permission based on whether they believe a public gathering can be held without major disruptions or risks to public safety.
CLICK HERE TO GET THE FOX NEWS APP
Swedish officials repeatedly have condemned the desecrations and have also debunked claims that the government in Sweden grants permission for people to burn Islam's sacred text or other religious books,
Last month, the Scandinavian country's domestic security service SAPO said the overall security situation has deteriorated and said the risk of terrorism in Sweden remains at an elevated level.