close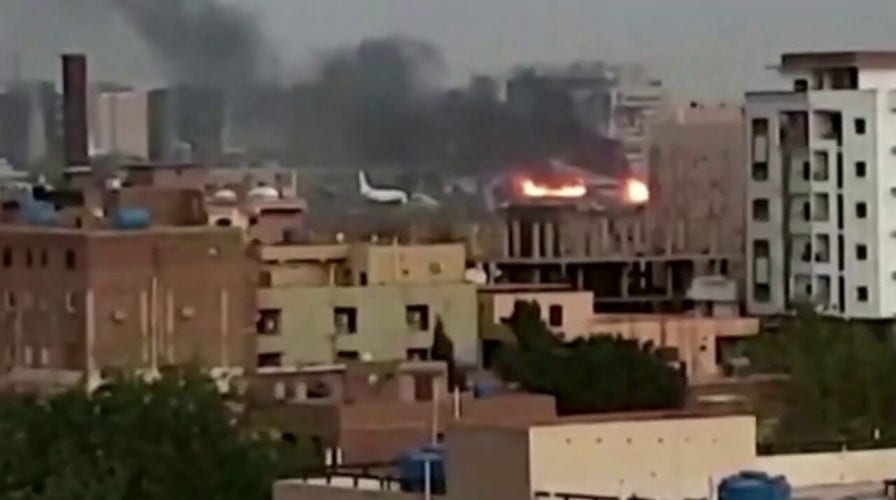 Video
US prepares embassy evacuation plans in Sudan as civil war fighting continues
Fox News national security correspondent Jennifer Griffin has more on where things stand amid escalating violence in Sudan on 'Special Report.' 
The Sudanese military says it is working with foreign government to prepare for evacuations at key embassies, including the U.S.
Sudan is currently experiencing a civil war between its army and a government paramilitary organization known as the Rapid Support Forces.
Sudanese Army Chief Gen. Abdel Fattah Burhan is reportedly in contact with leaders of various countries to coordinate the safe rescue of diplomats trapped within the warring nation's borders.
US FORCES DEPLOY TO DJIBOUTI AS PENTAGON EYES SUDAN EMBASSY EVACUATION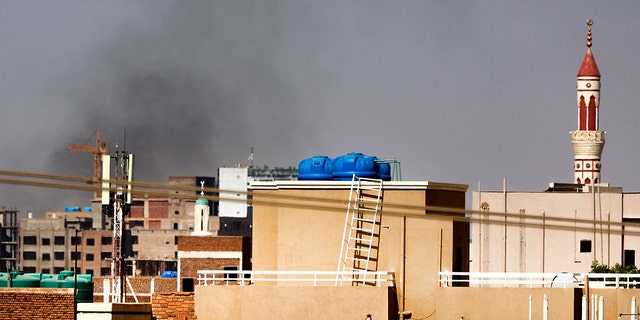 Smoke billows over residential buildings in eastern Khartoum, Sudan, on April 22, 2023, during ongoing battles between the forces of two rival generals. (AFP via Getty Images)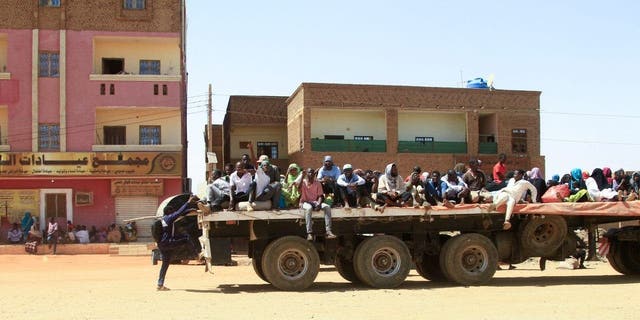 People fleeing street battles between the forces of two rival Sudanese generals, are transported on the back of a truck in the southern part of Khartoum, on April 21, 2023. (AFP via Getty Images)
Diplomats from the U.S., United Kingdom, France, and elsewhere are expected to repatriate via military flight, though clashes between the army and RSF have been reported at the capital city Khartoum's main airport.
US CITIZEN KILLED IN SUDAN AMID HEAVY INFIGHTING: STATE DEPARTMENT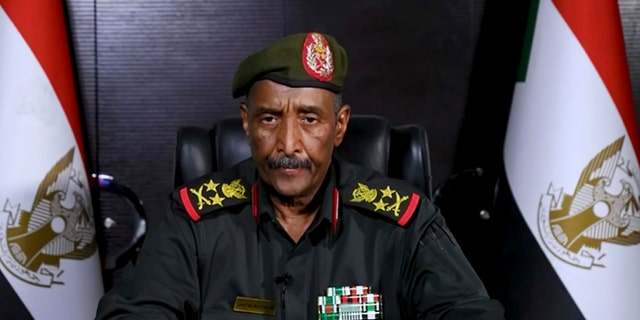 In this image made from video provided Friday, April 21, 2023, by the Sudan Armed Forces, Gen. Abdel-Fattah Burhan, commander of the Sudanese Armed Forces, speaks at an undisclosed location. (Sudan Armed Forces via AP)
Secretary of Defense Lloyd Austin confirmed Friday that U.S. troops have been positioned near Sudan as a safety measure.
"We always want to make sure that we're doing prudent planning, which is what we're doing," Austin added. "We've deployed some forces into the theater to ensure that we provide as many options as possible if we are called on to do something. We haven't been called on to do anything yet."
BLOODY SUDAN CONFLICT CONTINUES DESPITE TRUCE, INTERNATIONAL PRESSURE
Residential buildings damaged in fighting are seen in Khartoum, Sudan, Thursday, April 20, 2023. (AP Photo/Marwan Ali)
U.S. forces were placed in Djibouti for a potential mission to evacuate U.S. Embassy personnel in Khartoum, Sudan's capital city, a senior U.S. official confirmed to Fox News Thursday.
A U.S. citizen was killed in Sudan amid escalating violence in the country's capital and other places over the past week.
CLICK HERE TO GET THE FOX NEWS APP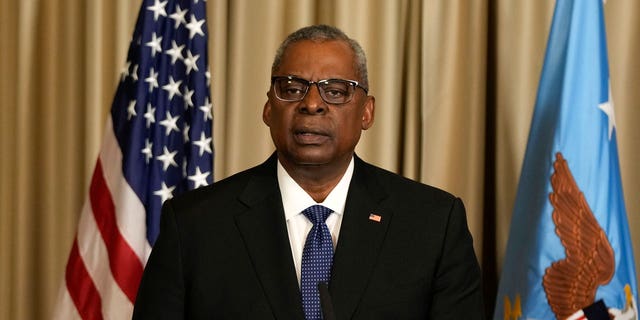 U.S. Defense Secretary Lloyd Austin talks to the media after the meeting of the 'Ukraine Defense Contact Group' at Ramstein Air Base in Ramstein, Germany, on April 21, 2023. (AP Photo/Matthias Schrader)
"We can confirm the death of one U.S. citizen in Sudan," a State Department spokesperson told Fox News. "We are in touch with the family and offer our deepest condolences to them on their loss. Out of respect for the family during this difficult time, we have nothing further to add."
The deceased American citizen did not work for the U.S. Embassy.
Timothy Nerozzi is a writer for Fox News Digital. You can follow him on Twitter @timothynerozzi and can email him at [email protected]