close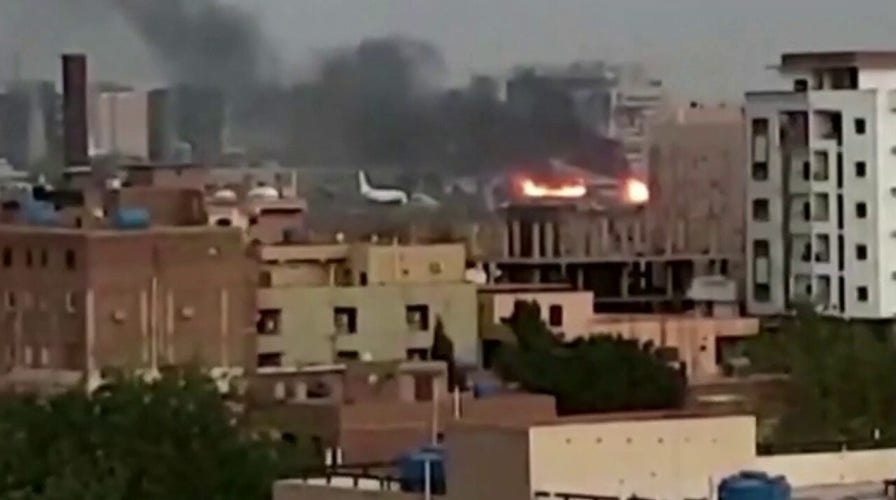 Video
US prepares embassy evacuation plans in Sudan as civil war fighting continues
Fox News national security correspondent Jennifer Griffin has more on where things stand amid escalating violence in Sudan on 'Special Report.' 
The U.S. State Department is urging Americans to avoid traveling to Sedan as violence continues in the African country.
The travel advisory comes after U.S. Embassy personnel were evacuated from the capital city of Khartoum. The evacuation was completed as of early Sunday morning.
U.S. citizens are told by the State Department not to travel to Sudan because of armed conflict, civil unrest, crime, terrorism and kidnapping. The warning is an update to a travel advisory issued on Wednesday.
"On April 22, 2023, the U.S. Embassy in Khartoum suspended its operations, and the Department of State ordered the departure of U.S. direct hire employees and eligible family members from Embassy Khartoum due to the continued threat of armed conflict in Sudan," the State Department wrote in its travel advisory. "The U.S. government cannot provide routine or emergency consular services to U.S. citizens in Sudan, due to the current security situation."
US EMBASSY PERSONNEL IN SUDAN EVACUATED AMID VIOLENT CONFLICT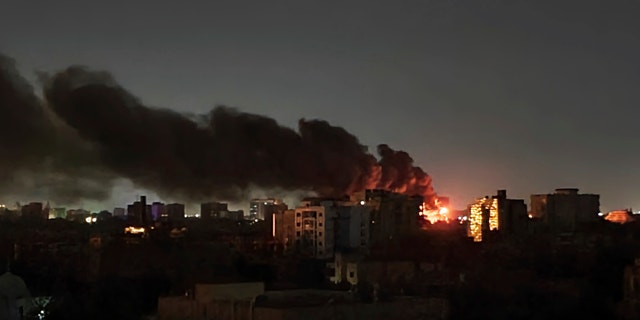 Smoke rises over the horizon as a fire burns after a strike in Khartoum, Sudan, Sunday, April 16, 2023.
The conflict in Sudan began on April 15, when violence broke out between the paramilitary Rapid Support Forces and Sudan's armed forces. According to the World Health Organization, more than 400 people have died while another 3,500 were injured.
"Armed conflict is ongoing throughout Sudan and includes heavy fighting between various political and security groups," the travel advisory said. "The situation is violent, volatile, and extremely unpredictable, particularly in the capital city Khartoum. Electrical and communication disruptions, including internet and cell phone service, can occur at any time. Khartoum International Airport and Sudan's border with Chad are currently closed."
PRESIDENT BIDEN CALLS CIVIL WAR IN SUDAN 'UNCONSCIONABLE' AS US EMBASSY PERSONNEL EVACUATE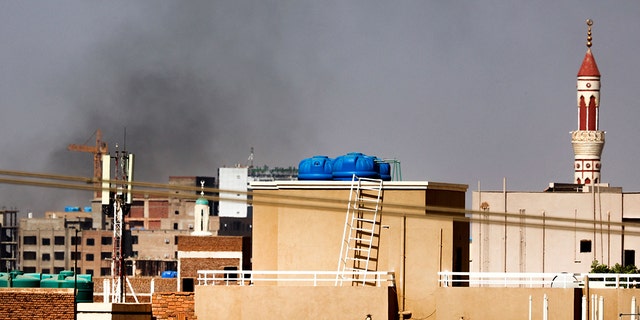 Smoke billows over residential buildings in eastern Khartoum, Sudan, on April 22, 2023, during ongoing battles between the forces of two rival generals. (AFP via Getty Images)
The operation to remove Americans was coordinated with the RSF. Other foreign nationals from different countries were evacuated through a Sudanese port on the Red Sea on Saturday.
The State Department warned, "Members of known terrorist groups and individuals sympathetic to these groups in Sudan could attack with little or no warning, targeting foreign and local government facilities, and areas frequented by Westerners."
One U.S. citizen, who did not work for the U.S. Embassy, was killed during the conflict.
"Due to the uncertain security situation in Khartoum and closure of the airport, it is not currently safe to undertake a U.S. government-coordinated evacuation of private U.S. citizens," the U.S. Embassy in Khartoum wrote on Twitter. "However, we remain dedicated to assisting U.S. citizens remaining in Sudan."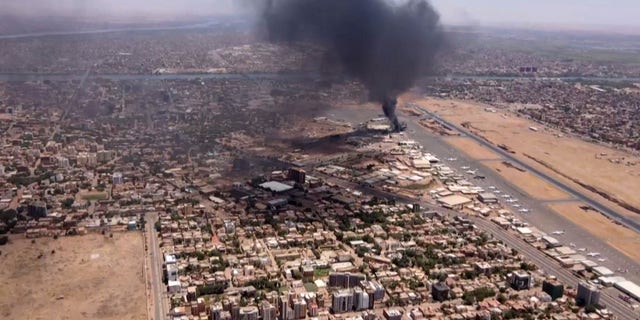 This image grab taken from AFPTV video footage on April 20, 2023, shows an aerial view of black smoke rising above the Khartoum International Airport amid ongoing battles between the forces of two rival generals. (AFP via Getty Images)
CLICK HERE TO GET THE FOX NEWS APP
The travel advisory released guidance for people who still choose to travel to Sudan, which includes drafting a will, discussing funeral wishes and custody of children and pets, crafting a personal emergency action plan that does not rely on the U.S. government, monitoring local media and being aware of surroundings.
Secretary of Defense Lloyd Austin said Friday that U.S. troops were positioned near Sudan to "ensure that we provide as many options as possible if we are called on to do something." He said the military has not been called on to do anything yet."
Fox News' Andrea Vacchiano contributed to this report.