ATLANTA – EXCLUSIVE: The rival group to Stacey Abrams' successful get-out-the-vote (GOTV) organization is touting what it says is the "playbook" to countering Democrat advances in swing states across the country in preparation for the 2024 elections.
The group – Greater Georgia – was founded in 2021 by former Sen. Kelly Loeffler, R-Ga., with the aim of registering more conservatives to vote, engaging a more diverse slate of voters, and turning out the vote with the necessary ground game infrastructure, all in an effort to prevent similar defeats to what Republicans in the state experienced in the 2020 elections.
Speaking with Fox News Digital, Loeffler detailed the success Greater Georgia saw during the 2022 midterm elections in each of those areas – all things she says can be emulated in other swing states – as well as what improvements she said Republicans needed to make in order to overcome Democrats' financial and organizational advantages.
"We've been a solidly red state for well over a decade. And what we saw in 2022 was wider margins of victory across our state for our statewide elected officials and really– held the majority in the [state] House and the [state] Senate and won more counties in this cycle than in 2020," Loeffler said.
AFTER HER SECOND DEFEAT, STACEY ABRAMS REVEALS SHE 'WILL LIKELY RUN AGAIN'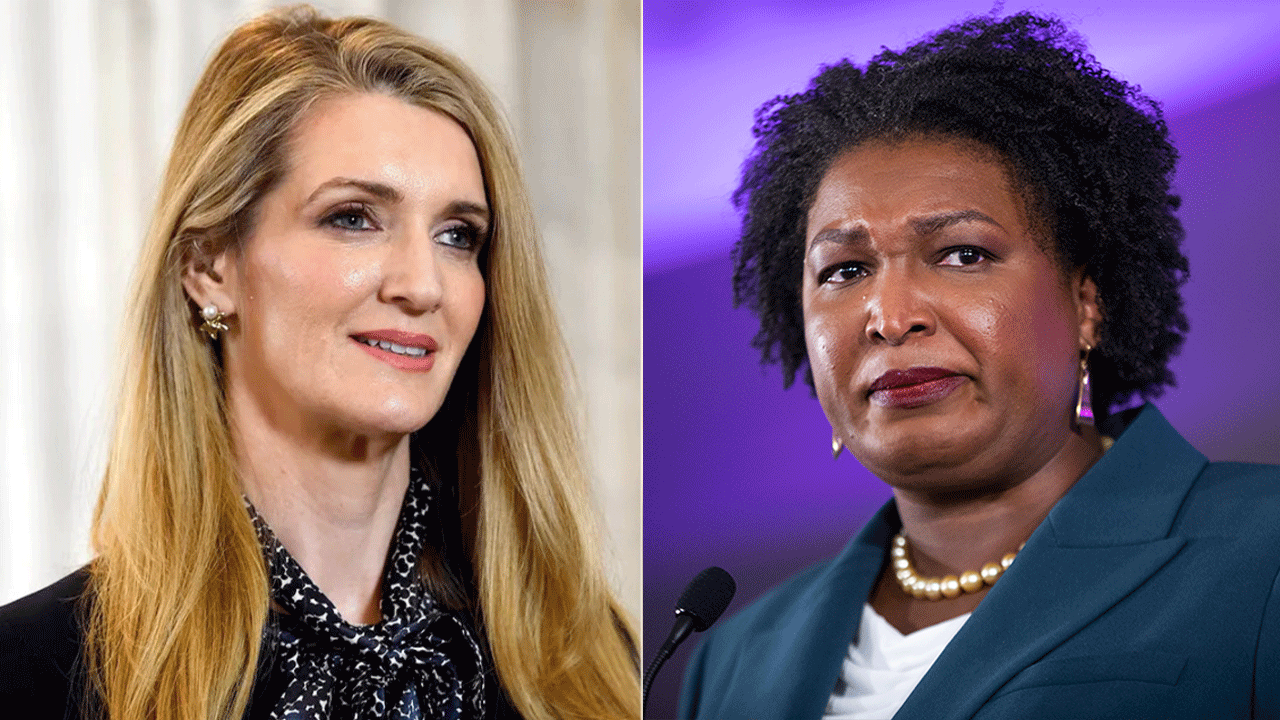 Former Republican Georgia Sen. Kelly Loeffler (left) and former Democratic Georgia gubernatorial candidate Stacey Abrams (right).
(AP News/Getty Images)
She also pointed to Republican victories in all but one state-wide race in which GOP Senate nominee Herschel Walker was narrowly defeated by incumbent Democratic Sen. Raphael Warnock in a runoff election by less than 35,000 votes, despite the latter spending more than $100 million more on the race.
She attributed this success, in part, to Greater Georgia's recruiting nearly 1,000 grassroots volunteers, registering more than 36,000 new voters, and holding 26 community roundtables to recruit more diverse conservative voters, all of which she detailed in the organization's annual report following the midterms.
When asked about Abrams' GOTV organization, "Fair Fight," and how it saw success in helping elect Democratic Sens. Warnock and Jon Ossoff, as well as deliver the state to Biden over former President Donald Trump in 2020, Loeffler said it came down to its ability to effectively organize and fund a massive ground mobilization of voters.
"When we looked at the landscape after the 2020 cycle, what I saw was a lack of organization and activism on the ground. Now, there were tremendous numbers of people involved and in mobilizing," she said.
STACEY ABRAMS' LAST CAMPAIGN STILL IN DEBT BUT SHE'S ALREADY EYEING HER NEXT ONE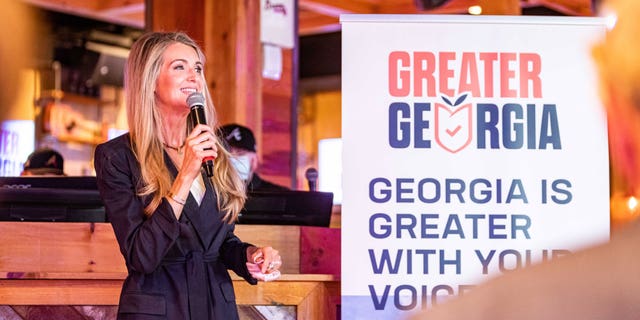 Former Sen. Kelly Loeffler, R-Ga., speaks to a kick-off event for Greater Georgia on February 21, 2021 in Atlanta.
(Greater Georgia)
"But what we need is organization. And that's what we saw. Being represented on the left was not just massive funding, but a massive ground game, voter contact mobilization. And so I set out to replicate that after I left the Senate in 2021 to make sure what happened to us in 2020 never happens in this state again," she added.
Loeffler explained that she didn't just mean mobilizing on Election Day, but instead building that same infrastructure outside an election year as well – in this case during 2023 with 2024 in mind.
She emphasized that although Georgia was still a red state in terms of values and electoral success in the midterms, it was also "vital" to recognize it as "a canary in a coal mine" for the rest of the country because of its changing electorate, as well as the need to reach those new groups of voters.
"We have seen the trends that are playing out, whether it's younger voters, more diverse voters or independent voters. And we have to have the infrastructure and outreach to conduct that persuasion, mobilization, registration, and then getting them to the polls in 2024," she said.
STACEY ABRAMS ROASTED BY EX-STAFFERS, MEDIA OVER CUTTING PAY TO CAMPAIGN TEAM RIGHT AFTER LOSS: 'MESSED UP'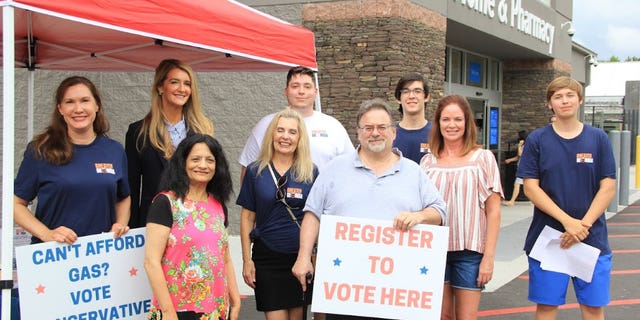 Former Republican Sen. Kelly Loeffler and Greater Georgia host a voter registration drive in July 2022.
(Greater Georgia)
Loeffler said that one of the biggest takeaways from Georgia Republicans' overall success in 2022 was that Greater Georgia proved a ground game could overcome Democrats' "wall of money" pouring in from blue states, a problem Republicans in other battleground states have also faced.
She later added that Republicans everywhere could benefit from being data-driven in order to maximize outreach to potential voters.
"We have to understand where those margins are for pickup, where the persuadable voters are, and if we're reaching them. Are they registered? Are they engaged? Are they voting? And then what can we do to persuade them?" Loeffler said.
CLICK HERE TO GET THE FOX NEWS APP
"That's a very data driven exercise. It's not just relying on polling or modeling, but it's doing the work on the ground, being at the doors and making sure that through Election Day, we're conducting the ballot chase all the way to the finish," she said.