Rep. Jamaal Bowman, D-N.Y., a member of the far-left Squad, launched on a wild rant this week, defending "wokeness" and accusing Rep. Chip Roy, R-Texas, of wanting to go back to the "old America" that "enslaves Africans."
In a video posted to his Twitter account on Thursday, Bowman appears to be standing in his Washington, D.C. office mocking Roy, who can be seen speaking during a live stream of the House floor behind Bowman.
"Check it out y'all. This is my man Chip Roy. He's a hard-right MAGA Republican. He stays going in on wokeness, like everything he's all about is anti-woke. He's worried about woke indoctrination in our schools, woke communities, woke society," Bowman said in the video.
DEMOCRATIC REP. JAMAAL BOWMAN CAUGHT MASKLESS IN NEW YORK HIGH SCHOOL WITH MASKED STUDENTS
"What's crazy is they've never really defined woke, and the opposite of being woke, or awake, is to be asleep. So do they want society to just go back to sleep and be under the control of the White patriarchal, hegemonic, imperialistic, colonial matrix? Is that what they want? Of course it's what they want. That's why they attack so-called wokeness," he said.
"It's a dog whistle to MAGA, nativist White supremacists. It's crazy. But that's Chip Roy, y'all. That's what he's all about. That's how he gets down. He talks about America, but he wants the old America. You know what I'm saying? Like when they came here and wiped out the natives, and enslaved the Africans, and told women to stay your ass home and don't go nowhere or do nothing. That's the America Chip Roy wants," he added.
NEW YORK DEMOCRAT JAMAAL BOWMAN LATEST 'SQUAD' MEMBER TO SURVIVE MODERATE PRIMARY CHALLENGE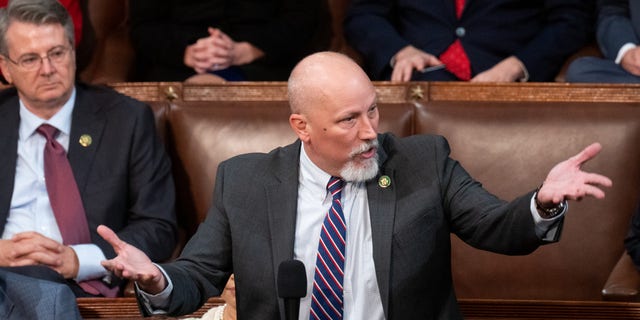 Rep. Chip Roy, R-Texas, nominates Rep. Jim Jordan to be Speaker of the House before the third round of voting in the House chamber on Tuesday, January 3, 2023.
(Bill Clark/CQ-Roll Call, Inc via Getty Images)
Bowman then said, "Peace," and walked into another room away from the camera as his staff can be heard laughing in the background.
Roy's communications director Nate Madden dismissed the video in a statement to Fox News Digital.
CLICK HERE TO GET THE FOX NEWS APP
"That's a very woke defense of being woke," he said.
Bowman is no stranger to controversy, having been widely criticized for supporting the "Defund the Police" movement despite skyrocketing crime in his district, as well as being caught maskless while meeting with masked students amid the coronavirus pandemic.