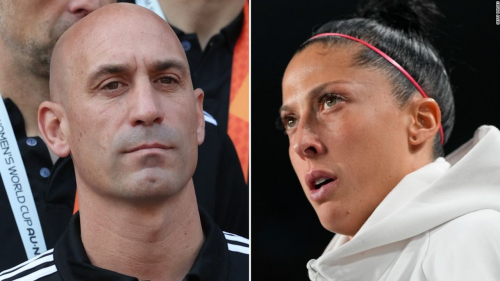 Spanish Royal Football Federation president Luis Rubiales and Spain's star striker Jennifer Hermoso. Getty Images CNN —
The union representing Spain's women soccer players has called for the country's football federation chief to be punished for kissing star player Jennifer Hermoso on the lips following the team's World Cup victory, as it vowed to fight back against "machismo and sexism."
"It is essential that our team, the current world champion, is always represented by figures who project values of equality and respect in all areas," Spain's Association of Professional Soccer Players (FUTPRO) said in a statement Wednesday.
"The union is working so that acts like the ones we have seen never go unpunished, are sanctioned and the pertinent measures are adopted to protect the football players from actions that we believe are unacceptable."
Royal Spanish Football Federation President Luis Rubiales was filmed forcibly kissing the striker after her team's 1-0 victory over England on Sunday.
Hermoso, 33, who has previously said she "didn't like" the kiss and "didn't expect it," also issued a statement Wednesday, saying the union and her agency TMJ would be "defending my interests and acting as spokespersons on this matter."
FUTPRO vowed in its statement to fight "sexual harassment or abuse, machismo and sexism."
"It is necessary to continue advancing in the fight for equality, a fight that our players have led with determination, taking us to the position in which we find ourselves today," the union said.
On Monday, Rubiales admitted he had "made a mistake" by kissing Hermoso after she collected her winners' medal.
"I surely made a mistake, I have to recognize that," Rubiales said in a video statement. "Here, we didn't understand it because we saw something natural, normal and in no way, I repeat, with bad faith. But outside of the bubble, it looks like it has turned into a storm and so, if there are people who have felt offended, I have to say I'm sorry."
However, Spanish Prime Minister Pedro Sánchez has said the apology offered by Rubiales was "not enough."
Rubiales has faced widespread criticism for the incident, with politicians and journalists labeling his behavior "unacceptable" and "simply disgusting."
The football federation is expected to address the incident during an extraordinary general assembly on Friday, though it doesn't appear on the order of the day for the meeting released by the federation.
The president of the Spanish government's High Council of Sport, Victor Francos, has said he will take action against Rubiales if the federation fails to do so.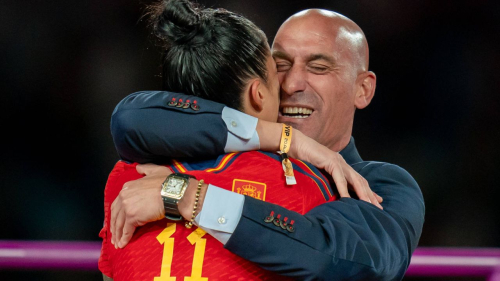 Rubiales embraces Hermoso just before video showed him kissing her after Spain's World Cup victory over England. Imago/ZUMA Press
The controversy comes against a backdrop of ongoing unrest between Spain's players, coach Jorge Vilda and the football federation.
In September 2022, 15 members of Spain's senior women's squad sent personally signed letters to the federation via email to announce they would no longer play for the national team, unless there were wholesale changes made throughout the coaching staff.
However, the football federation backed Vilda, who has himself become embroiled in a controversy surrounding the World Cup final after video emerged of him appearing to inappropriately touch a female staff member during the match.
CNN has reached out seeking comment from Vilda, the Royal Spanish Football Federation and the staff member.