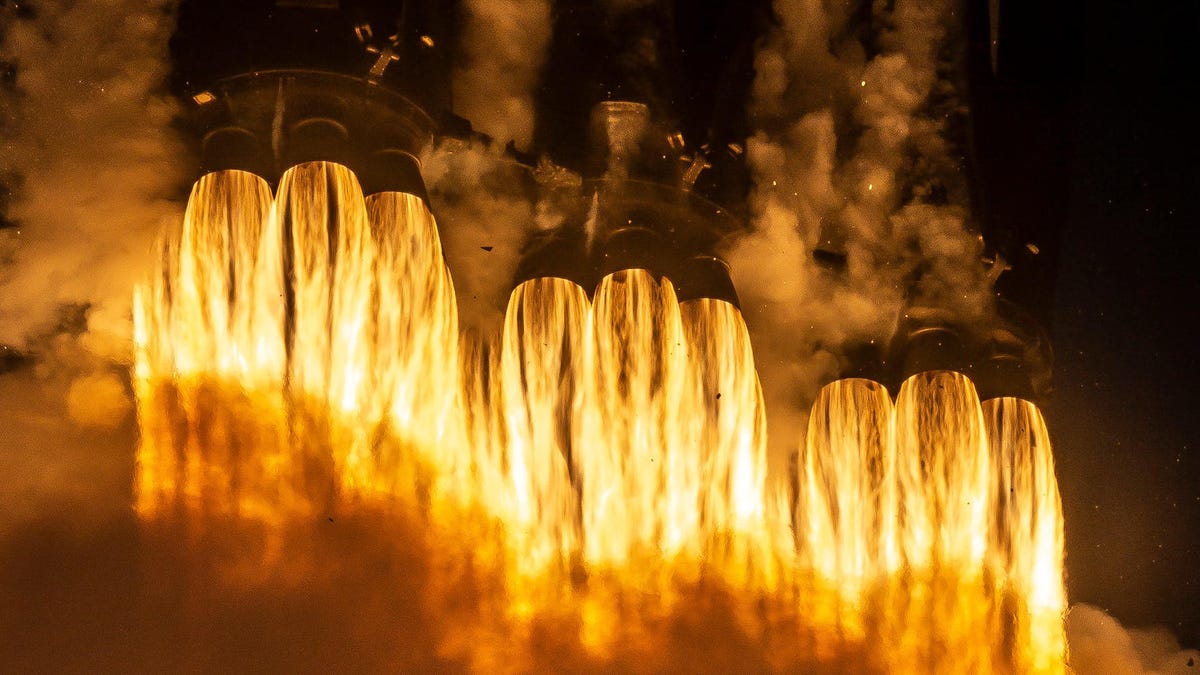 Falcon Heavy's Merlin engines fire at liftoff.
SpaceX
The biggest rocket in the SpaceX stable is ready to take the US Space Force for a ride this Saturday. 
Elon Musk's rocket company plans to launch Falcon Heavy from Florida carrying a new communications satellite for the US military and a second, smaller satellite carrying a number of experimental payloads. 
After months and even years of delays in some cases, SpaceX is beginning to work through a backlog of Falcon Heavy launches. Heavy is essentially three of the company's workhorse Falcon 9 rockets strapped together to boost bigger payloads to orbit. 
The most recent Falcon Heavy launch in November of another, undisclosed Space Force payload was the first Heavy launch since 2019. SpaceX has at least three more Heavy missions on its manifest for the first half of 2023 and the vehicle is set to launch NASA's Psyche mission to the metal-rich asteroid of the same name in October. 
More 2023 Space Missions

The Most Anticipated Space Missions Set to Blast Off in 2023
A Comet, 'Ring of Fire' Eclipse and Many Meteors: What to See in the Sky in 2023
Elon Musk Updates Timeline for Starship to Finally Launch to Space
Musk and SpaceX have said they hope to shift many Falcon 9 and Falcon Heavy missions to use its upcoming megarocket, Starship, which is designed to be the most powerful rocket ever and to take humans to the moon and Mars. 
Starship has yet to reach orbit, however. Musk said recently he hopes the first orbital test flight of the vehicle could come as soon as next month. 
Saturday's mission is set for no earlier than 2:55 p.m. PT (5:55 p.m. ET) from Kennedy Space Center in Florida. The center core booster will be "expended," meaning it will fall into the Atlantic Ocean. The two side boosters will come in for a landing on shore at Cape Canaveral. 
The landings are usually nearly simultaneous and make for a pretty good show. You can watch the whole thing via the SpaceX livestream.
The following morning, SpaceX is also scheduled to launch its next routine Starlink mission from Vandenberg Space Force Base in California. That Falcon 9 booster will land on a droneship in the Pacific and also be livestreamed.