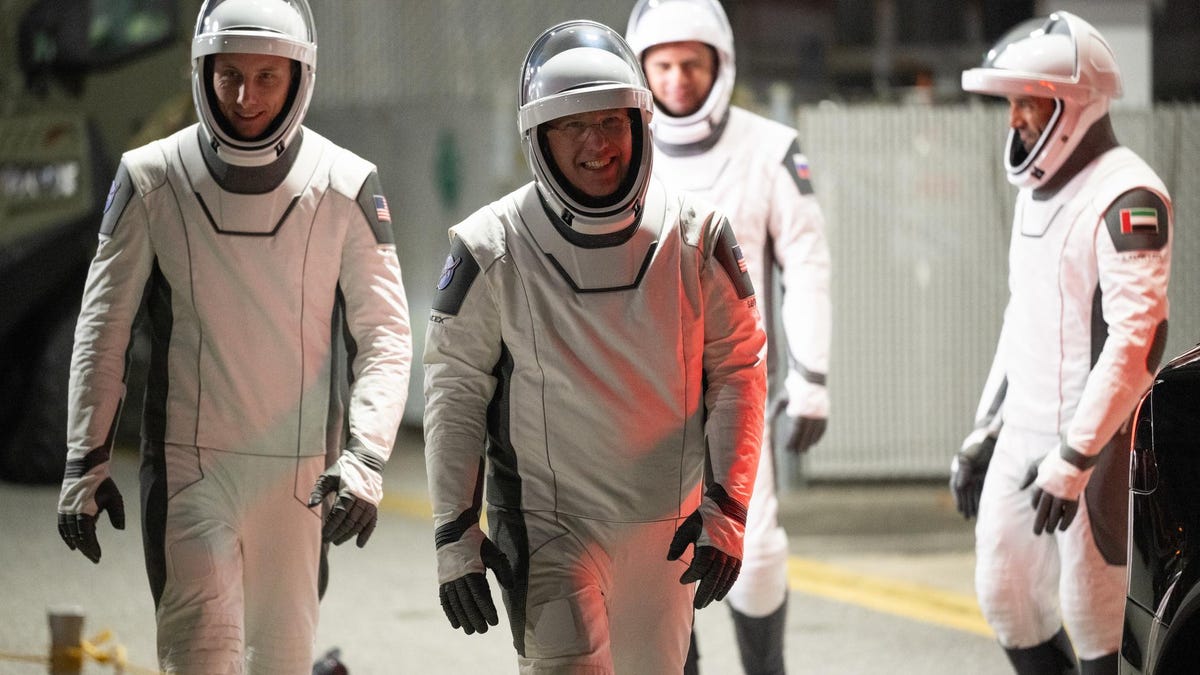 From left, NASA astronauts Warren Hoburg and Stephen Bowen, Roscosmos cosmonaut Andrey Fedyaev and UAE astronaut Sultan Alneyadi take part in a rehearsal for launch.
Joel Kowsky/NASA
NASA and SpaceX are teaming up to send an international batch of astronauts to orbit as early as Thursday morning from Kennedy Space Center in Florida. 
The Crew-6 mission actually marks the seventh crewed Dragon flight for NASA and the ninth time the vehicle is taking humans to orbit. Inspiration4, helmed by billionaire Jared Isaacman, was an all-civilian mission in the same vehicle, and last year's Axiom-1 flight took commercial passengers to the ISS. 
Liftoff of Crew-6 was originally slated for Sunday, then moved to Monday. The astronauts loaded into the Dragon capsule and came within four minutes of launching when an issue with the Falcon 9's engine ignition fluid cropped up and the launch was scrubbed. The soonest Dragon could fly now is Thursday at 12:34 a.m. ET (Wednesday at 9:34 p.m. PT) from SpaceX's Launch Complex 39A.  
On board this time for the trip to prepare for a crew rotation on the ISS will be NASA astronauts Warren "Woody" Hoburg and Stephen Bowen, Roscosmos cosmonaut Andrey Fedyaev and United Arab Emirates astronaut Sultan Alneyadi, who will be the second UAE astronaut to visit the ISS.
NASA's Nicole Mann and Josh Cassada along with Koichi Wakata of the Japan Aerospace Exploration Agency and Anna Kikina of Roscosmos are set to return to Earth from the ISS next month. 
The crew will spend some time orbiting Earth and aligning the Dragon for docking with the ISS a little more than 24 hours later. Once on the orbiting space station, the quartet is set to remain for up to six months. 
You can watch the mission via NASA TV and the live feed above starting with pre-launch coverage Wednesday evening.