South Dakota Republican Gov. Kristi Noem claims her cell phone number was hacked, blaming it on her Social Security number being exposed with hundreds of documents released last year by the House Jan. 6 committee.
In a press release on Monday, the governor's office said Noem's cell phone has been used to make hoax calls, in which she was not involved.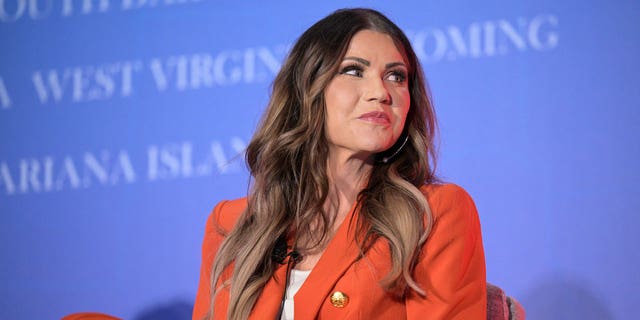 Advancement of Republican South Dakota Gov. Kristi Noem's economic agenda is being discussed by the state legislature
(AP Photo/Phelan M. Ebenhack, File)
"Callous mishandling of information has real world consequences," Noem said. "If you get such a call from my number, know that I had no involvement."
KRISTI NOEM DEMANDS ANSWERS AFTER US GOVERNMENT LEAKS SOCIAL SECURITY NUMBERS OF HER AND FAMILY
She said she has urged the U.S. Attorney General and numerous congressional committees to investigate the matter, which included leaking of her family's personal information.
Noem also notified the South Dakota Fusion Center was notified of the breach. The center is a state agency that collects criminal intelligence.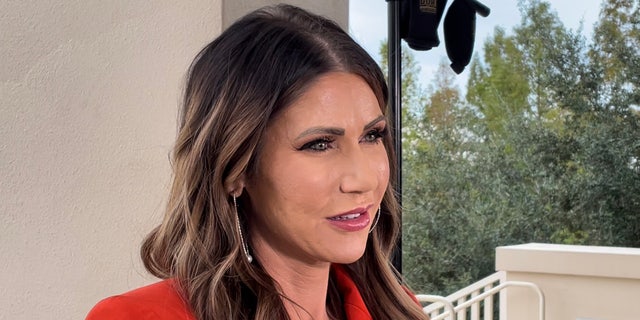 GOP Gov. Kristi Noem of South Dakota is interviewed by Fox News at the Republican Governors Association's annual winter meeting, on Nov. 15, 2022 in Orlando, Florida
(Fox News )
No other information about the leak was provided by the governor's office.
TWO YEARS LATER: AN OVERVIEW OF JAN. 6 AND WHAT TOOK PLACE AFTER
Noem is considering a bid for the White House for 2024.
Earlier this month, Noem demanded answers on how federal agencies allowed her personal information to become public in the aftermath of records released by the Jan. 6 committee.
She learned about the breach the night before taking the oath of office for her second term.
SD GOV. NOEM'S GROCERY TAX CUT HITS OBSTACLE IN GOP-DOMINATED LEGISLATURE
Among the hundreds of records posted online by the committee laying out the timeline of the events leading up to the storming of the Capitol was "a spreadsheet with nearly 2,000 Social Security numbers associated with visitors to the White House in December 2020." The list included several high-profile Republicans.
That leak included Noem along with her husband, three children and son-in-law, who according to the White House logs visited the outgoing President Donald Trump on Dec. 14, 2020. Noem shared that her visit was in an "official capacity."
CLICK HERE TO GET THE FOX NEWS APP
Other high-profile individuals who were part of the public leak include Texas Gov. Gregg Abbott (R), South Carolina Gov. Henry McMaster (R), former Health and Human Services Secretary Alex Azar and former Housing and Urban Development Secretary Ben Carson.
Fox News' Sarah Rumpf contributed to this report.